This Christmas breakfast mug DIY lets you keep the morning simple and festive easily. Make one for everyone in your family then use the easy recipe below for French toast casserole in a mug for a fun and easy breakfast the whole family will enjoy!
Affiliate links may be used in this post. Ordering a product through these links may result in a commission at no extra cost to you. Read the full disclosure here.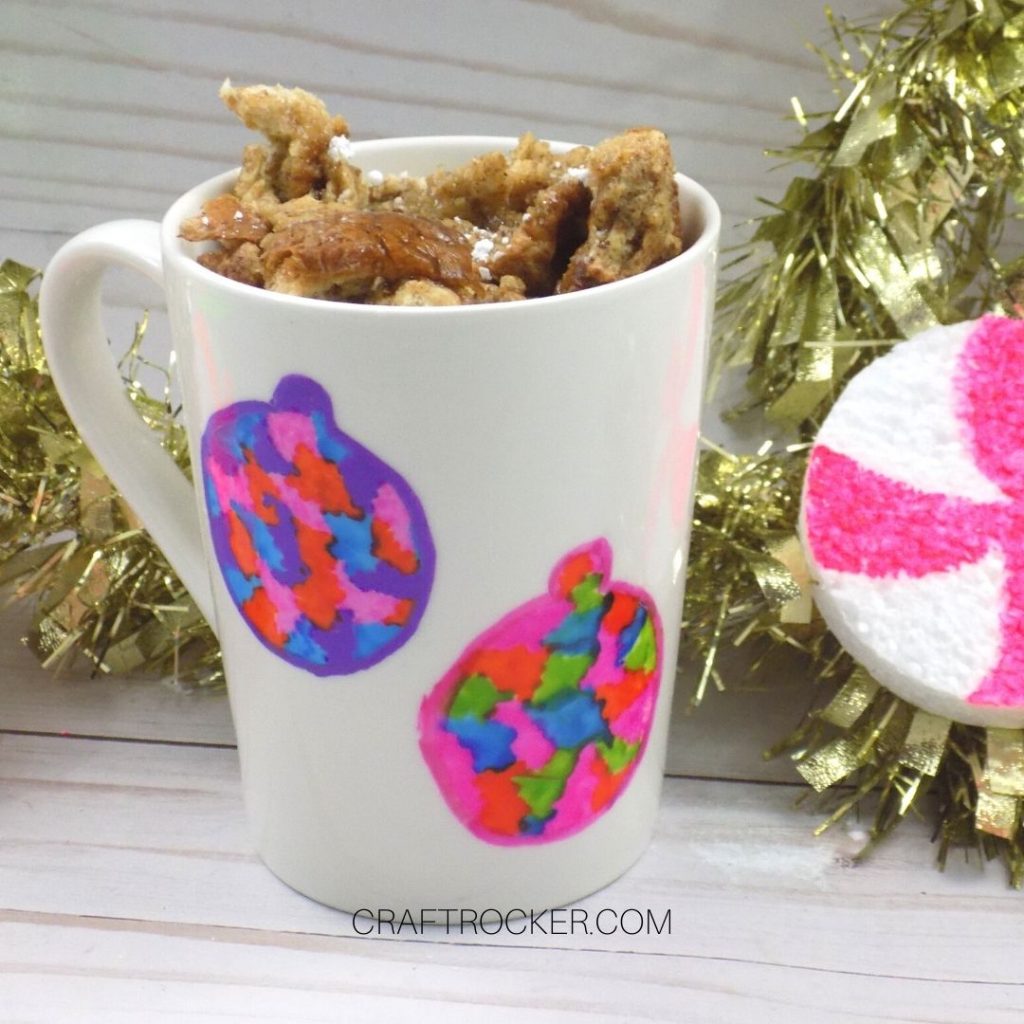 Jump to What Want




I seriously hate cooking on Christmas. I enjoy spending time with my family and decided years ago that there would be no more cooking on Christmas. We get veggie trays, meat and cheese trays, and fun snacky stuff for the entire day.
I used to prep a breakfast casserole the night before to throw in the oven in the morning but this year I want to try something different. Why not make some fun and festive mugs for everyone that we can cook our own individual breakfasts in?
That's exactly what this Christmas breakfast mug DIY is for. I can't wait to be cuddled up in the living room with my husband and kiddos this Christmas eating delicious French toast from our personalized mugs.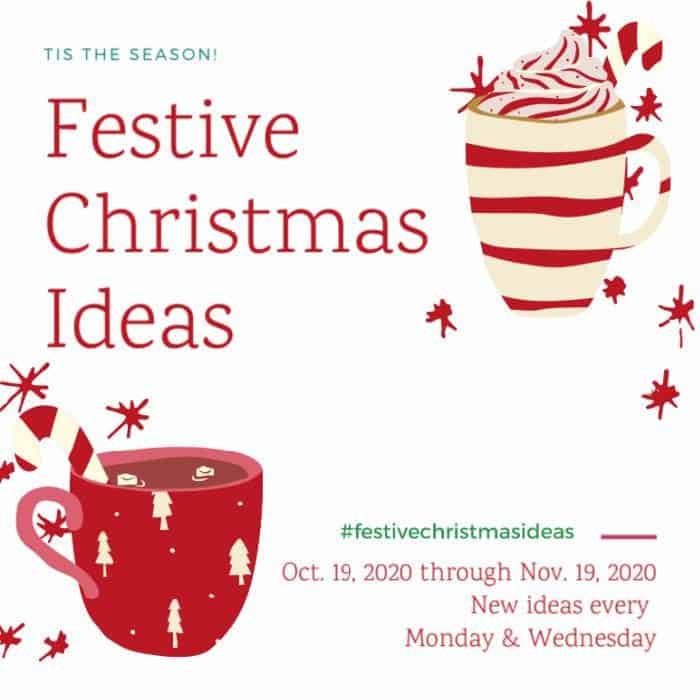 Festive Christmas Season Blog Hop
Welcome back to year 6 of our Festive Christmas Event where we team up with a bunch of talented blogging friends to bring you a plethora of creative ways to celebrate your holiday season.
Today is the last day but if you've missed any you can check them all out on the Festive Christmas Season page.
We will be making some treats for you, sharing some party games, making some handmade gifts like this Snow Globe Shadow Box, doing some ornament crafting, and sharing our Christmas movies family fun.
There will be breakfast recipes (that's today) and, as always, our decorated Christmas Trees which is always a fun tour of homes.
New this year are Gift Guides
We are right there with you shopping from home due to Covid-19 and we understand how hard that can be. That is why we have been busy little Elves doing tons of research to create fabulous Gift Guides to help you with your holiday shopping.
Check out 50+ Best Gifts for Crafters and 100+ DIY Christmas Gifts for Everyone on Your List!
Find new ideas every Monday and Wednesday between Oct. 19th through Nov. 18th. Scroll all the way down to the end of the post to find all the ideas linked at the end.
Materials for Christmas Breakfast Mug
White Coffee Mug (I got mine at the Dollar Tree)

Ornament Stencils or Outlines

1 inch Painters Tape
Additional Materials
Rubbing Alcohol

Cotton Balls or Paper Towels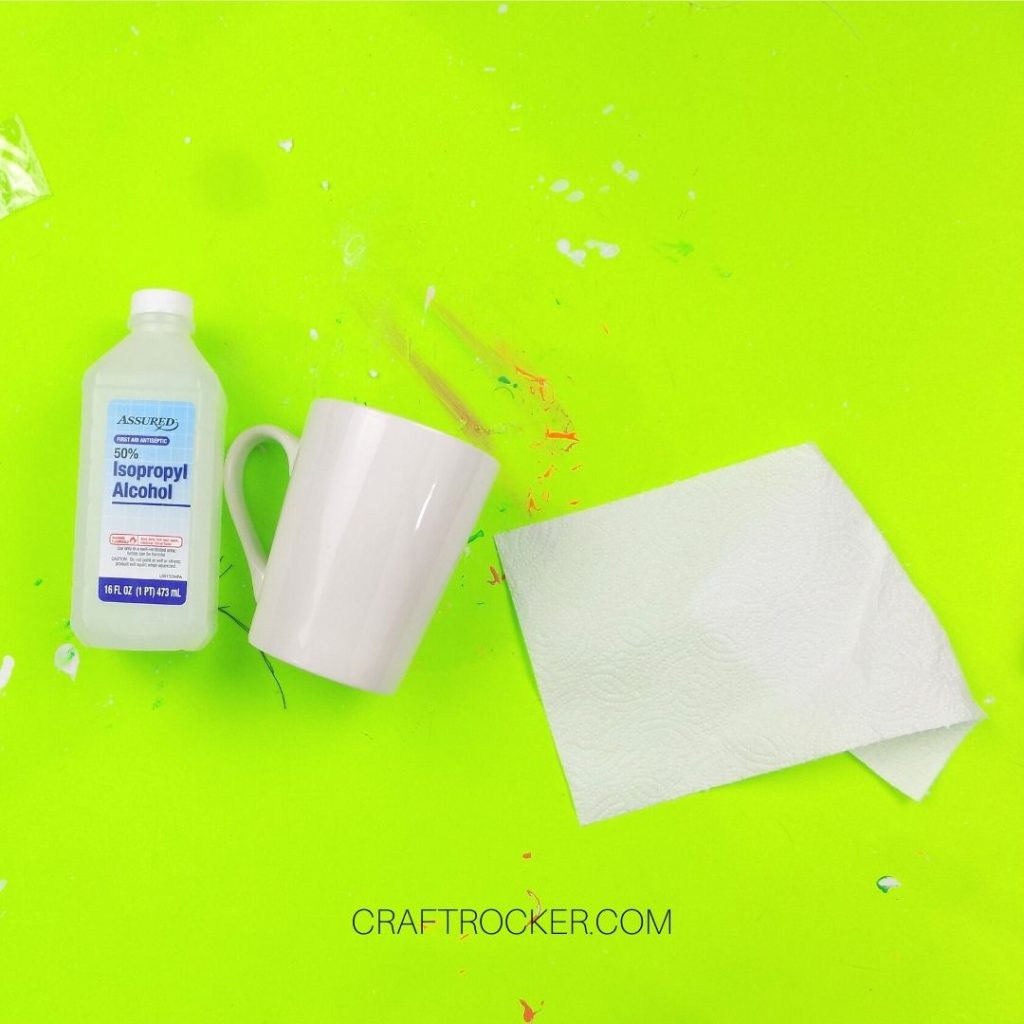 Step 1
First, it's important to clean your mug. This helps the paint adhere better and keeps you from getting bubbles and other blemishes during the heating process.
Go over the entire outside of your mug with a rubbing alcohol soaked cotton ball or paper towel.
Once you've cleaned your mug, try not to touch it too much so that you don't transfer the oils from your hands.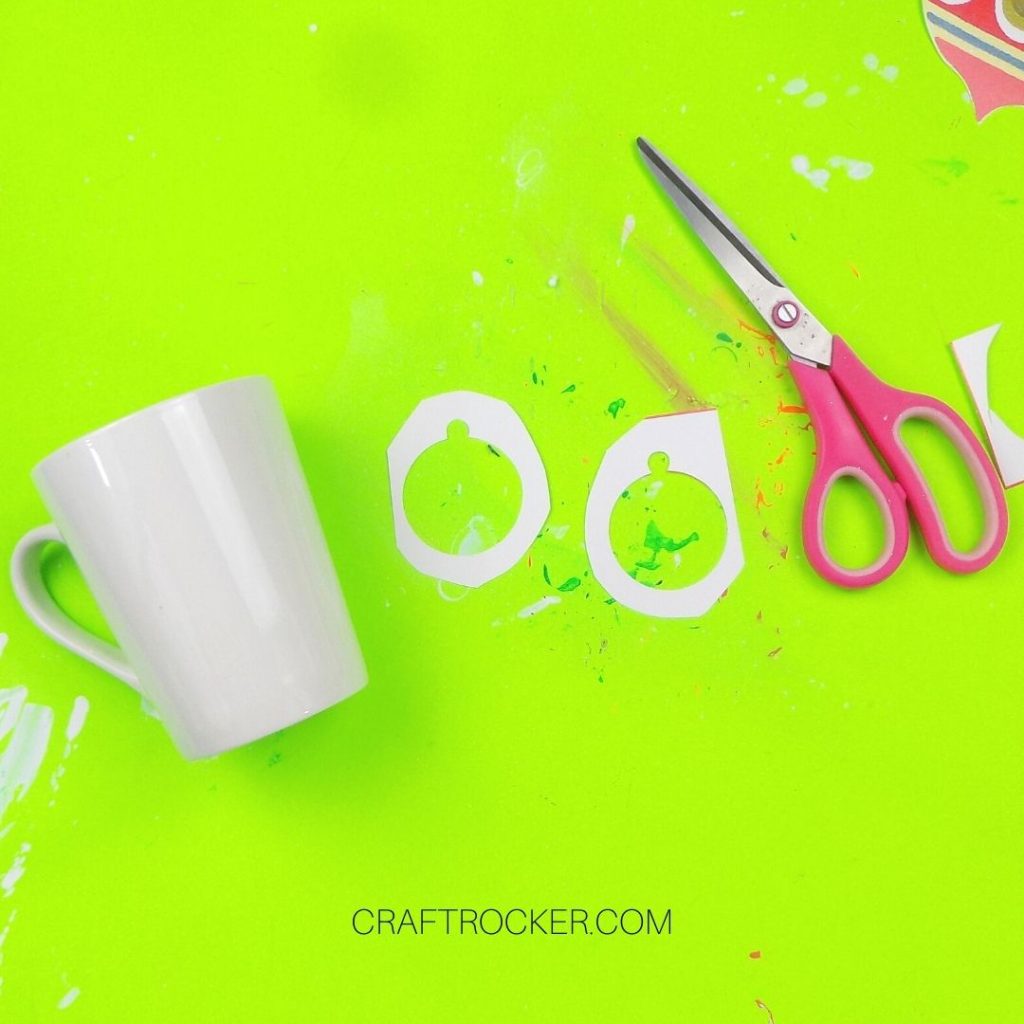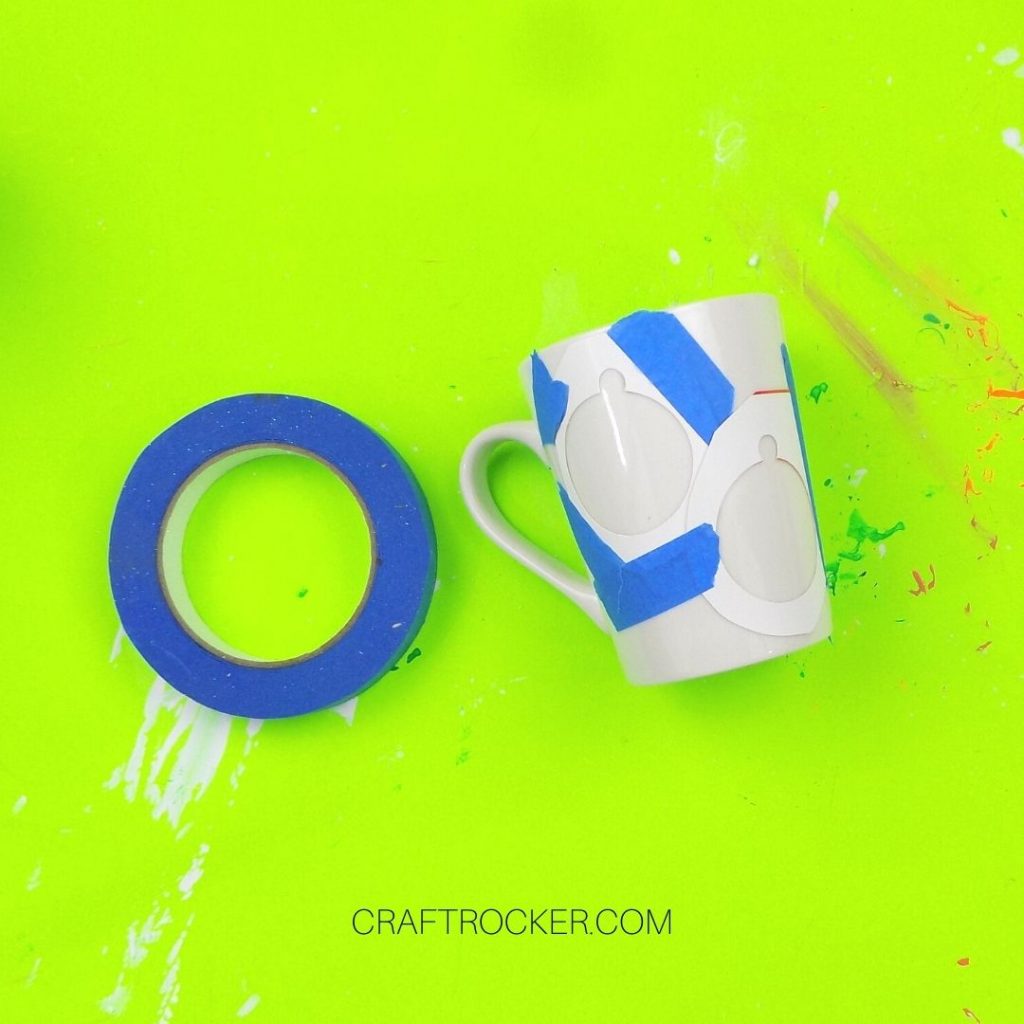 Step 2
Next attach your ornament outlines or stencils.
I had small cardstock pop-out ornaments that I used for mine but if you don't have that you can use your Cricut machine to cut out the ornament shapes in removable vinyl. Then use only the outlines of the ornaments as a stencil on your mug.
See this Snowflake DIY Wood Earrings tutorial to see a great ornament file in Design Space that would work for this project.
If you use cardstock like I did, you will need to secure the edges to your mug using 1 inch painters tape.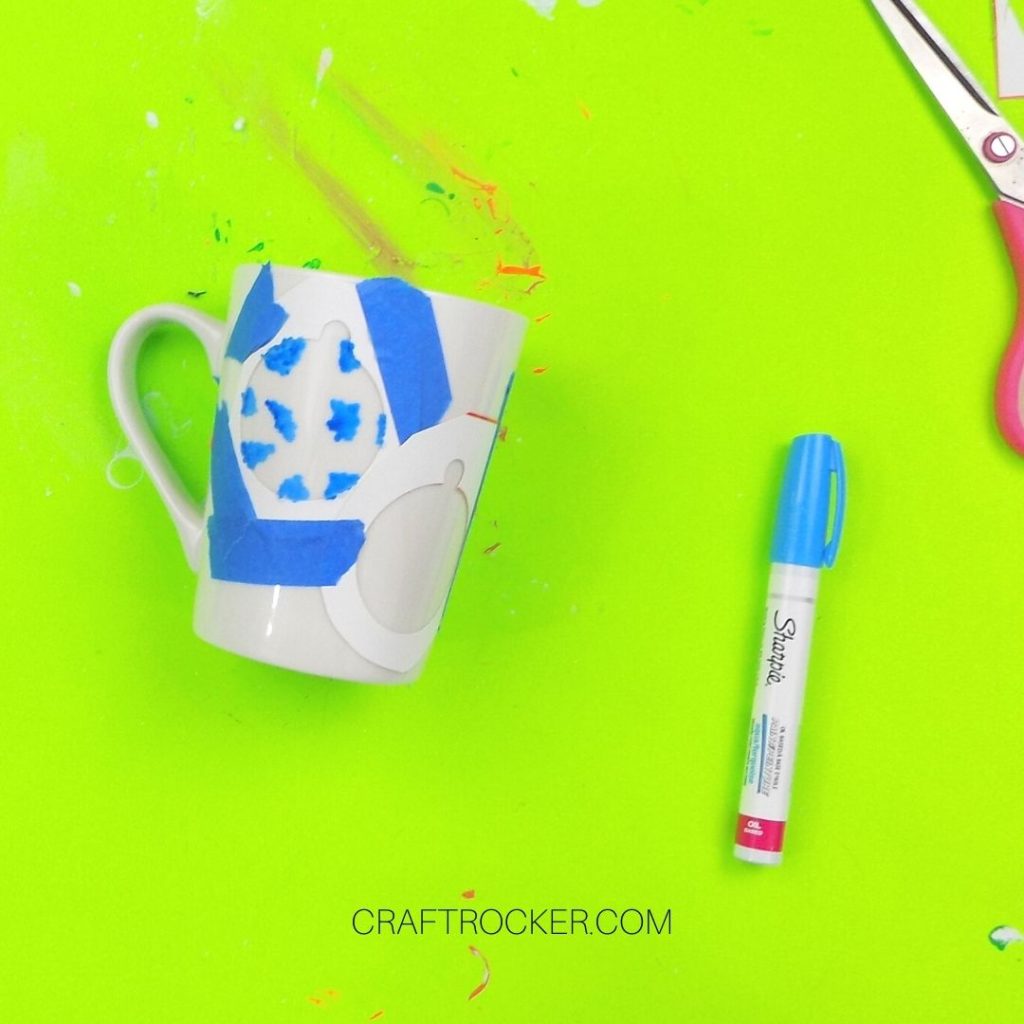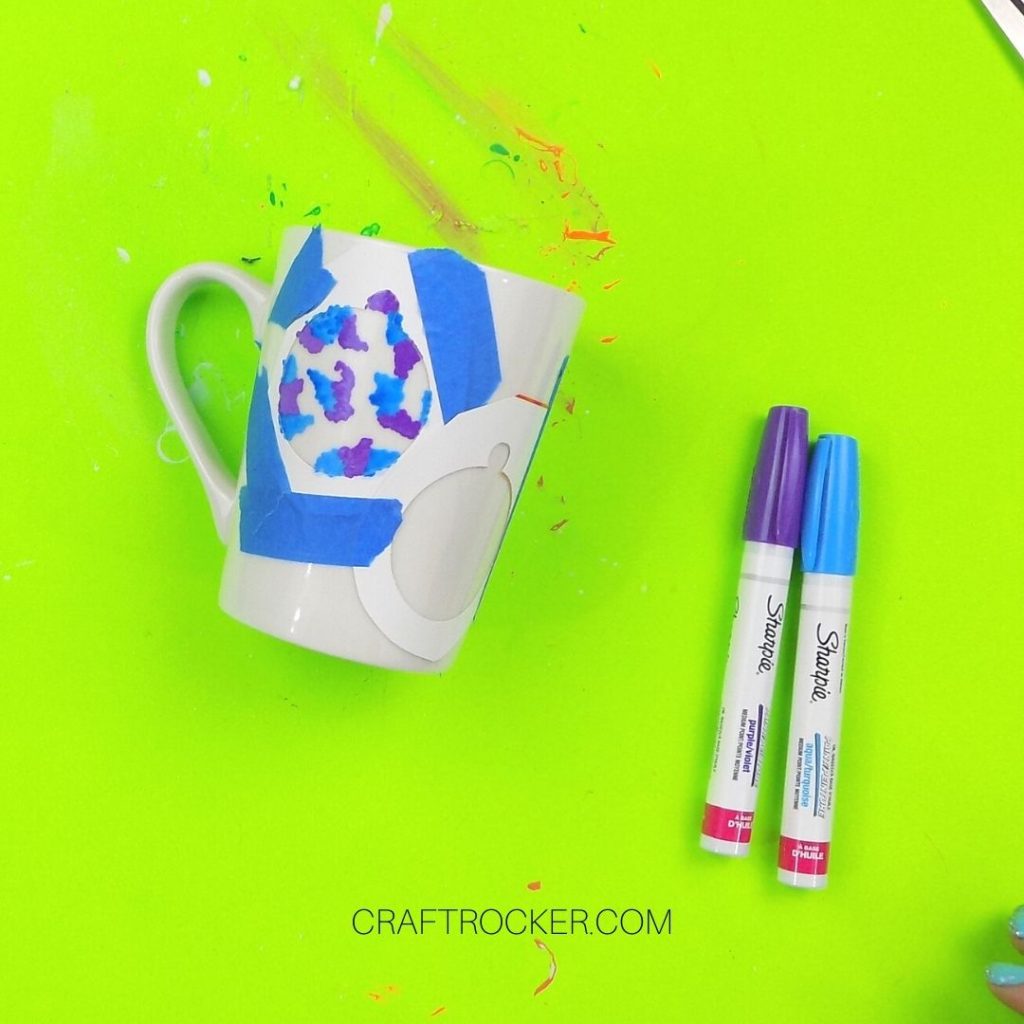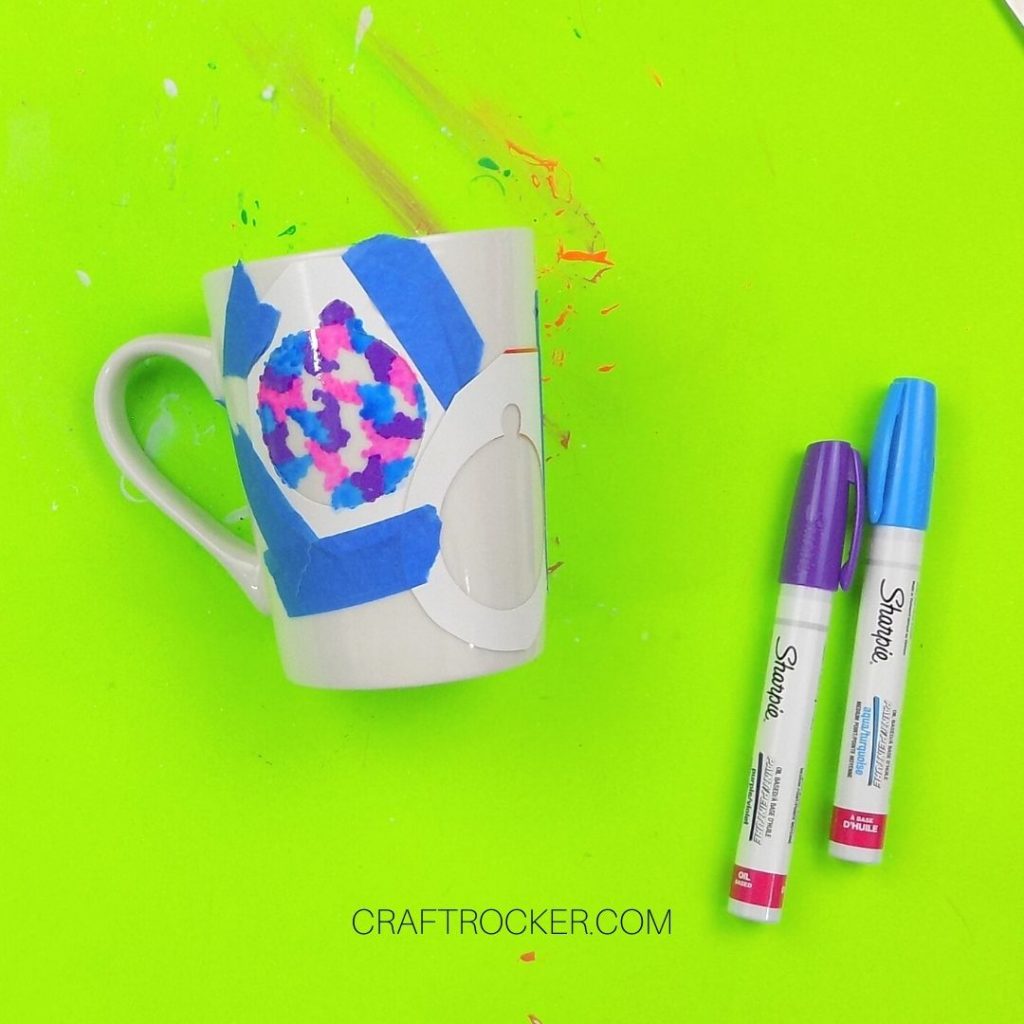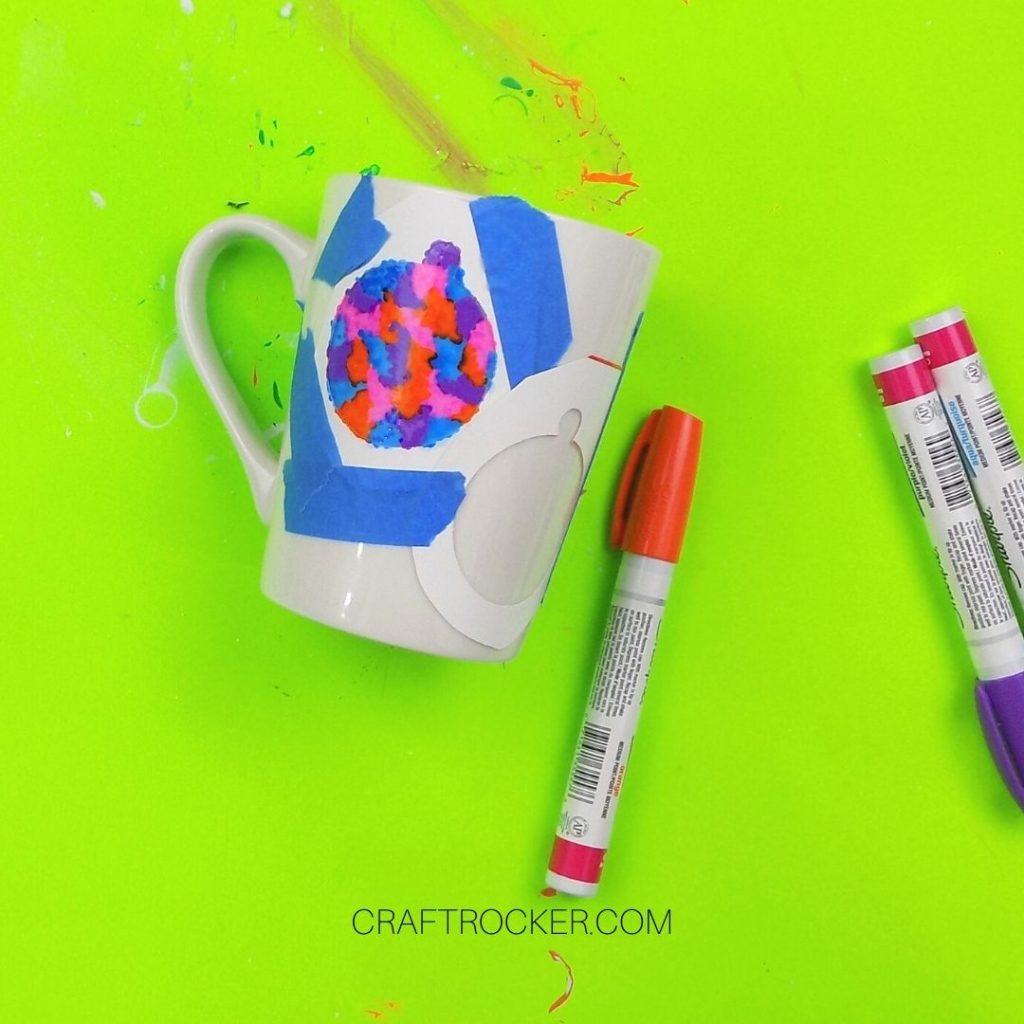 Step 3
After your stencil is on the mug, add paint to the inside of the ornament stencil with your oil based Sharpie markers.
You can totally take creative license with this. I chose to do a watercolor type of effect with my paint. You can also make them each a different color with festive decorations or whatever you want.
This is the step to have fun and put your own spin on it.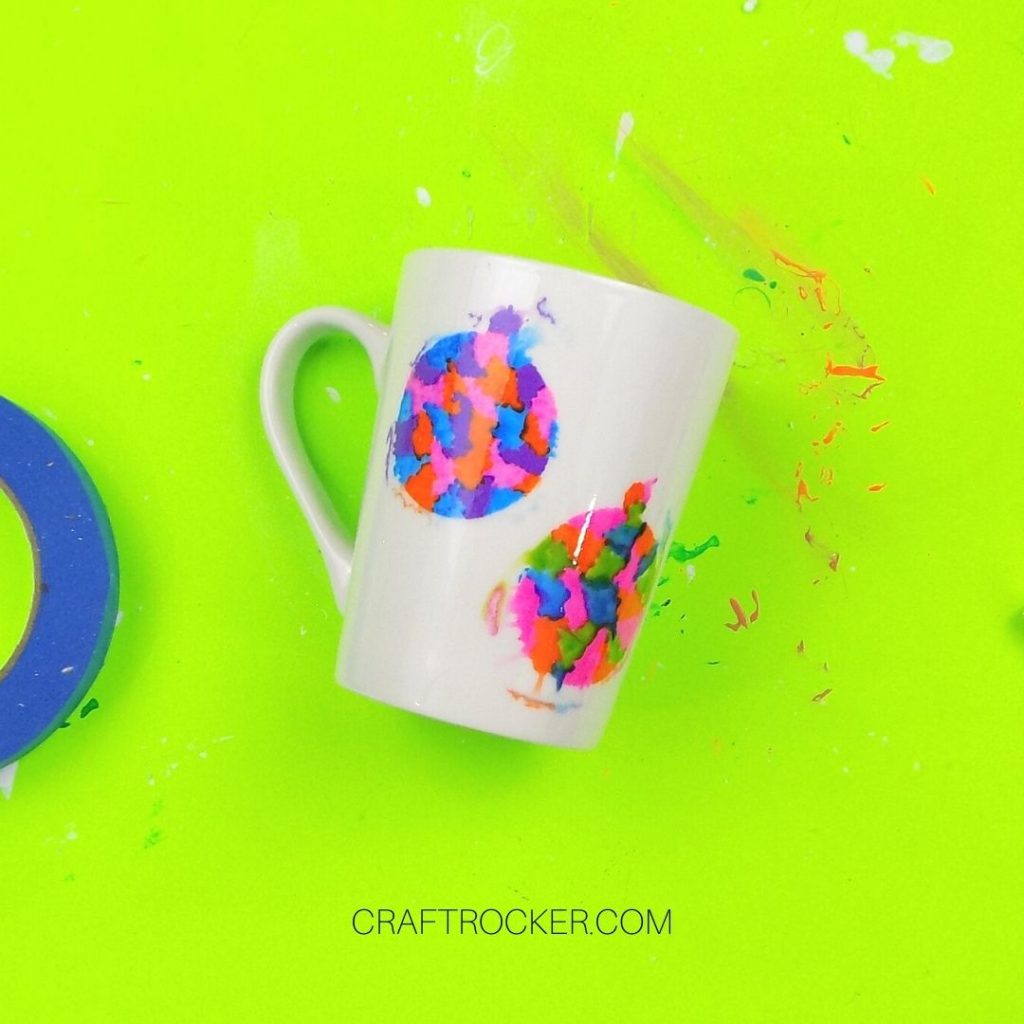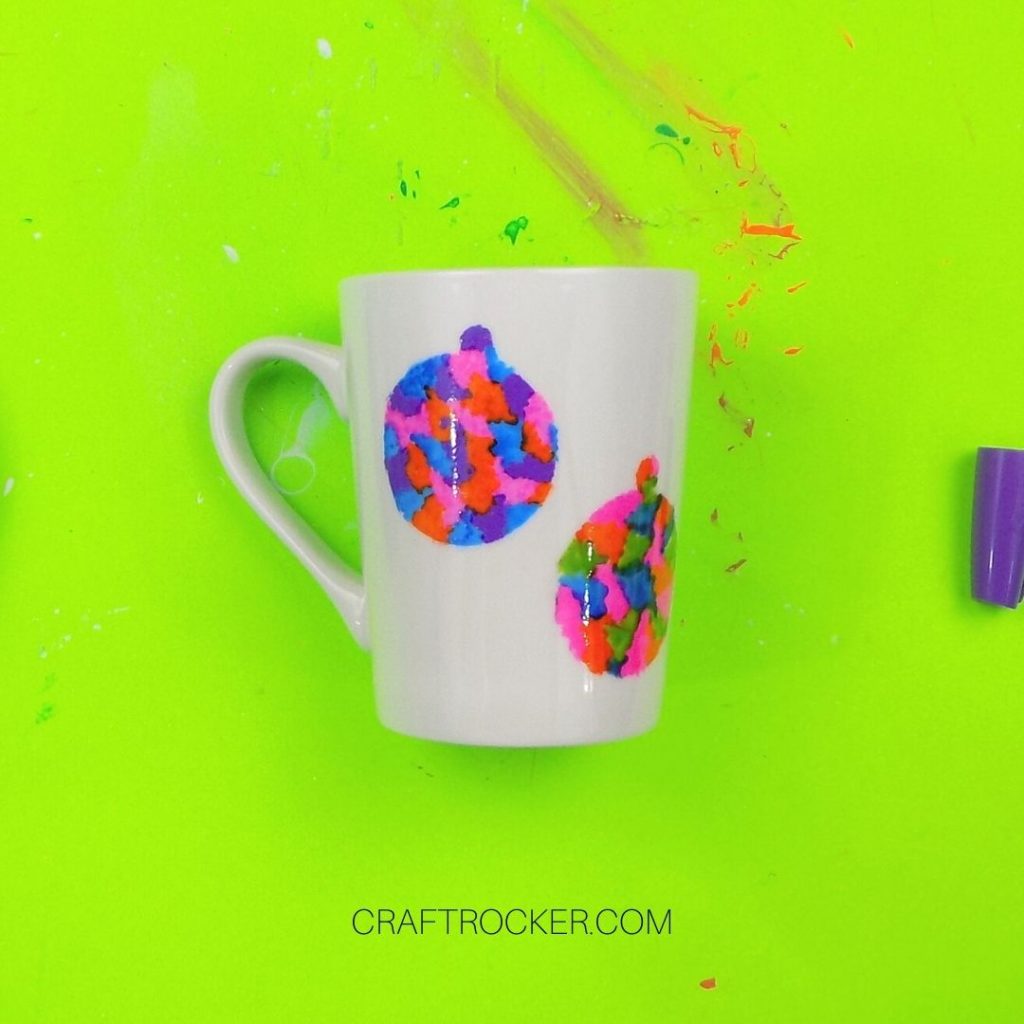 Step 4
Once your ornaments are filled in, it's time to carefully pull off the stencil or vinyl. If you used a stencil, you will likely have some edges that bled a little.
No worries. You can clean them up with a cotton swab soaked with rubbing alcohol.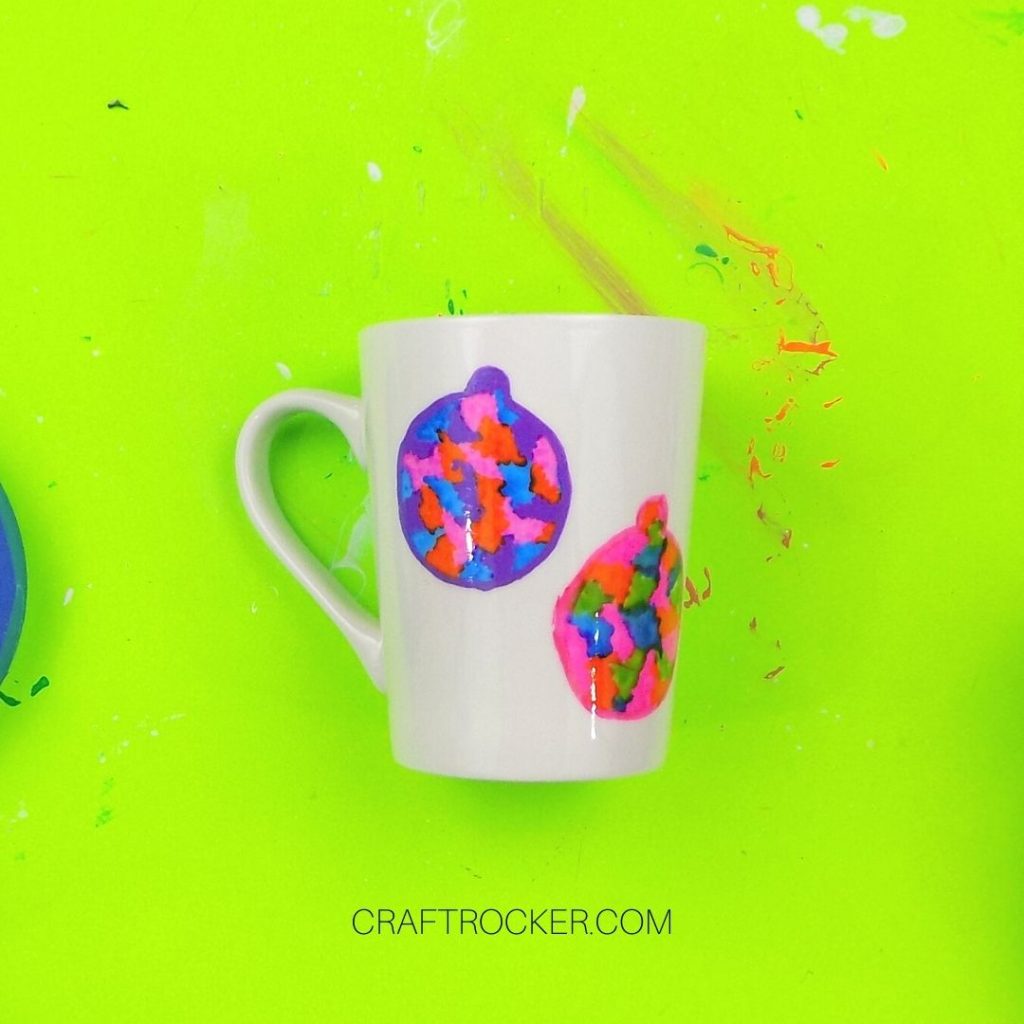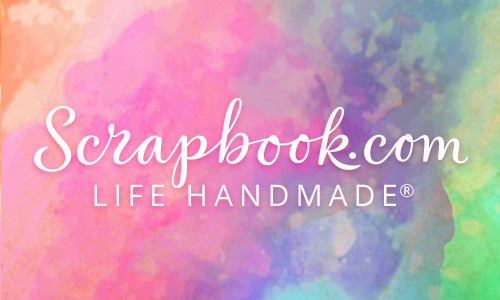 Step 5 (Optional)
After your stencil is removed and the edges are cleaned up, go around the edges of the ornaments with a solid color if desired.
Because of the pattern I did, they looked unfinished without this which is why I chose to include it.
Step 6
Now let your paint dry for 24 hours before moving on.
Step 7
Then, when your paint is dry, put your mug in the oven and bake at 250° Fahrenheit for 4 hours.
After four hours, turn your oven off but allow it to cool down completely before taking your mug out.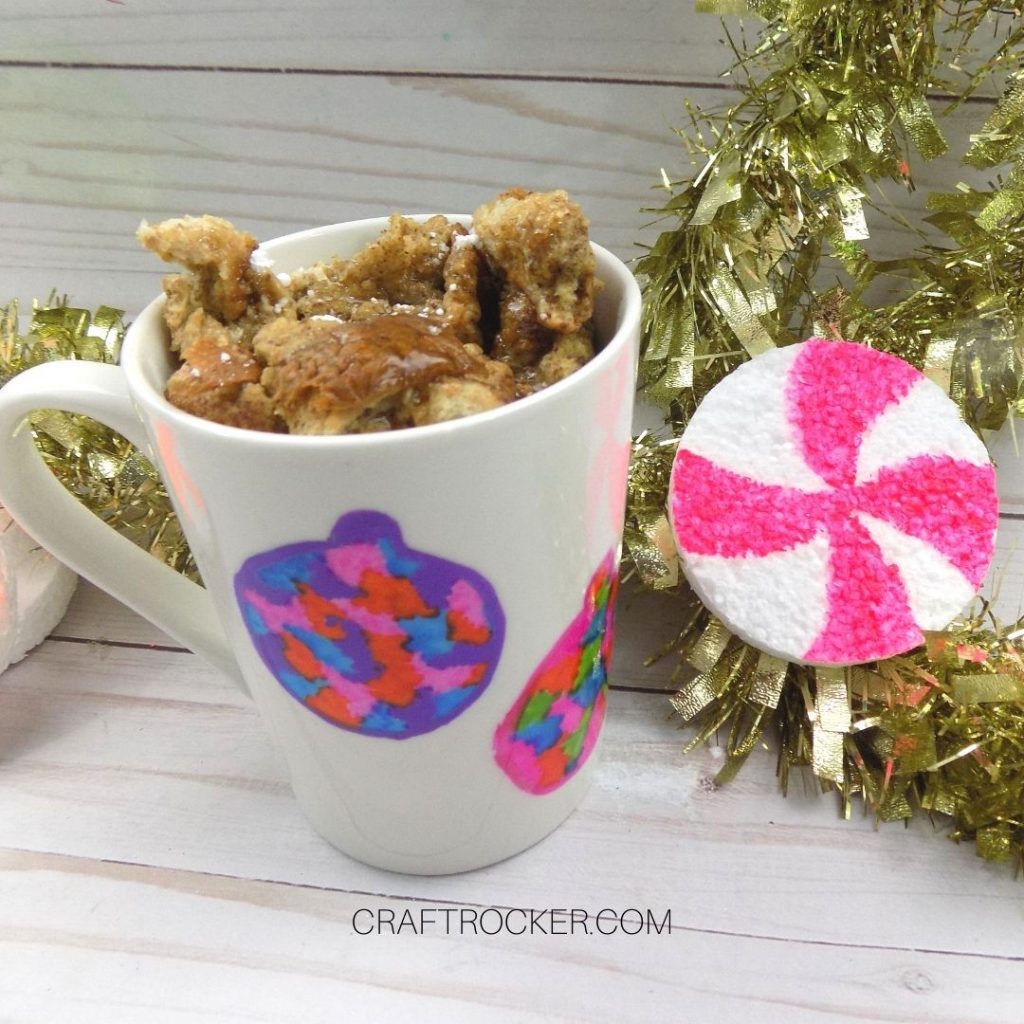 Sharpie Mug Tips for Success
Don't skip the cleaning step. It is so important for making a mug that lasts.

When you put your mug in the oven, do it while the oven is still cold. This allows the mug to warm up with the oven so that it doesn't crack.

The same goes for pulling your mug out of the oven. Make sure that you allow the oven to cool completely before pulling your mug out again so that it doesn't crack.

Hand wash your mug only. I also don't recommend leaving it to soak in extremely hot water. It's best if you wash it right after use.

You can also put the recipe on the back of the mug before baking so that it's always handy when you want some delicious French toast but that's totally up to you.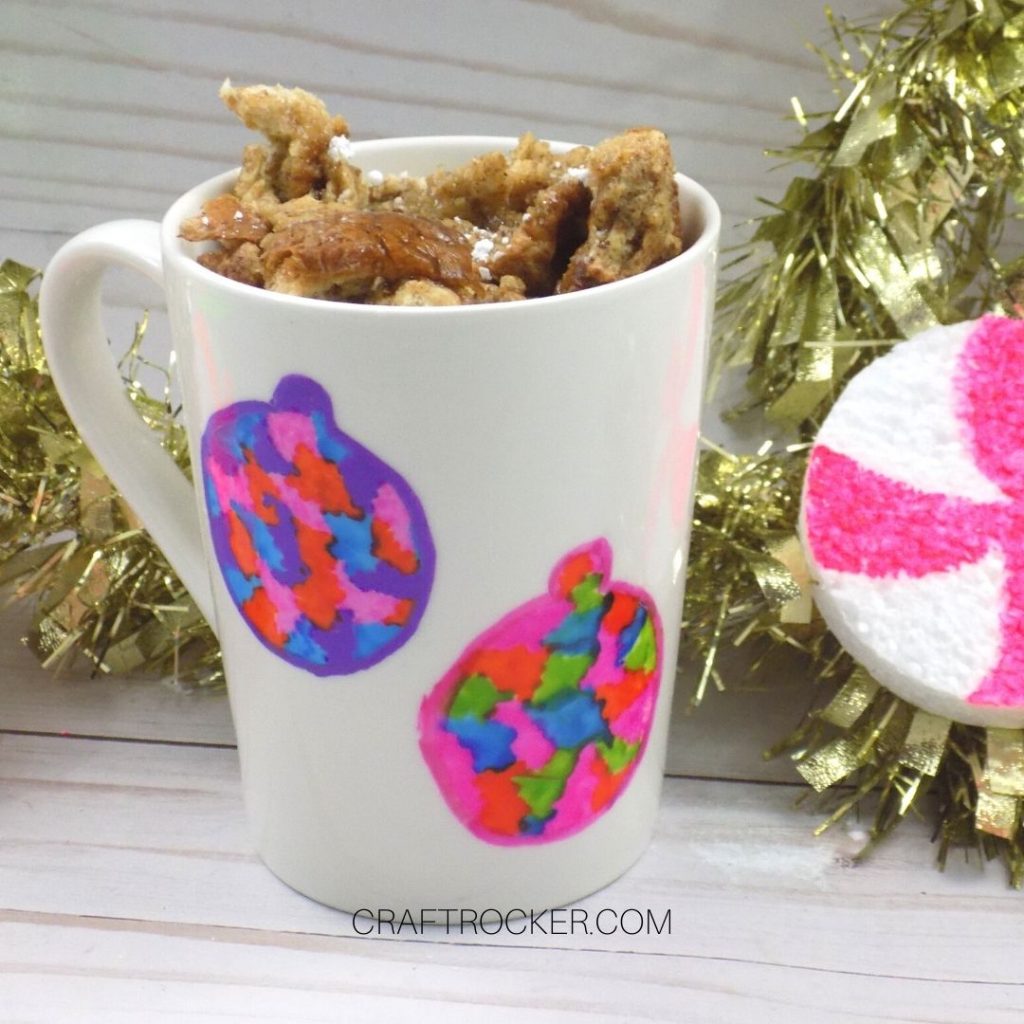 French Toast Casserole in a Mug Recipe
2 Pieces of Sliced Bread

1 Large Egg

1 Teaspoon of Vanilla

1/4 Teaspoon of Nutmeg

1/4 Teaspoon of Cinnamon

1 Teaspoon of Milk

Pinch of Salt
First, tear your bread into small pieces and place them in your mug.

Next, in a small bowl whisk together your egg and spices.

Pour the egg mixture over your bread in the mug and fluff it with a fork to coat the bread.

Microwave on high for 2.5 – 3 minutes then let sit for 1 minute.

Pour syrup over the top and dig in!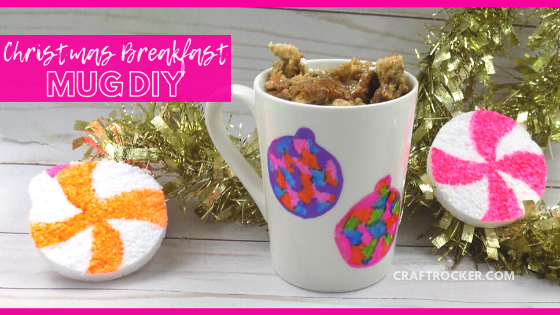 Now you can have a festive Christmas breakfast without all the work with this Christmas breakfast mug DIY.
Once you make one for you, try out different holiday-themed stencils like a stocking, a gingerbread man, or a snowman.
You can make a special unique one for each member of your family to enjoy every year during the holiday season.
Don't Forget to Pin It!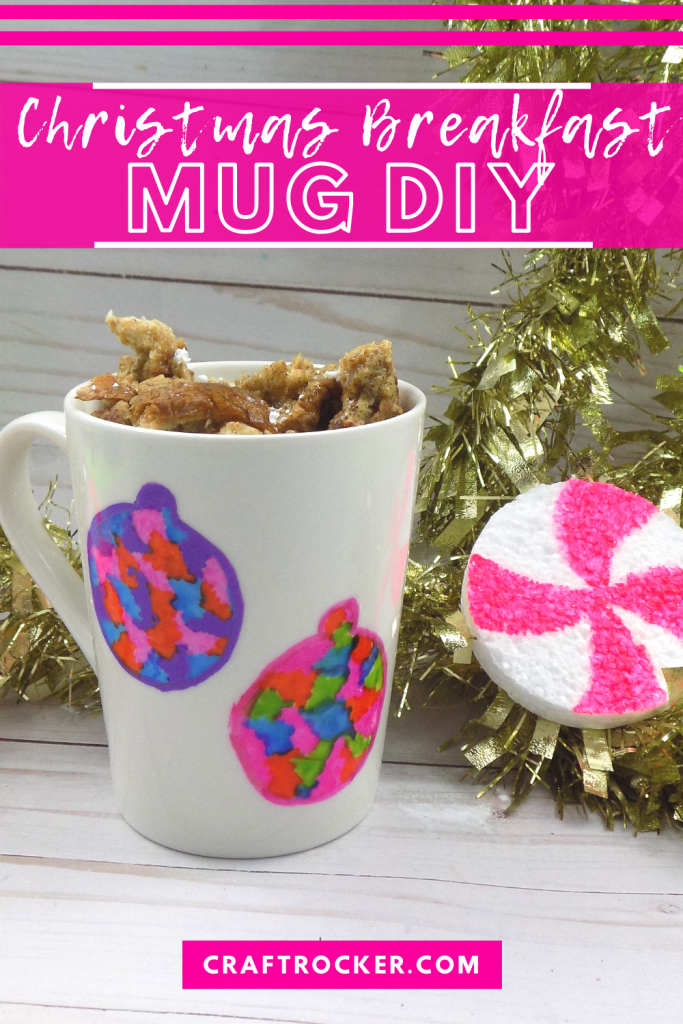 More Christmas Breakfast Fun