This Christmas photo craft kids can make combines the ever-changing nature of children's size and appearance with the tradition of the annual Christmas ornament.
Affiliate links may be used in this post. Ordering a product through these links may result in a commission at no extra cost to you. Read the full disclosure here.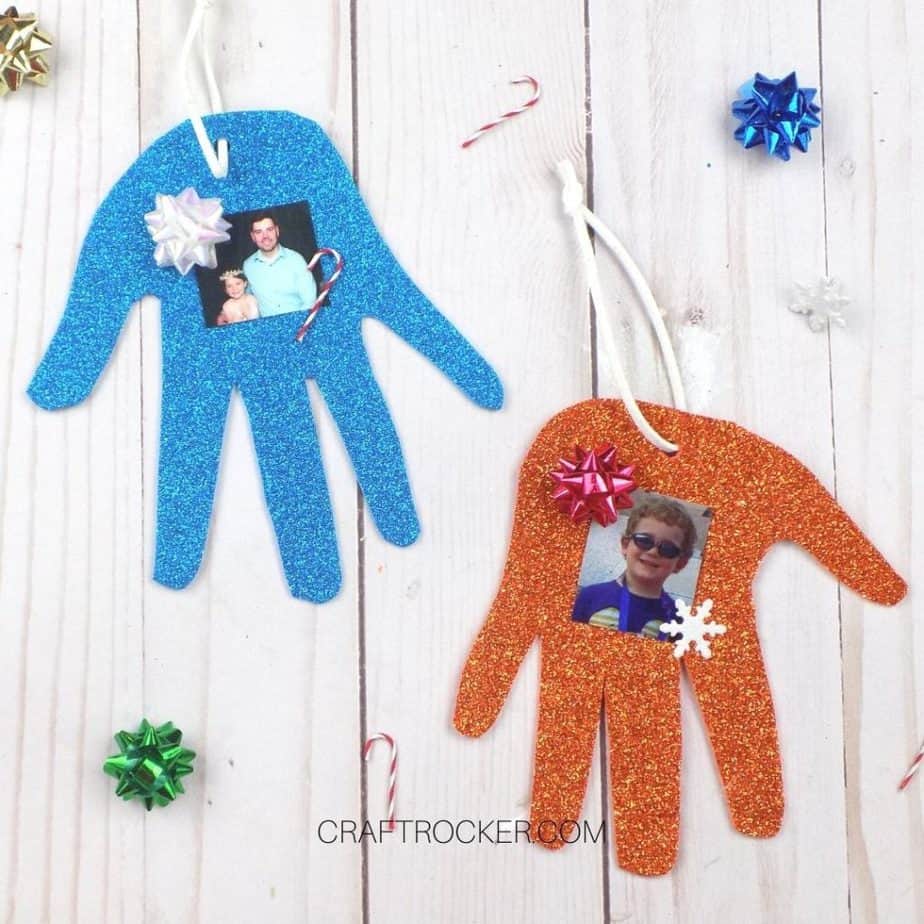 Jump to What You Want


Kiddos will love looking back to see how small they used to be each year while hanging these ornaments.
Your fave photos of the kiddos become treasured ornaments when combined with this super easy tutorial.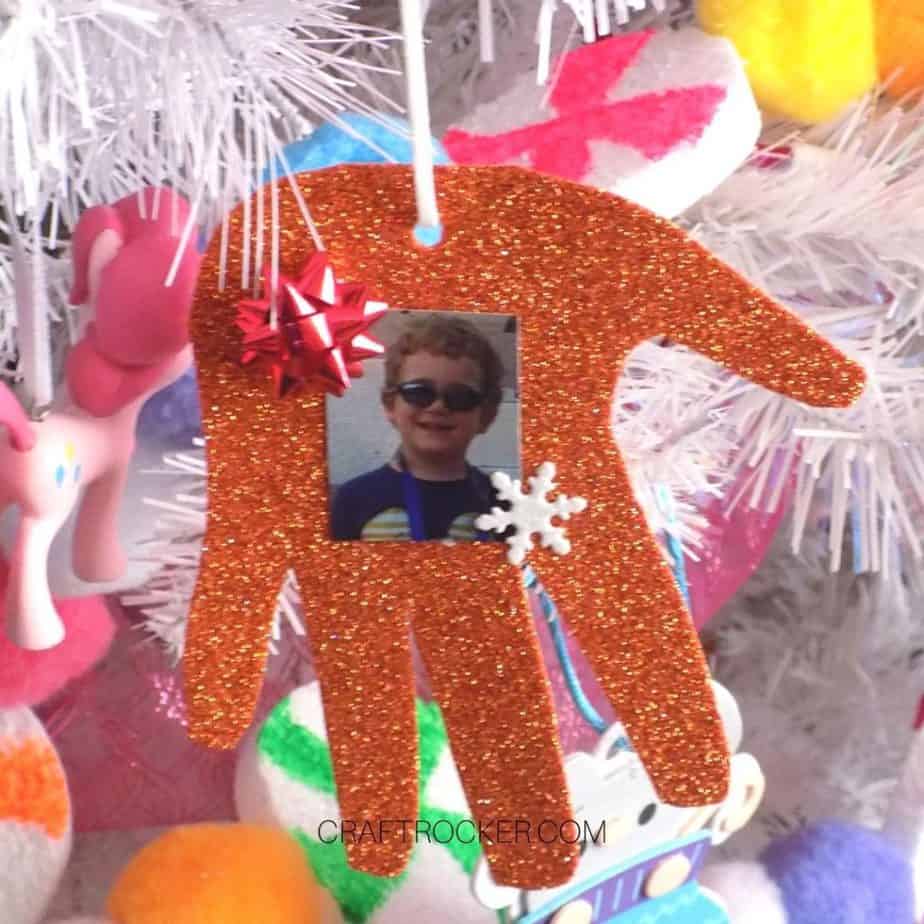 Unconventional Holidays
We officially got the notice that they are suspending in-person schooling again. It has absolutely crushed my kids because they truly love going to school.
No matter what your situation, the fact is that the holidays are looking different this year. I wanted to give my kids a little creative fun like what they would do in school.
That's exactly what these hand print ornaments are. They're a super simple craft that the kids can do and still memorialize this year in a meaningful and fun way.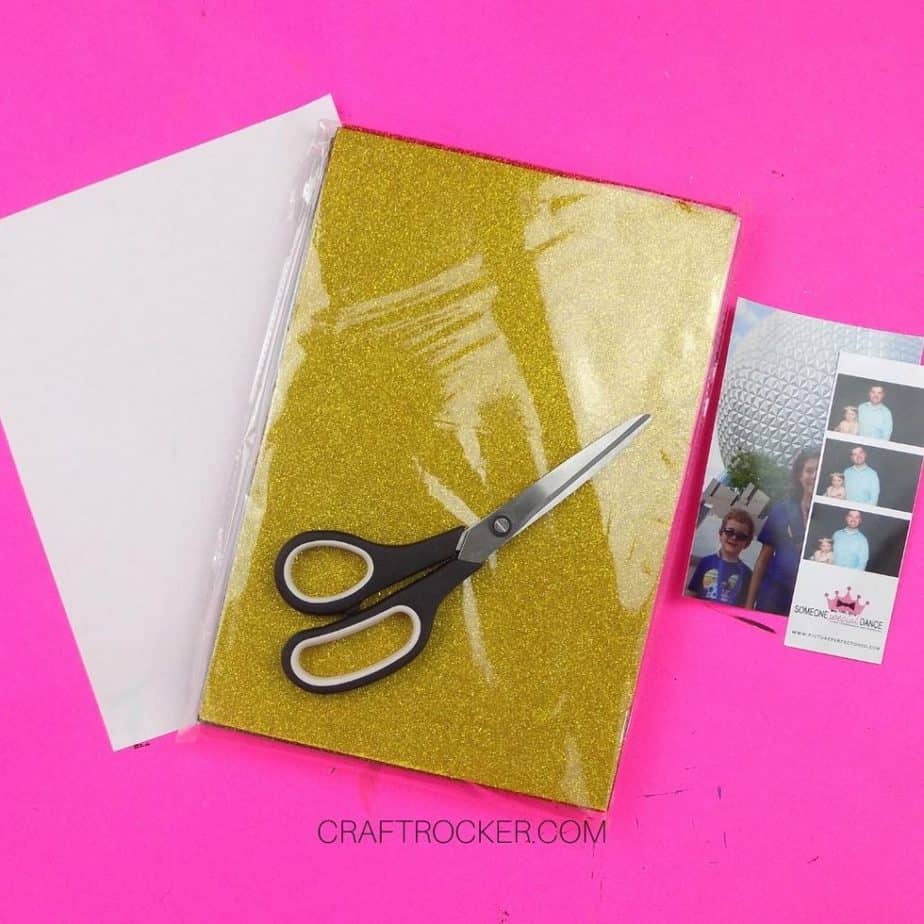 Supplies for Christmas Photo Craft
A Recent Photo

Liquid Glue

Scissors

Craft Foam Sheets (I used these ones)

Hole Punch

String or Cord

Kid-Friendly Embellishments
Note: I used hot glue for the purposes of this tutorial (also because my kids stole all of my Elmer's glue). Regular non-toxic glue works fine for this.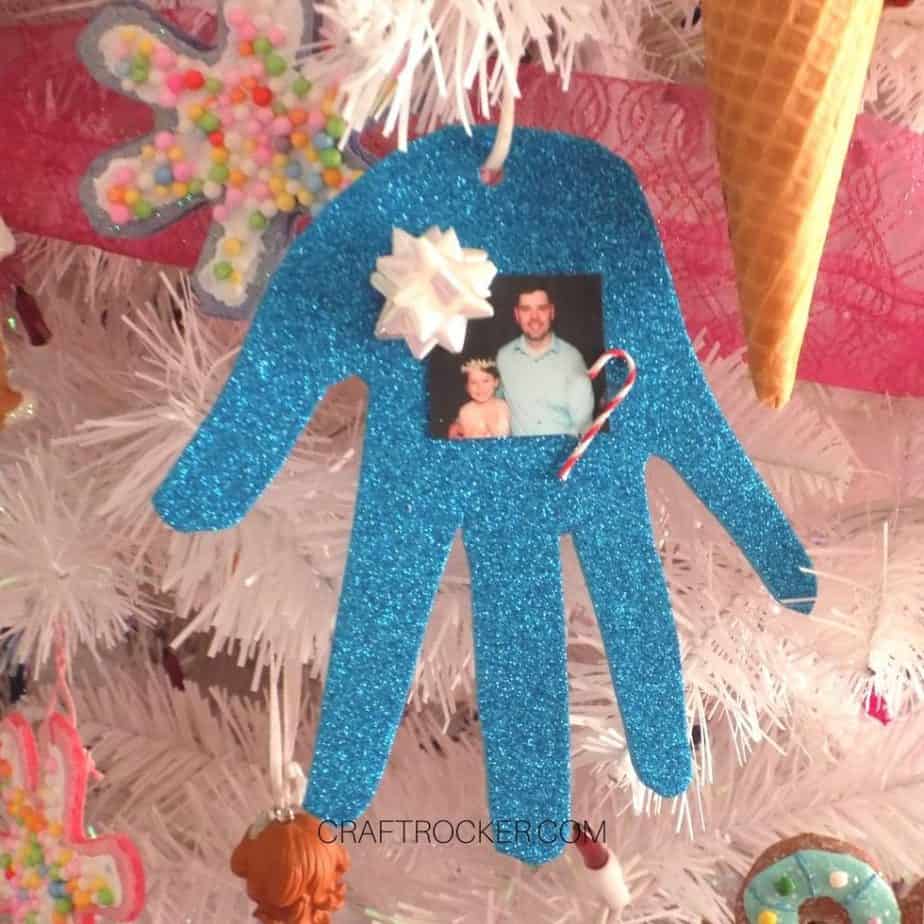 Christmas Handprint Ornament Using Craft Foam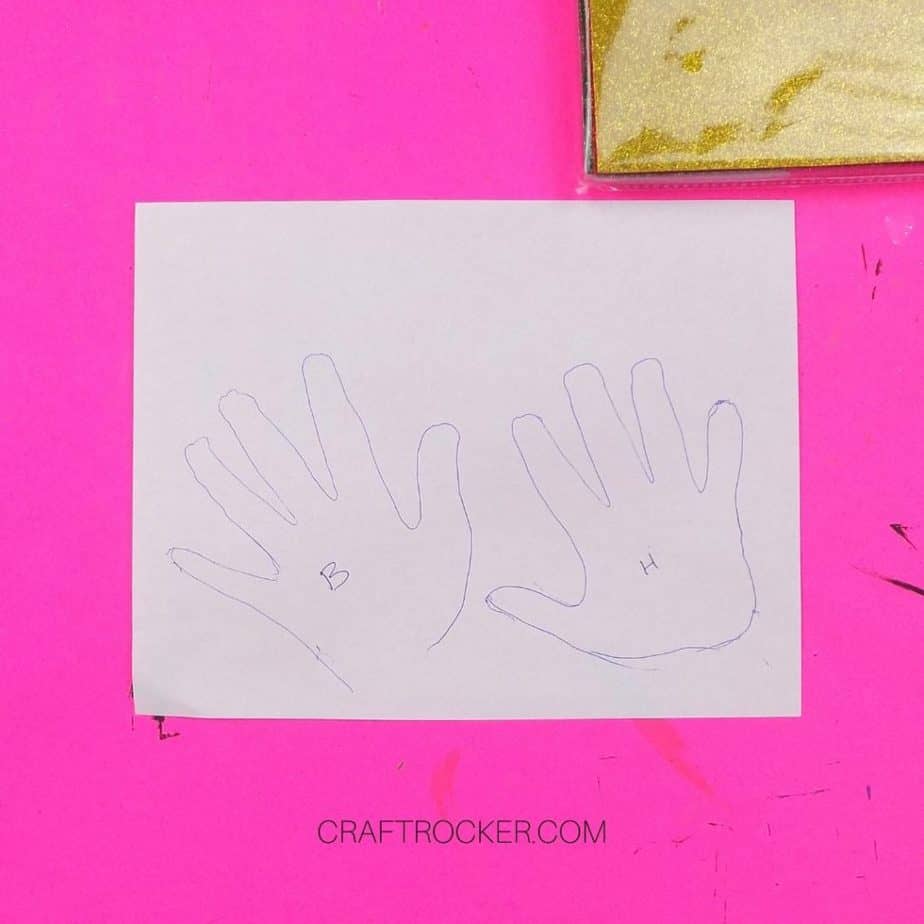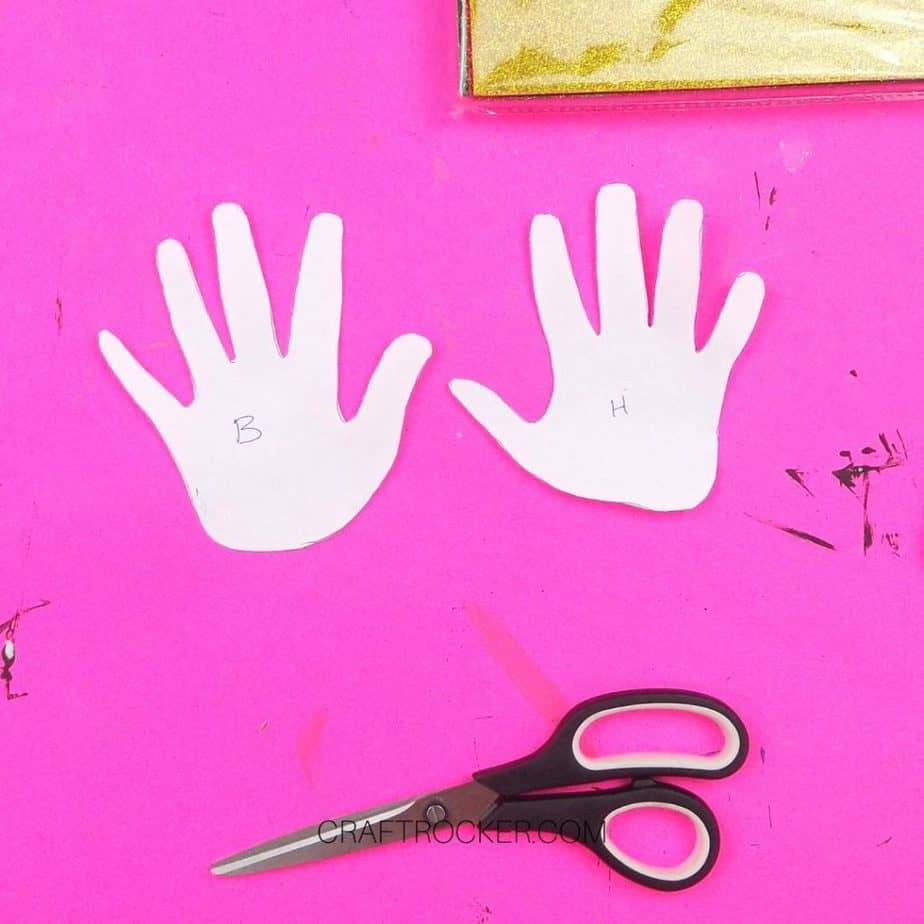 Step 1
First, trace an outline around the hand of each child. Then cut out the hand prints to use as patterns for cutting out the thicker craft foam.
I recommend to draw the hand outline directly onto the foam because the foam tends to bend away from the pattern when cutting. This can be frustrating for little ones.
Tip:
If you're using glitter foam like me, trace the hand print onto the back of the foam where it is easier to write and also to see the outline.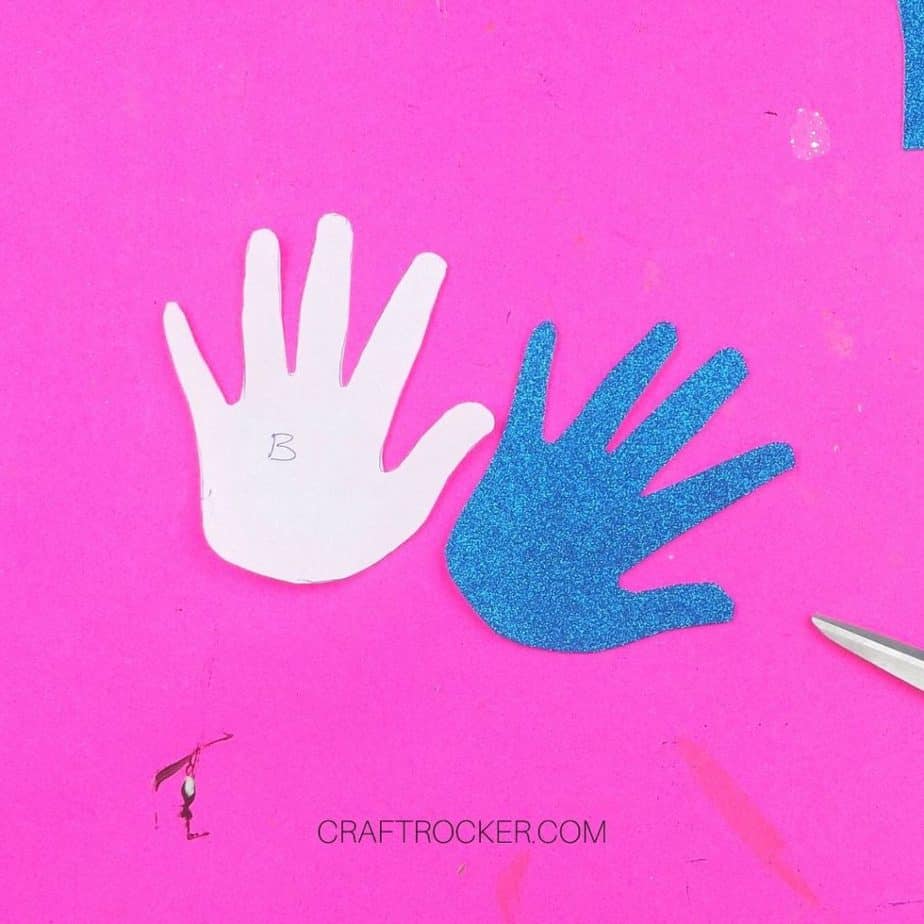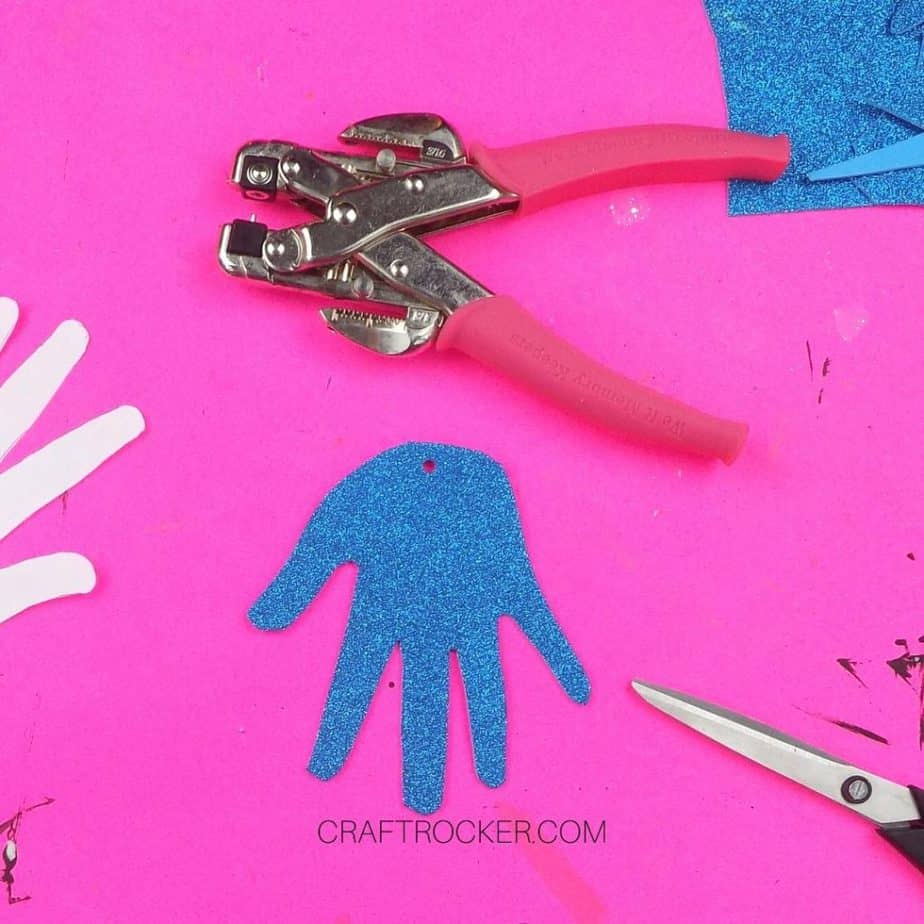 Step 2
Next, cut the hand print out of the craft foam. Once the hand is cut out of foam, punch a hole where the wrist would be.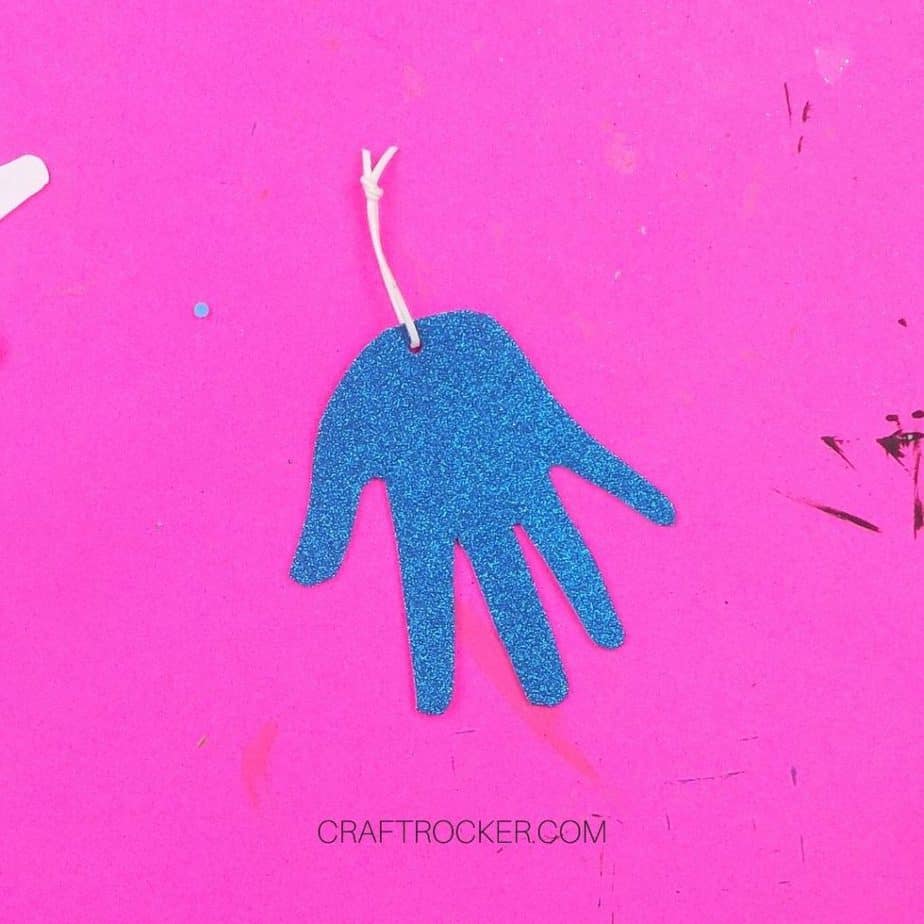 Step 3
After your hole is punched, thread a piece of string or cord through it. Then tie the ends of the cord together in a knot. Trim any excess loose cord above the knot.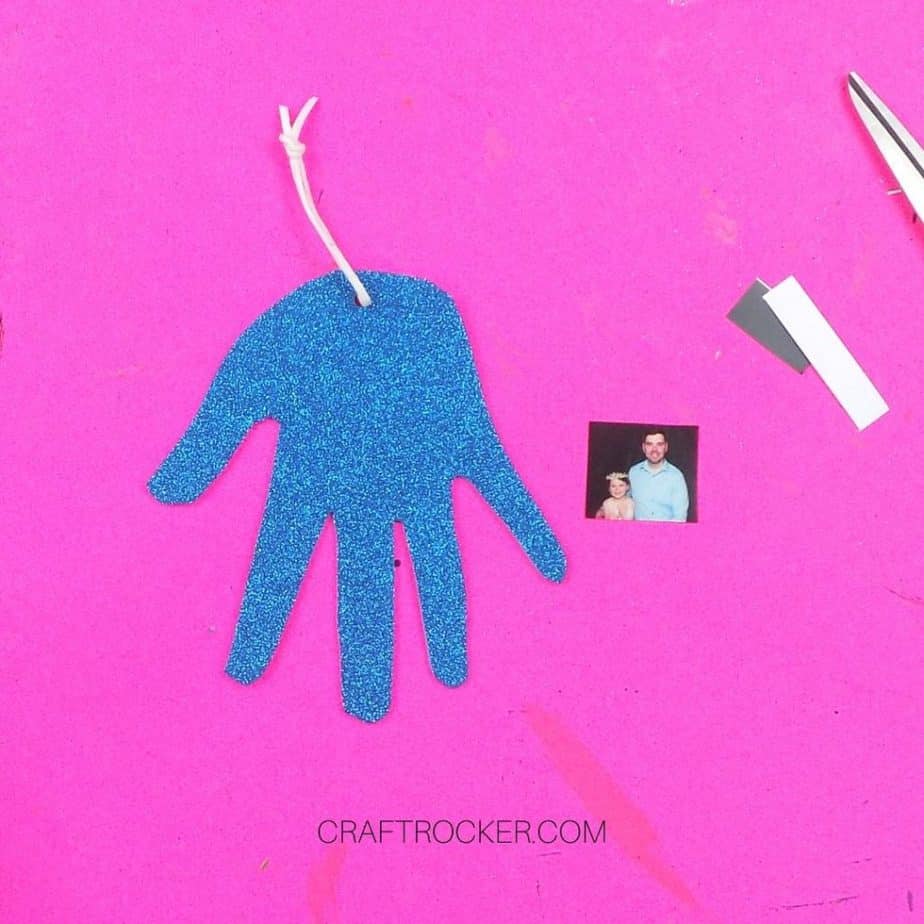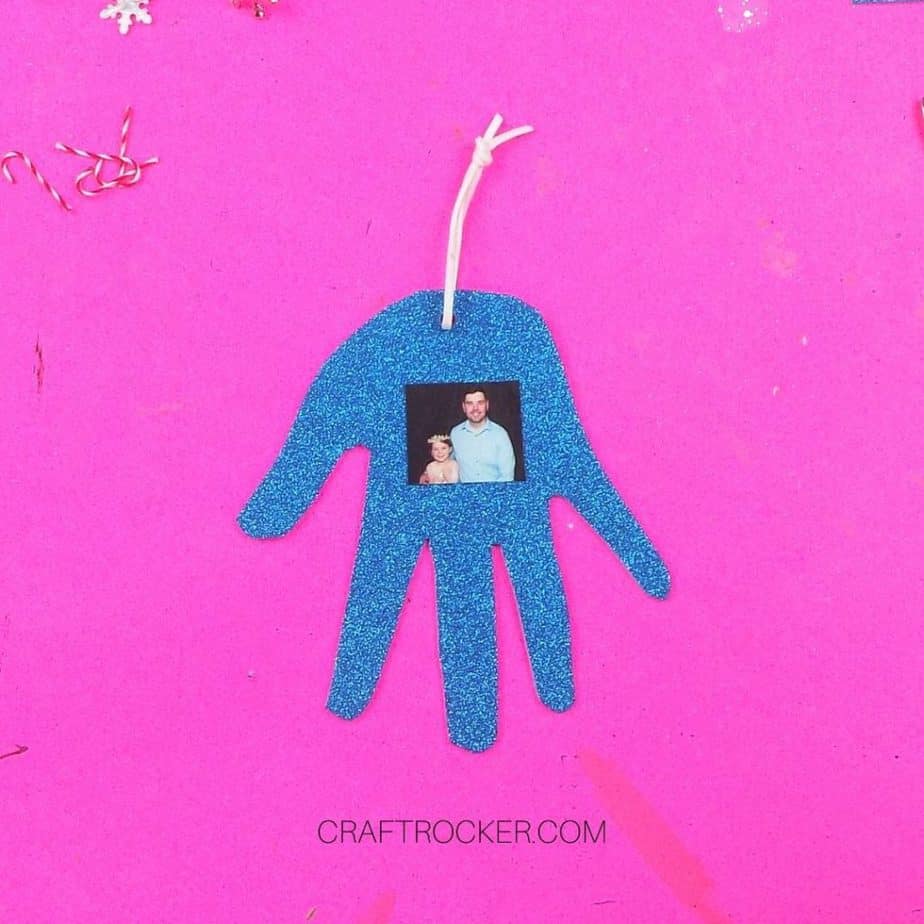 Step 4
Then trim your picture so that it fits within the palm of the hand print. Be sure to test the size before actually adhering it.
When you're happy with the size, glue it down to the center of your hand print.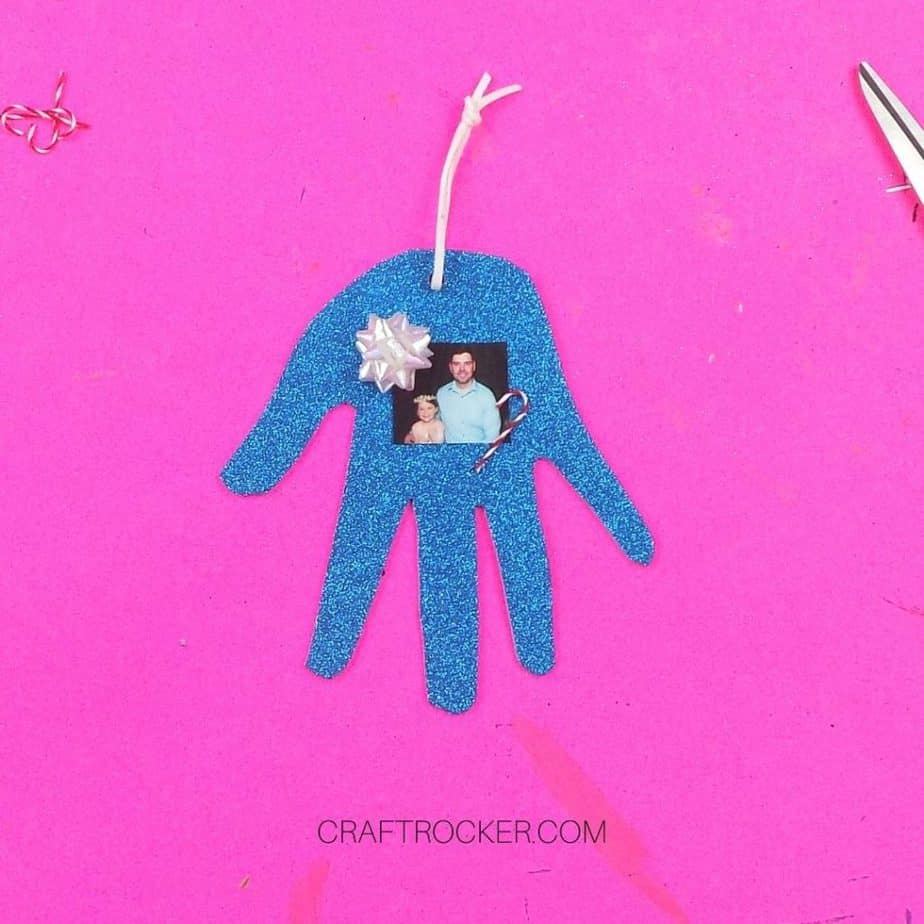 Step 5
Lastly, decorate the hand print with things like foam stickers, Christmas-themed embellishments, and other fun decorations.
If you're using plain foam, a thin layer of glue can be painted across the entire surface of the hand and glitter sprinkled randomly.
A thin line of glue can also be drawn around the photo as a frame and carefully sprinkled with glitter.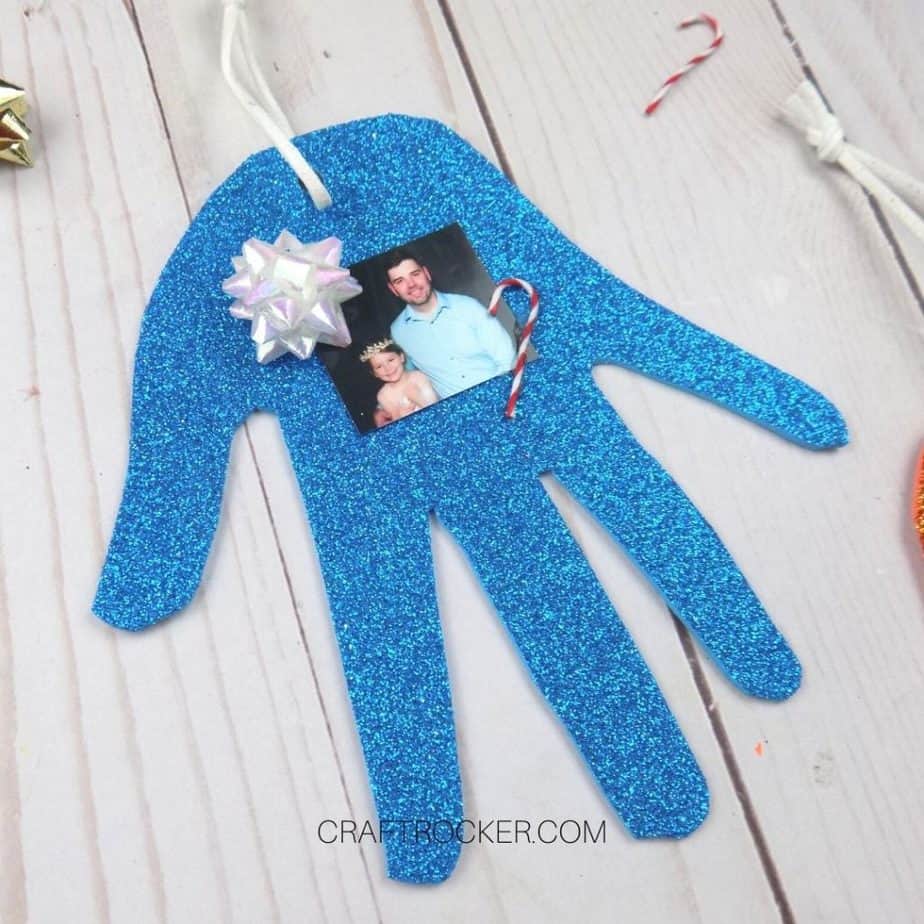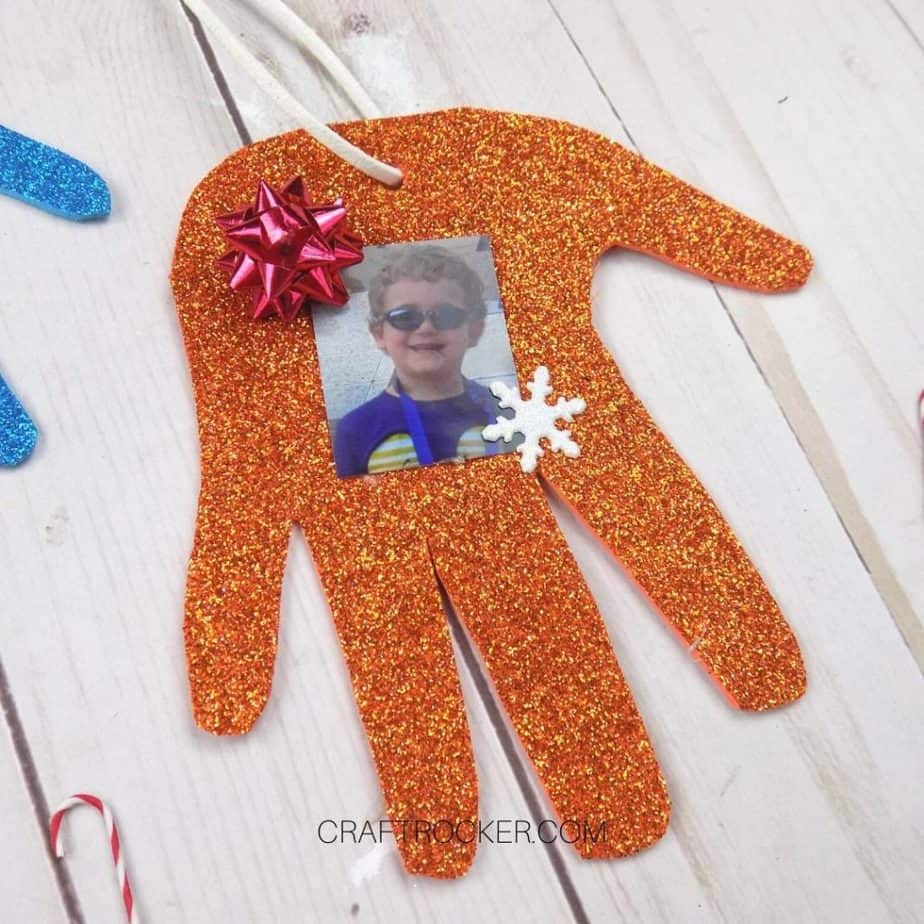 Christmas Photo Craft Variations
Linked Hand Prints Create Fun Keepsake Ornament
For another fun twist, a bouquet of hands can be made by making photo hands for each family member and bundling them together to hang as a group. Such a cluster of ornaments might make a lovely gift for family or friends.
Baby's First Christmas Ornament Using Hand and Foot Prints
If a family has recently grown to include a baby, a cute baby hands and feet a fun ornament can be made out of a strand of two hand outlines and two feet outlines.
Once the outlines are cut out of the craft foam and tiny photos attached, the pieces can be linked with attractive string.
A few decorative beads strung between each piece and ornament hooks attached at either end will finish this attractive and festive remembrance for baby's first Christmas.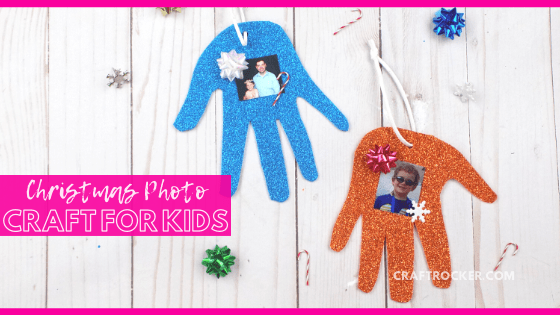 Even though the holidays look different this year doesn't mean they can't still be great. This Christmas photo craft is a great way to let the kiddos get creative and have some fun making a keepsake that will last through the years.
Don't Forget to Pin It!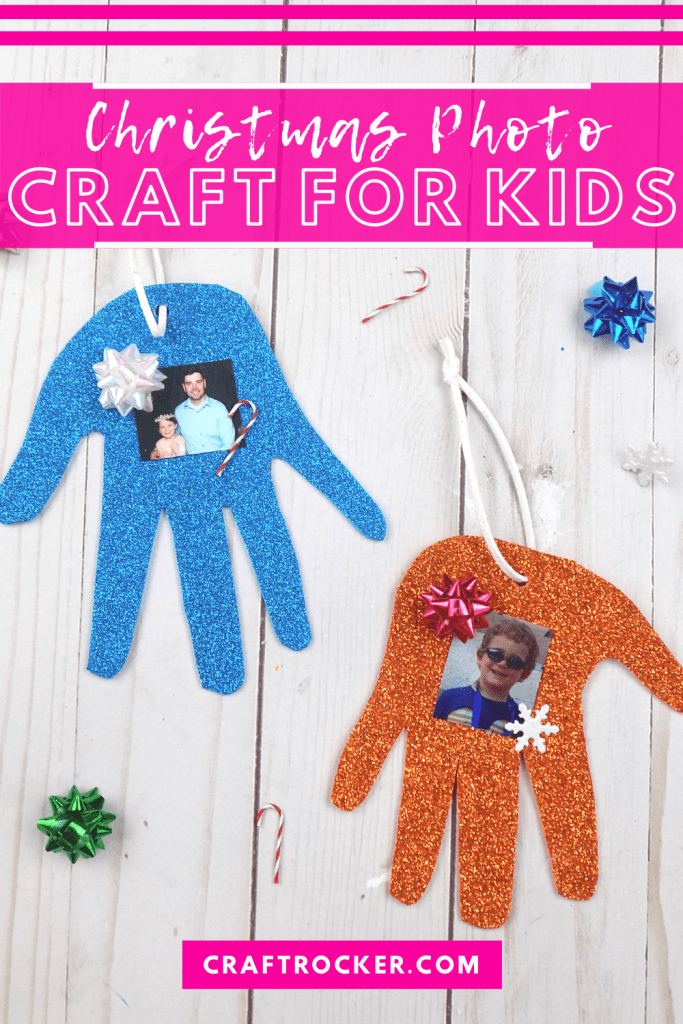 More Fun Christmas Crafts