HI! I'M MARIE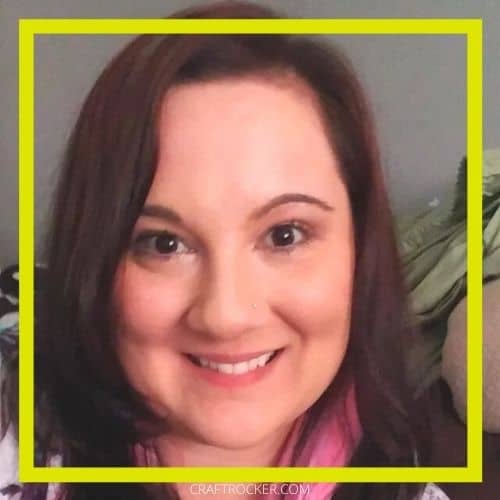 Have you ever seen one of those memes floating around the Internet that says making things and buying craft supplies are 2 separate hobbies? We laugh because it's relatable.
You see something cool in the craft store that you have the perfect project for. Then you throw it in the cart, buy it, and stick it somewhere in the craft room.
By the time you come across it again, you've forgotten the craft you wanted to make with it, your creativity is lackluster, or some myriad of other reasons for not using it.
My Mission at Craft Rocker is to Encourage Creativity with Step-by-Step Tutorials for Every Crafty Level
Whether you have 5 minutes and some paint or a whole weekend to scrapbook, this site is all about giving you the tips, tools, and tutorials to create. Use up those craft supplies. Finally make all of those awesome ideas you saved on Pinterest.
I know what you're thinking. "I'm a busy mom. I don't have time to craft like I want."
That brings me to my next point:
Creativity is My Favorite Form of Self Care
You have a lot of roles as the momma. Cook, nurse, taxi, secretary, activity director, maid… the list goes on and on. Even when you have a moment to yourself, you're thinking of all of the things you should/need to be doing.
I totally get it. I'm guilty of this too.
The truth is, creativity and crafting are a form of self care. When you take time for it, you are recharging and resting.
Of course, making that a priority is easier said than done. If that's how you feel, I want to give you the tiny perception shift that changed how I prioritized self care:
How I Treat Myself is How My Kids Learn to Treat Themselves.
Our kids learn by watching us. If they see you constantly doing for others, never taking time for yourself, and getting burnt out and overwhelmed then that is what they do as adults.
I don't know about you but I don't want my kids to neglect their own wellbeing as adults. I want them to know that recharging themselves with their hobbies and passions makes them better parents, friends, and overall happier human beings.
Start modeling that now and you'll be happier, healthier, and ready to take on those tough momma days like the boss that you are. Craft Rocker is here to inspire you with the ideas and tutorials you need to refuel your creative soul.