If you're looking for the best gifts for crafters then you've come to the right place. Below you'll find over 50 ideas from tools to stocking stuffers that are perfect gift ideas for crafty friends and family.
Affiliate links may be used in this post. Ordering a product through these links may result in a commission at no extra cost to you. Read the full disclosure here.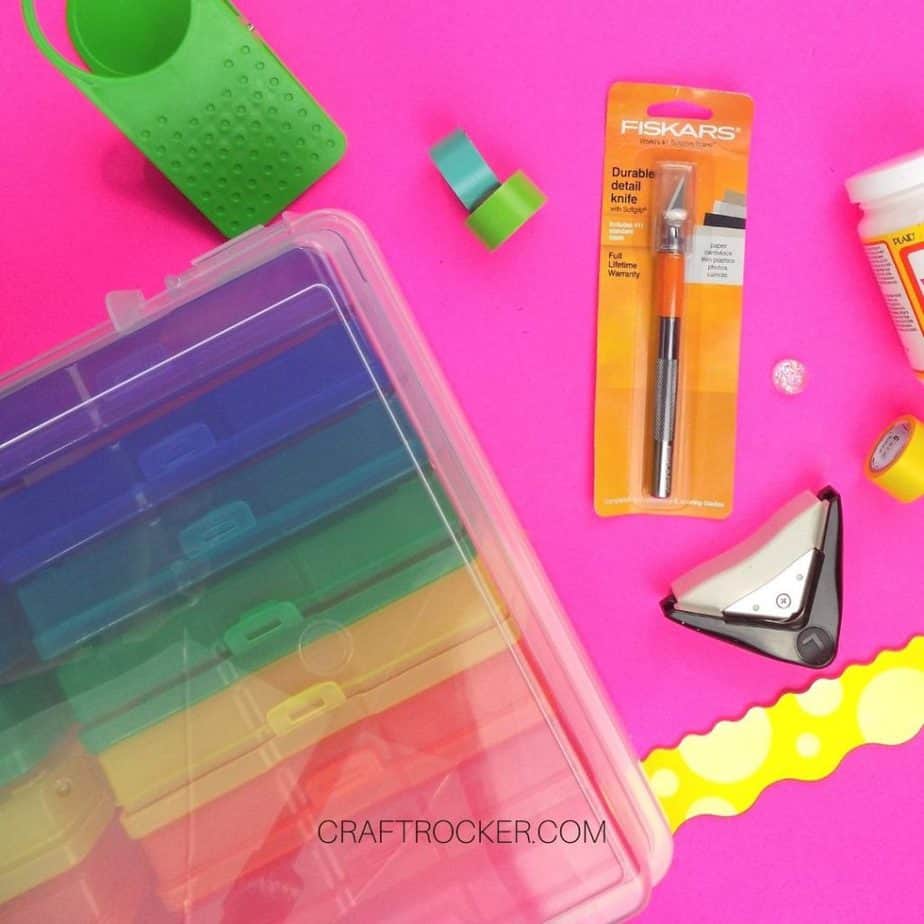 Jump to What You Want





Festive Christmas Season Blog Hop
Welcome back to year 6 of our Festive Christmas Event where we team up with a bunch of talented blogging friends to bring you a plethora of creative ways to celebrate your holiday season.
We will be baking some cookie recipes for you, sharing some party games, making some handmade gifts, doing some ornament crafting, and sharing our Christmas movies family fun. There will be breakfast recipes and, as always, our decorated Christmas Trees which is always a fun tour of homes.
New this year are Gift Guides. We are right there with you shopping from home due to Covid-19 and we understand how hard that can be so we have been busy little Elves doing tons of research to create fabulous Gift Guides to help you with your holiday shopping.
You will find new ideas every Monday and Wednesday between Oct. 19th through Nov. 18th. Scroll all the way down to find all the ideas linked at the end.
Why Are These the Best Gifts for Crafters
How do I know what the best gifts for crafters are? It's because I've been a crafter pretty much since birth so over 30-something years. Moreover, in that time I have delved into multiple different mediums because I'm a knowledge seeker.
I've tried sewing, wood burning, resin, paper crafts, jewelry making, and so much in between. It's my passion and I either own the items on this list or they are personally in my wish list.
If you want to surprise the crafter in your life with an awesome present but don't know where to start then this list is exactly what you need.
Awesome Tools Gifts for Crafters
Of course, a crafter's tools are an extension of herself. Give her the best with these gift ideas!
A paper trimmer is essential for any paper crafter, Cricut crafter, and even Mod Podge lover. I perfect the blade cutters like this one but some crafters prefer the rotary version. Either way, it's a must-have tool for crafters.
An embossing heat tool isn't just for embossing. Give it to resin crafters to remove bubbles from their resin creations or your favorite paper crafter to curl the edges of paper flowers and embellishments.
I cannot count the number of times my laminator has come in handy for a craft I'm working on. If your favorite crafter doesn't already have one, definitely wrap this up for Christmas and don't forget to include a box of laminator pouches too!
Contrary to popular belief, this tool isn't just for scrapbookers. I have used it to piece together flowers, make a faux clock face, and in many other creative ways. It's another imperative tool for the crafty person in your life.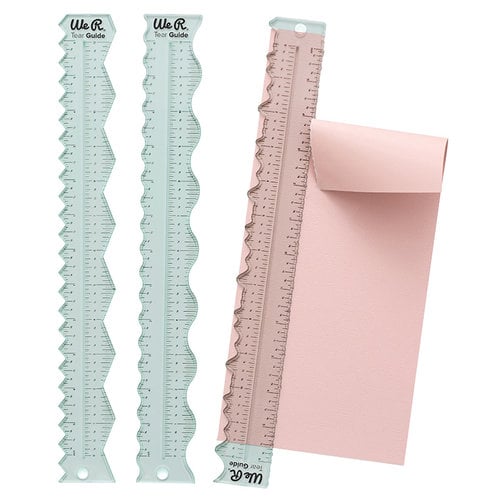 This is such a simple but totally brilliant tool. Essentially they look like weird rulers and they're used for tearing specific tears into papers. I used them to create the corners on this Colorful Skulls Scrapbook Page. They make it super easy to get the look you want with your paper crafts.
Page protectors are a consumable supply for scrapbookers. Most scrapbook albums only come with 10 to 12 pages in them and, frankly, we like to add a whole lot more than that to our scrapbooks. Because of that, we go through these page protectors like crazy. Trust me, the scrapbooker in your life will love you for these.
A Sizzix is a machine for embossing and creating die cuts. I wish they had had this bundle when I got mine because the nesting basic shapes are so useful for a ton of projects. Luckily, you can surprise the crafter in your life with the perfect bundled gift with this bundle.
A Cricut machine is like the crème de la crème of crafting, especially the newer models. They might set you back a few hundred dollars but they are so worth it.
I do have a word of advice for you:
If your crafter hasn't linked any of her cartridges yet, do not get her the Maker. Instead, surprise her with the Explore Air 2. The reason for this is because I went straight from the Expression (the first Cricut) to the Maker. The Cricut Maker does not have a cartridge adapter and NONE of my cartridges are linked.
I tried the Cartridge Adapter which I spent a fortune on on Ebay and it still didn't work. Don't put your crafter through the same headache. Find out if her cartridges are digitally connected to her account first
Another super useful and awesome Cricut product is the EasyPress. It makes applying HTV (heat transfer vinyl) so easy and can be use for their other products such as Infusible Ink.
Tumbler Turner Machine
Does your crafter love playing with resin? If so, surprise her with the tool to make her own glitter tumblers. I have this exact machine and it is so easy to set up and even easier to use. If even came with the screwdriver to put it together with. Awesome!
Scissors
Scissors are another imperative tool for crafters but not all scissors are created equally. For example, don't you ever use a crafter's fabric scissors on anything that isn't fabric. She might beat you.
Luckily, I can guide you to the perfect scissors for any occasion with the list below:
Another versatile tool that every crafter should have is a self healing cutting mat. These are great for cutting fabric on with a rotary cutter, cutting out details with your craft knife, and so many more cutting projects. Surprise her with this sweet-looking pink one this holiday!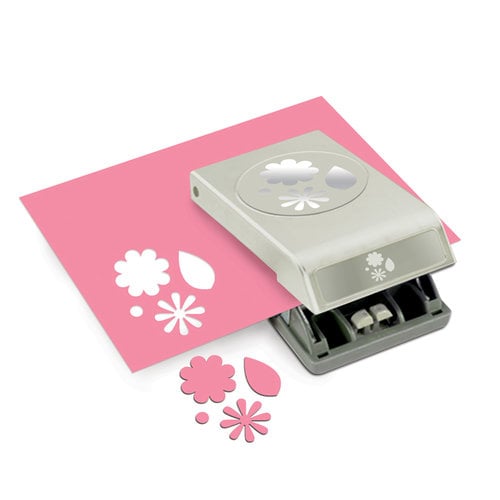 Punches
There are some basics every crafter should have:
If you're unsure what sizes your crafter has, go for a set that give you multiple punches in the same shape but in different sizes. This ensures that she definitely has some useful punches for her crafting needs.
Storage Gift Ideas for Crafters
There is no crafter on the planet that doesn't need more storage. In fact, it feels like even as we get more space and storage, our craft supplies quickly outgrow it. Help your favorite crafter get a little more organized with these awesome gift ideas.
12×12 Project Box
These are great for storing paper, supplies, and even corralling like supplies together for a specific project. I use so many of these constantly.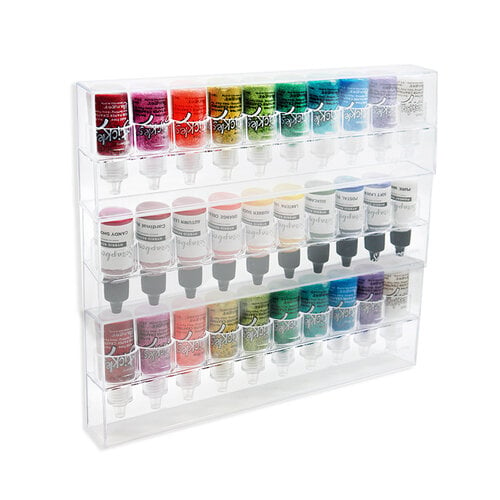 The ColorCase
The beauty of this ColorCase is that it stores your glitter glue inverted so that it is always ready when you need it. Also, because it's a newer product, your crafter likely doesn't have it yet.
Buddy Bag
These come in many different sizes and are perfect for storing tons of craft supplies. I like to use mine to sort and store my ribbon but they can also be used for tools, paint, and stamping supplies.
Craft Binder
If your crafter likes to craft on the go then she needs one (or ten) of these craft binders. They are a convenient way to organize and store different tools as well as mobile-friendly for crops and classes.
Photo Storage Bins
I absolutely adore my photo storage bins. They are durable, convenient, and protect my photos until I can scrapbook. They also make it easy to choose the photos you want to scrapbook at a crop without lugging the entire organizer with you.
A craft storage caddy is something I truly believe every crafter needs regardless of what they craft. There are tools that you need on a regular basis and having quick, organized access to them is essential. A caddy makes this easy.
Paper organization is another thing that crafters (especially paper crafters) can't get enough of. We see a pretty pad of paper and feel compelled to add it to our collection. These drawers are perfect for organizing and storing all of those pretty paper pads.
Another (less expensive) option for paper storage is open storage. I use a combination of drawers and open storage. They both have their pros and cons. Open storage is easily accessible, especially for large pads which I can label. Drawer storage protects your paper from dust and also lets you group loose pages together easily.
Either way, your crafter will totally appreciate some extra paper storage for her supplies.
I use these to organize a ton of my craft supplies. From stamps and ink pads to glitter and tools, the ease with which these storage boxes stack makes them optimal for organizing craft supplies on shelving or in small spaces.
Every crafter has experienced the dreaded incident where your organizer falls and all of your carefully organized supplies spills out everywhere. With locking organizers, it's not a problem. The compartments don't open unless you push on the locking lever and flip the lid at the same time.
I love using these for taking my brads and eyelets to crops.
Craft Kits Gifts for Crafters
Is your crafter looking to try her hand at a new medium? These awesome craft kits make it easy. They give you everything you need for at least one project (sometimes more). Some of them even provide step-by-step guidance to get started.
I love creating wood burning projects and this is the exact kit that I bought. It's easy to use and perfect for beginners.
Admittedly, this one is on my wish list because you can make so many cute creations with needle felting. This kit gives you everything that you need to get started.
This awesome kit combines learning a new skill (crocheting) with nerdiness (Harry Potter). It's basically a craft rocker's dream!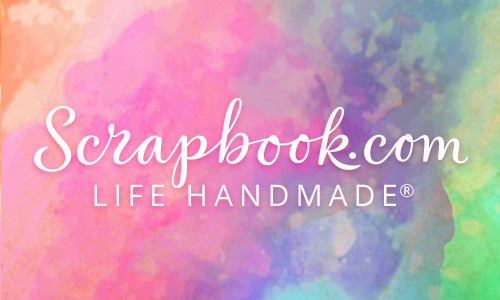 The great thing about learning to make your own candles is that it is so much cheaper than buying store bought ones. Once you have the basic materials, that is. This candle making kit gives your crafter the basic tools she needs and then she can purchase more supplies to make candles on a budget when she runs out.
Honestly, any momma would love this kit whether she is crafty or not. It gives you a tangible keepsake frozen in a moment in time that cannot be replaced. Highly recommend this for every mom in the world.
Does your crafter want to get started making her own jewelry? If so, set her up with everything she needs to make her first pieces with this jewelry making kit.
Embroidery is another medium on my list to try. It's so pretty and looks incredibly cathartic. If your crafter wants to try her hand at it, surprise her with this awesome kit to make 3 different embroidery designs.
Paint by number kits are awesome because they let your crafter decompress and simply follow the numbers. In the end, you have a beautiful hand-painted piece of décor for your home. I'd say that makes everyone a winner.
Bring back all the nostalgia with this latch hook kit. Not only is it a nod to the past but it also results in some fun new décor or rugs for your home.
In case you haven't heard, diamond painting is big. Again, I think this is because of the repetitiveness of it. You can let go of your mental load and simply focus in on these little squares. A diamond painting kit is an excellent way to let your crafter de-stress.
This is one of the cutest things ever that becomes an awesome piece of décor when it's finished. You build the doll house then place it on the base and protect it with the included cloche cover.
A perfect gift idea for the crafter who has everything!
Fun Gifts for Crafters
If you're unsure of what your crafter wants or needs, surprise her with some fun gifts instead. These adorable ideas range from craft books to coffee mugs and are the perfect fun gift to give the crafter who has everything.
This sewing advent calendar is full of handy tools for the seamstress in your life.
Keep your crafter warm with a fun sweatshirt to craft in. As a scrapbooker, I can tell you that this one is definitely a fun article for your crafter!
Maybe she needs more creative inspiration. This book gives her awesome projects to work on everyday to get those creative juices flowing.
Let you crafter show her love of knitting with this super adorable keychain. Bonus, it's totally small enough to be a stocking stuffer too if you want.
Okay, this pouch is too funny. I'd love to tote my pens or washi tape around in it. Definitely the perfect gift for the snarky crafter in your life.
Show your crafting queen how she reigns with this super fun t-shirt. Let her know that you fully expect to see some paint stains on it next time she wears it.
When you love crafting it goes deep. This fun PopSocket for your phone lets you show it off all day, every day.
Crafters need fuel to make all of that awesomeness. Why not give her a cool mug to sip her coffee in?
Dot journals are a super useful gift because you can jot down project ideas and sketches in them. They can also be used as planners for mapping out every aspect of your crafty (and non-crafty) life.
If your crafter is lucky enough to have a dedicated space, give her the crafty equivalent of a "man cave" sign with this personalized gift idea.
Want to gift some artwork but unsure about customizing it? If so, this art print is the perfect alternative. It's a gorgeous décor item that crafters will love and you don't have to worry about spelling or dates for it.
Okay, seriously, how cute are these buttons? They definitely add a creative and inspiring touch to any craft room and make a fun and unique gift idea.
Stocking Stuffers for Crafters
If you're looking for awesome gifts to put in your favorite crafter's stocking then you'll love these small item ideas. They are all useful and/or fun items that will delight the recipient on Christmas day.
This is a fantastic little tool to clean up any adhesive that gets on your work space. Simply rub this eraser over the sticky area and boom! Sticky stuff is gone.
An embossing tool is handy for fine-tuned embossing crafts. My favorite use is to use them to create depth and dimension on paper flowers.
Glue runners and refills are another supplies that crafters go through like crazy, especially paper crafters. Keeping up with refills can be pricey so we're always super appreciative when surprised with more as a gift.
Again, a craft knife is such a versatile tool that needs to be in every crafter's arsenal. Chances are, even if your crafty friend or family member already owns one, it is way old and possibly rusted. Give them an upgrade with this awesome stocking stuffer.
A brayer is a useful tool if your crafter loves mixed media projects or creating stuff with her Cricut. It's also the perfect size to put in a stocking!
This notebook is a cute and funny gift that is also super useful. Who doesn't need more notebooks in their life? Definitely not a crafter, that's for sure.
A desktop vacuum is perfect for glitter lovers. Try as we might, it never fails that we can't get every piece of glitter up after making an awesome, sparkly craft. Enter this amazing little gadget. It will get all those pesky strays easily!
Personally, I love that novelty socks are trendy right now. Why not spice up an otherwise boring clothing necessity? That's exactly what these super cute socks do.
If your favorite crafter goes to crops or even packs up her craft stuff to get creative with friends, this sidekick is a must-have. Simply clamp it on the table for an instant cup holder that doesn't encroach on your creative space.
Another super easy and consumable stocking stuffer is chalk markers. We love to use them on various projects but also the fact that they get used so frequently (and are consumable) means that we run out of them. An extra set is much appreciated.
Trust me. Every crafter goes through this stuff like crazy because it's such a versatile medium.
Luckily, it also makes an awesome stocking stuffer because crafters can always use more.
Again, washi tape is one of those totally useful supplies that the crafty people in your life can't get enough of. It's great for using in planners, on cards, on scrapbook pages, and a ton of other craft project. Dump a bunch of these in her stocking and she'll be thrilled!
Seriously, it doesn't get much better than these 50+ best gifts for crafters. If you want even more ideas, anything on this Where to Buy Craft Blanks list will certainly be appreciated.
The crafty lady in your life is super lucky to have someone like you to check out all of these awesome gift ideas. Let me know which one is your favorite (or any questions you have) in the comments below!
Don't Forget to Pin It!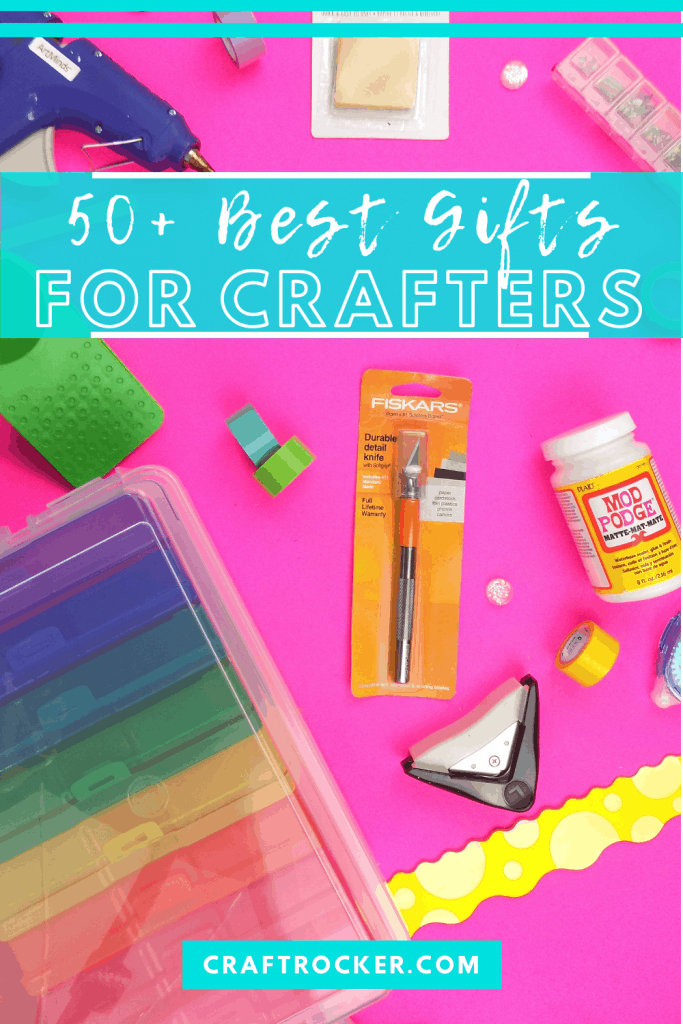 Check Out What the Other Bloggers Are Sharing