This colorful skulls Halloween scrapbook page is a great single photo page layout to showcase the entire family in their costumes together.
Affiliate links may be used in this post. Ordering a product through these links may result in a commission at no extra cost to you. Read the full disclosure here.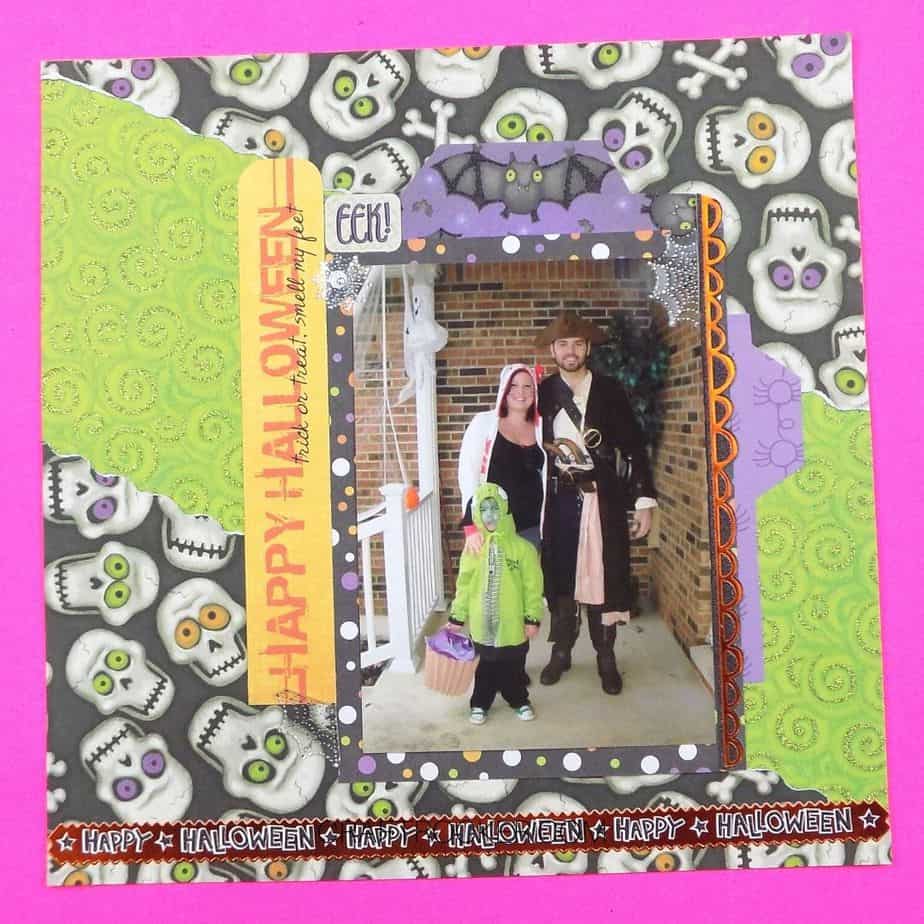 One of my favorite things to do when I get some me-time is grab my scrapbook supplies and binge watch some horror movies. Even when it's not Halloween, crafting while watching scary movies is the go-to when I get kid free time.
Even if you aren't the scary movie fan that I am, throwing classic horror films on the TV and crafting awesome Halloween scrapbook pages is the perfect crafty self-care idea for this time of year.
Want more? Check out my awesome Fall Bucket List for Crafters for 29 more crafty self-care ideas to do this season!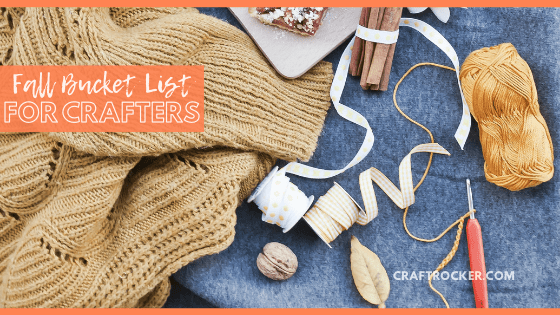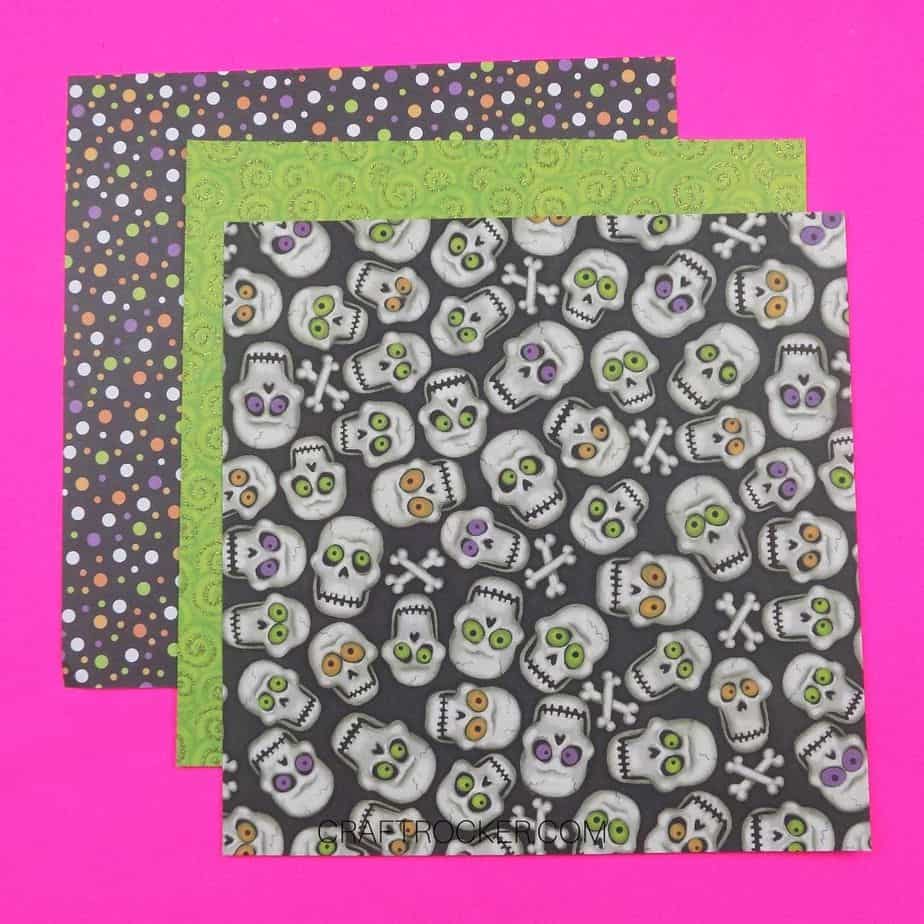 Colorful Skulls Halloween Scrapbook Page Materials
12×12 Inch Double-Sided Halloween Paper Pad (The pad I used is discontinued but this is very close to what I used)

Glue Runner

Foiled Paper Halloween Banners (You can find these at most craft stores)

8×10 Photo of Family in Costumes

Translucent Spiderweb Stickers

Scissors

Halloween Borders Paper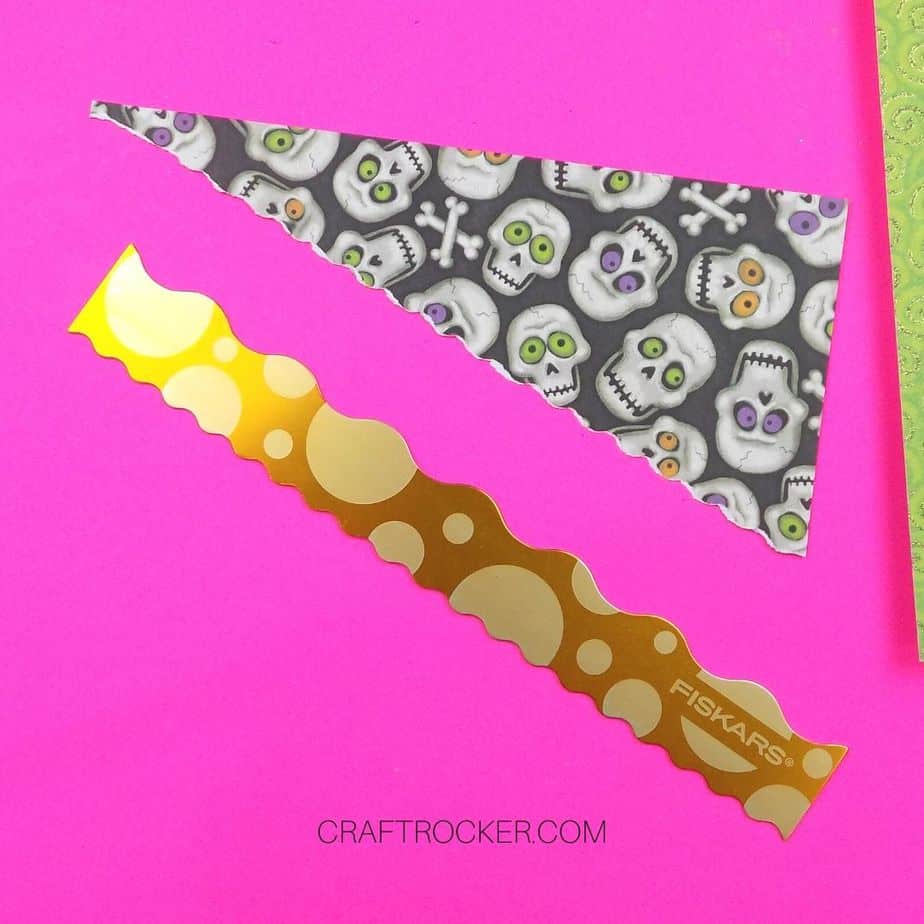 Step 1
First, use the small wave edge of your tear guide tool to tear the corners of your skulls paper. To do this, line up your tool like a ruler to the points you want to tear between. Then pull the paper straight up in a line against the tool's edge.
Note:
I have the metal Fiskars version which I believe is discontinued (at least, I couldn't find it anywhere). This set from We R Memory Keepers has one that has the same style that I used.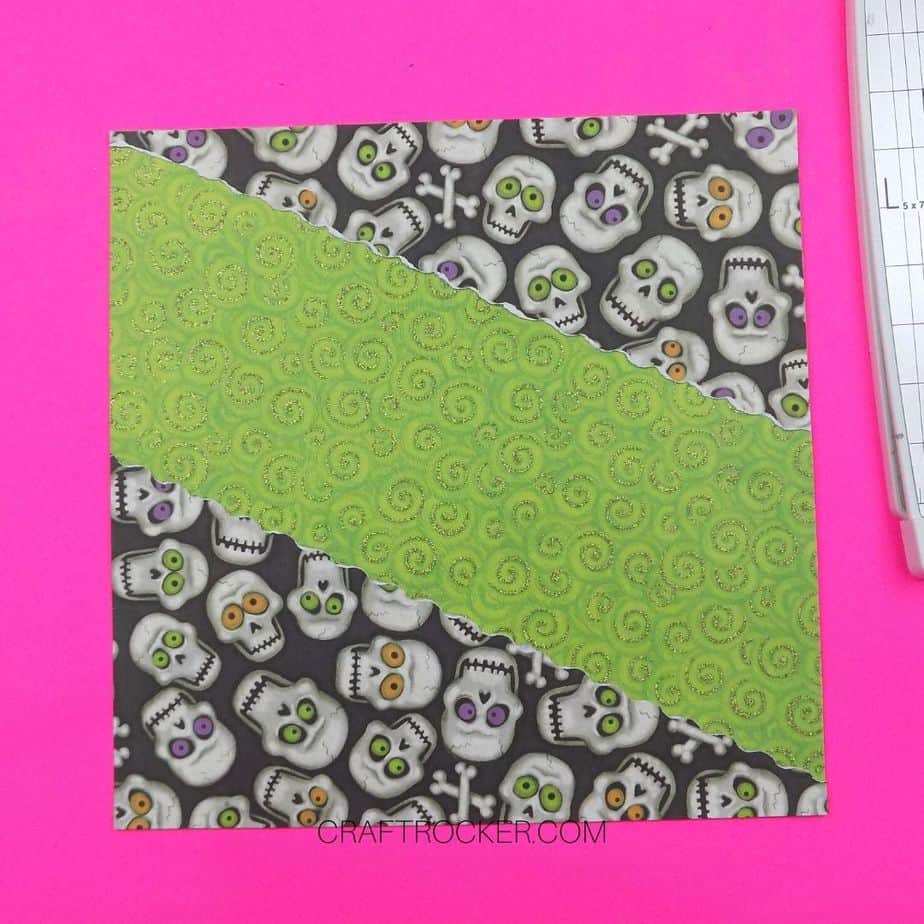 Step 2
Next, attach your torn skull paper to the top right and bottom left corners of your green paper. The end result looks like a the center of your page has been ripped diagonally through the middle.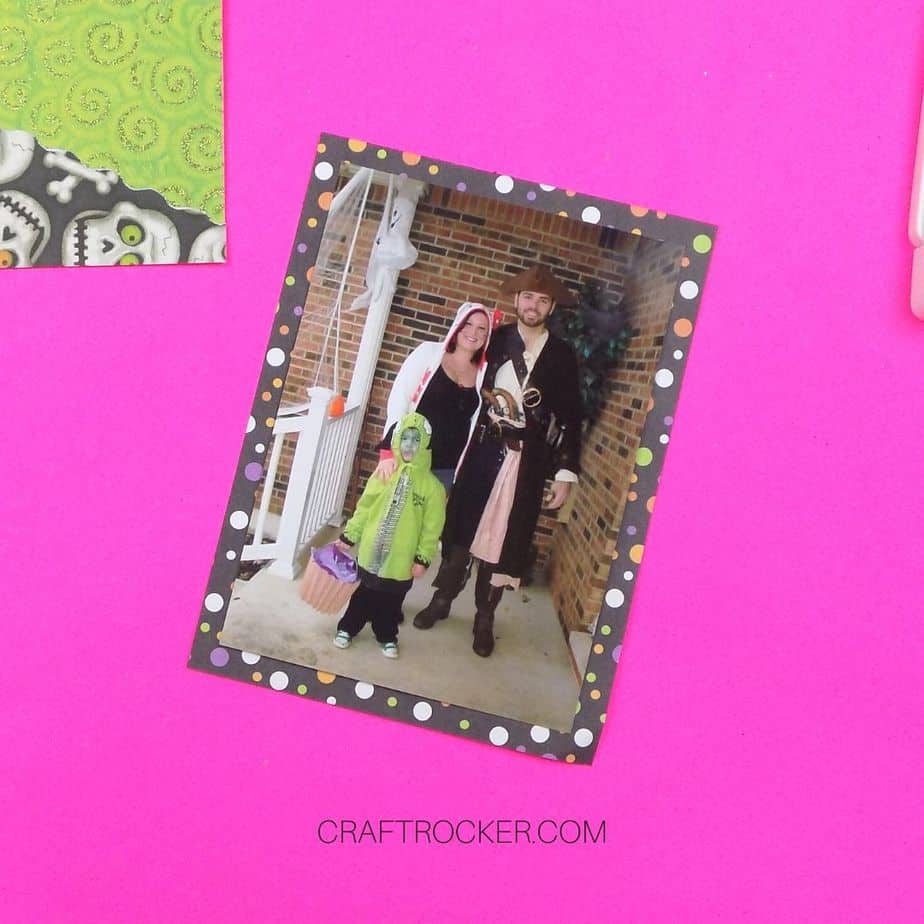 Step 3
Now, mat your 8×10 inch photo to your polka dot paper. Leave 1/4 to 1/3 inch of paper around the edges.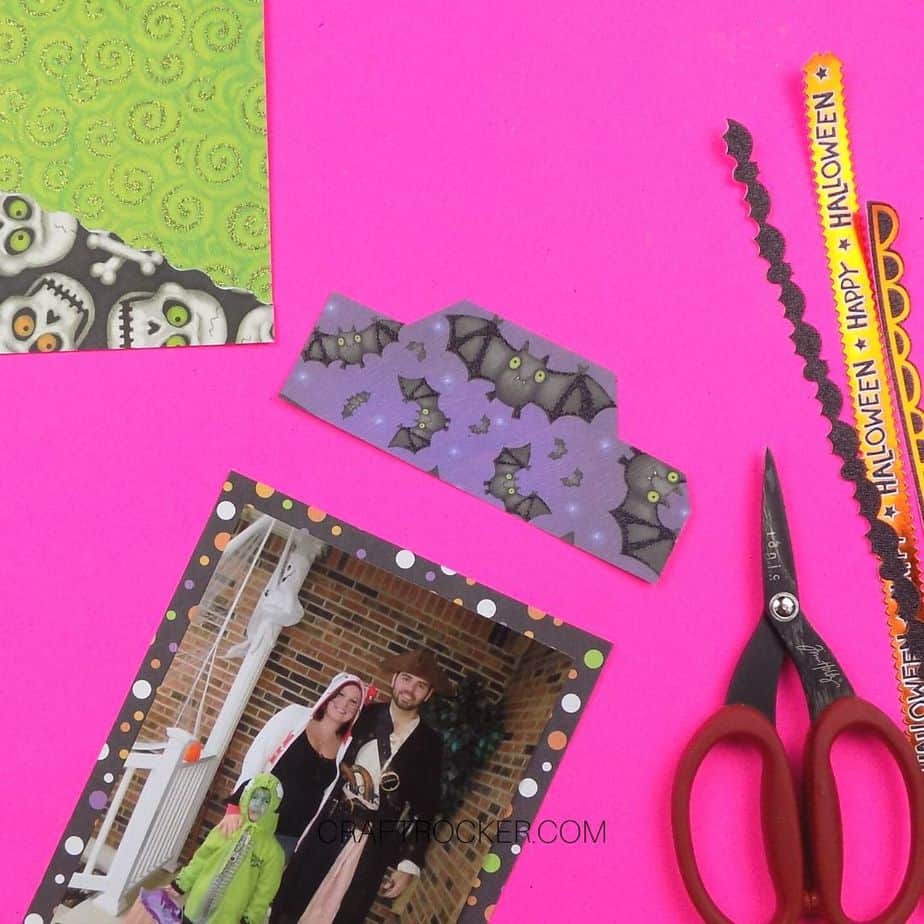 Step 4
Then pull out a piece of bat paper. This can be a scrap piece if you have one, but cut it to the width of your matted photo (including the matting) and then cut it into a tab shape. Try to center a bat on the tab if possible.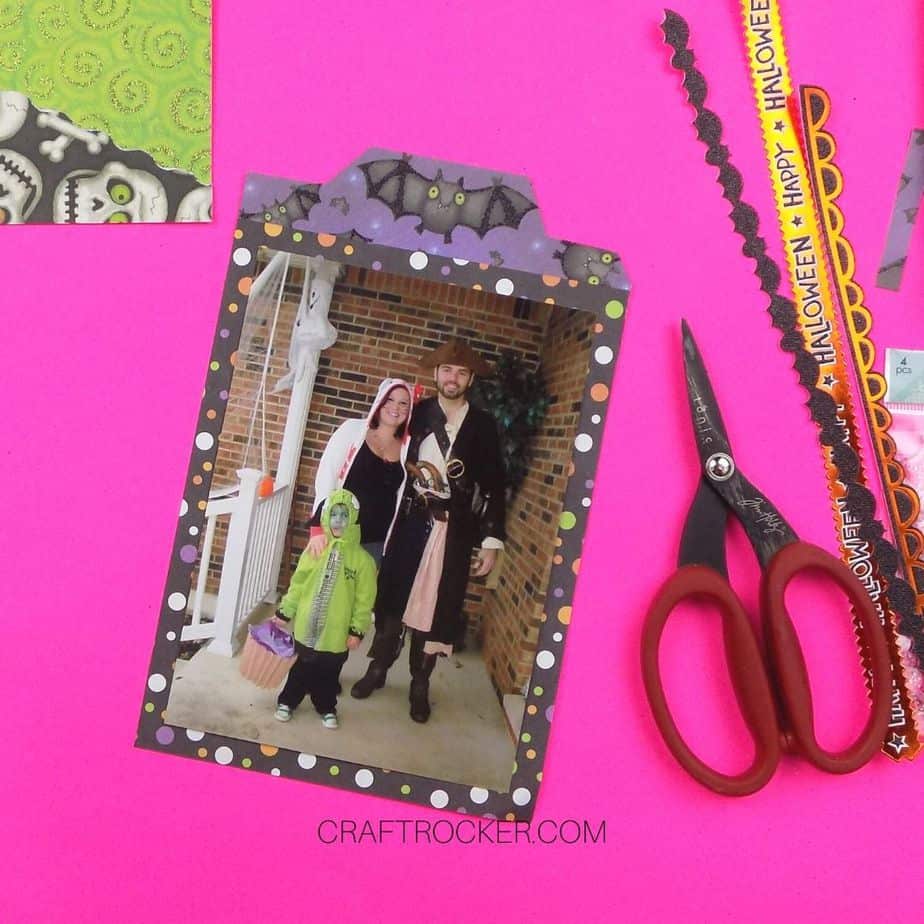 Step 5
After you bat tab is cut, attach it to the top back of your matted photo with the bats facing the photo side.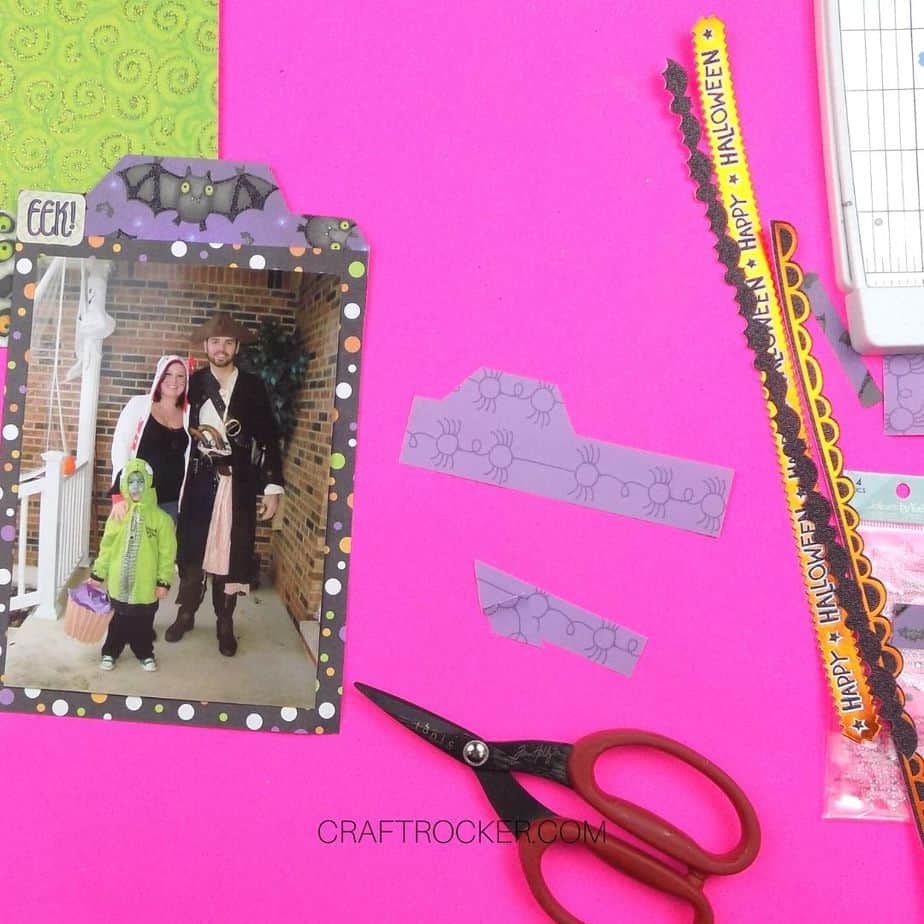 Step 6
Next, cut a smaller tab out of another piece of paper. Again, this can be scrap paper which is what I used. If it has a pattern on it, try to center the pattern on the tab. This tab does not need to be the length of your matted photo.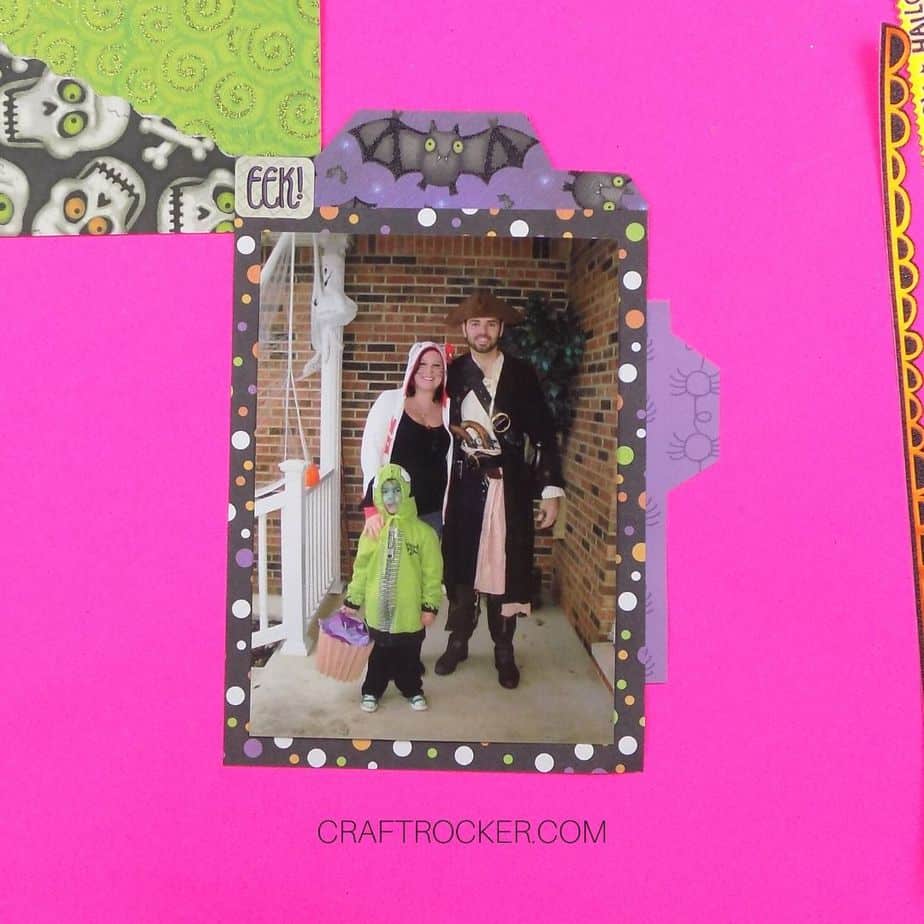 Step 7
Then attach the smaller tab to the right side of your matted photo.
Additionally, you can add a small sticker embellishment to the top left corner like I did. This is totally optional.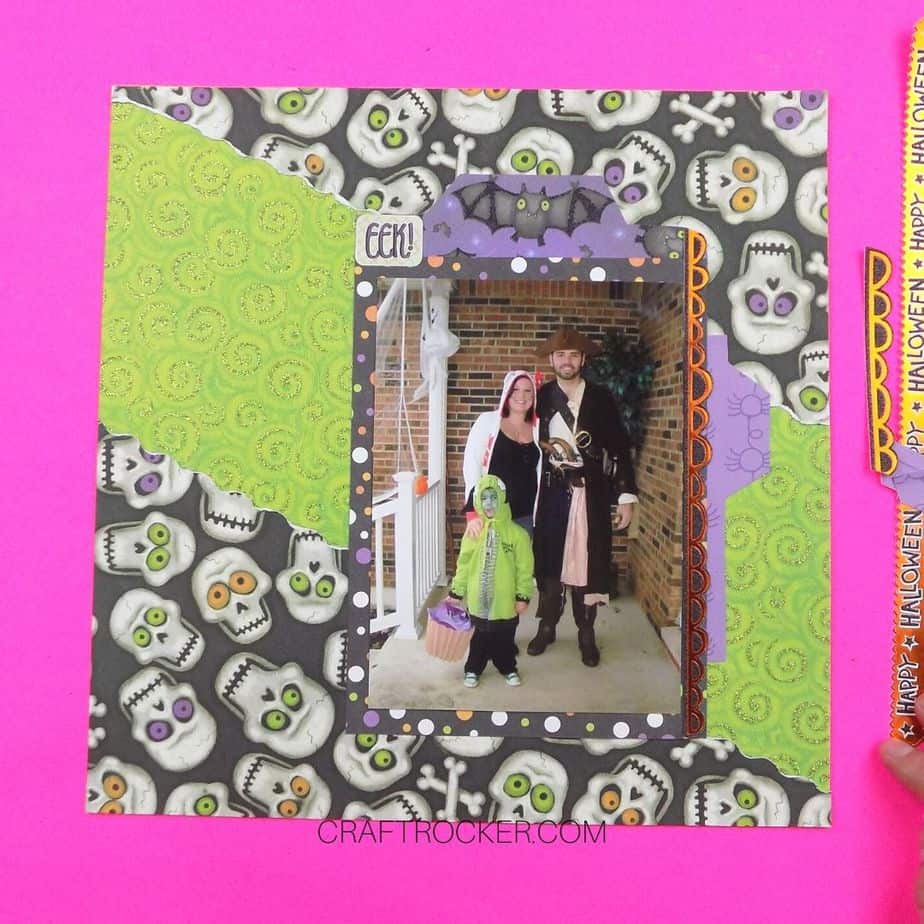 Step 8
Next, adhere an orange foiled scalloped banner to the right side of your matted photo without covering the smaller tab. Then trim any overhanging part of the banner at the top and bottom.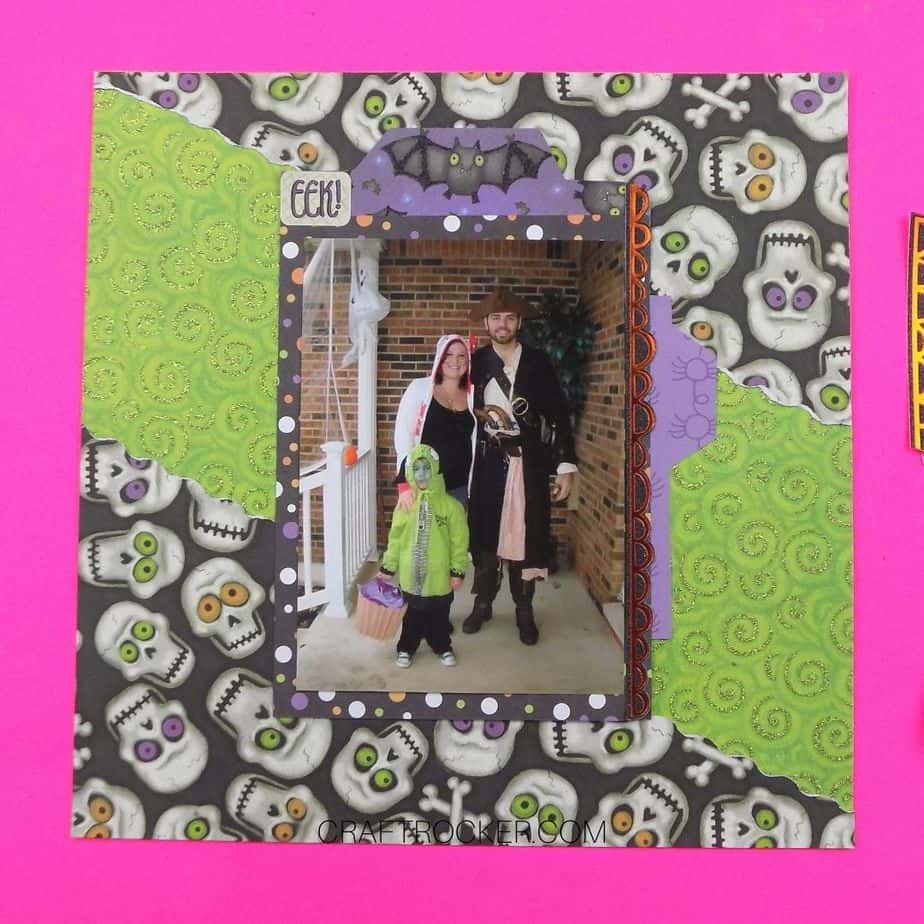 Step 9
Now attach your finished embellished and matted photo to the scrapbook page in the center of the page.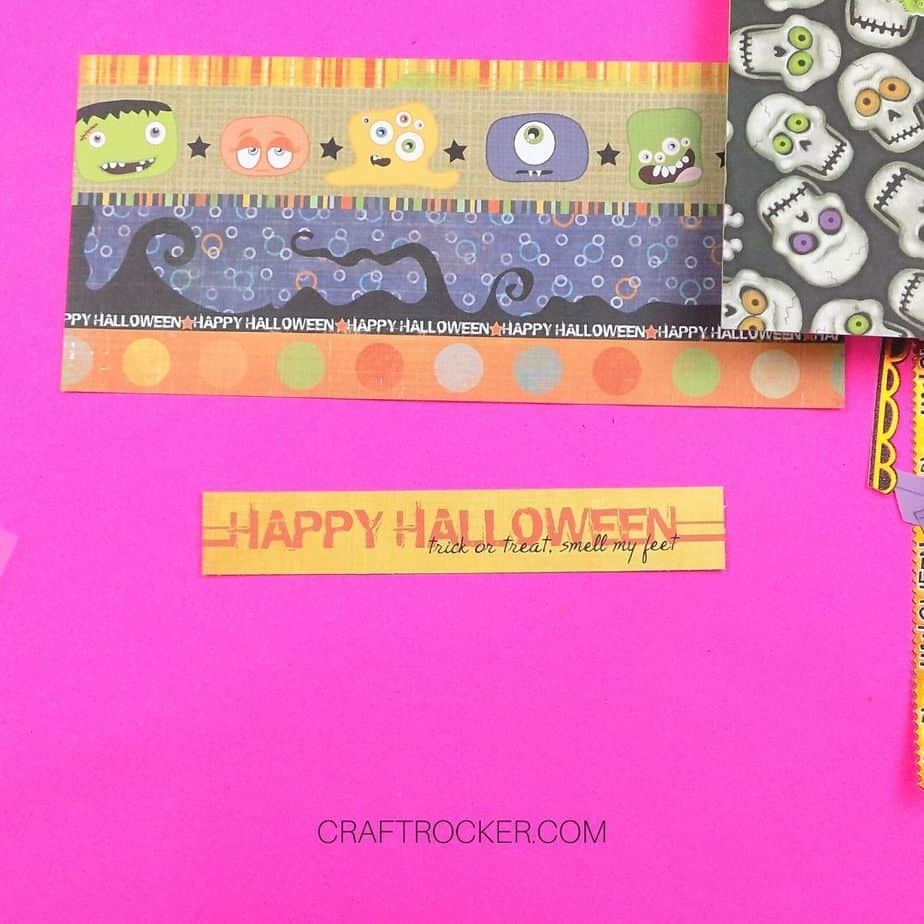 Step 10
After your photo is attached to the page, cut out a titled border from your borders sheet that matches your page. I chose one that says "Happy Halloween" and trimmed it to be the same height as my matted photo while keeping the title centered.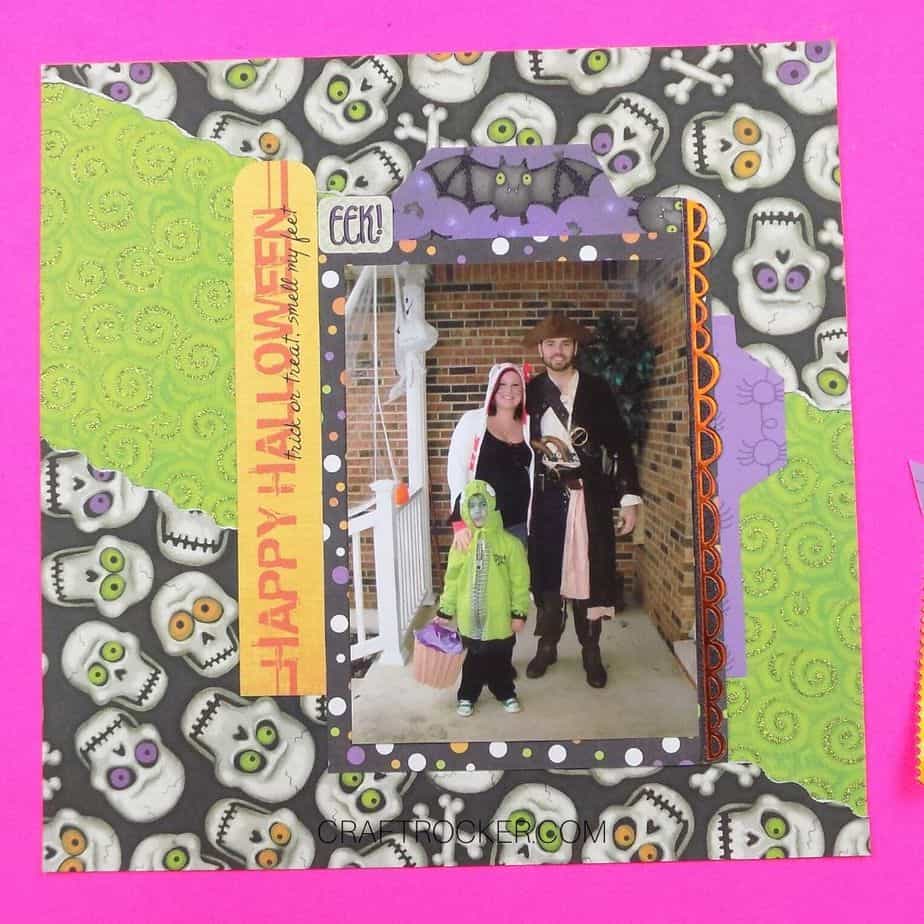 Step 11
Then round the corners of only the right end of your trimmed title border and attach it to your scrapbook page on the left side of your matted photo. Place the non-rounded end about an inch higher than the bottom left corner of your matted photo.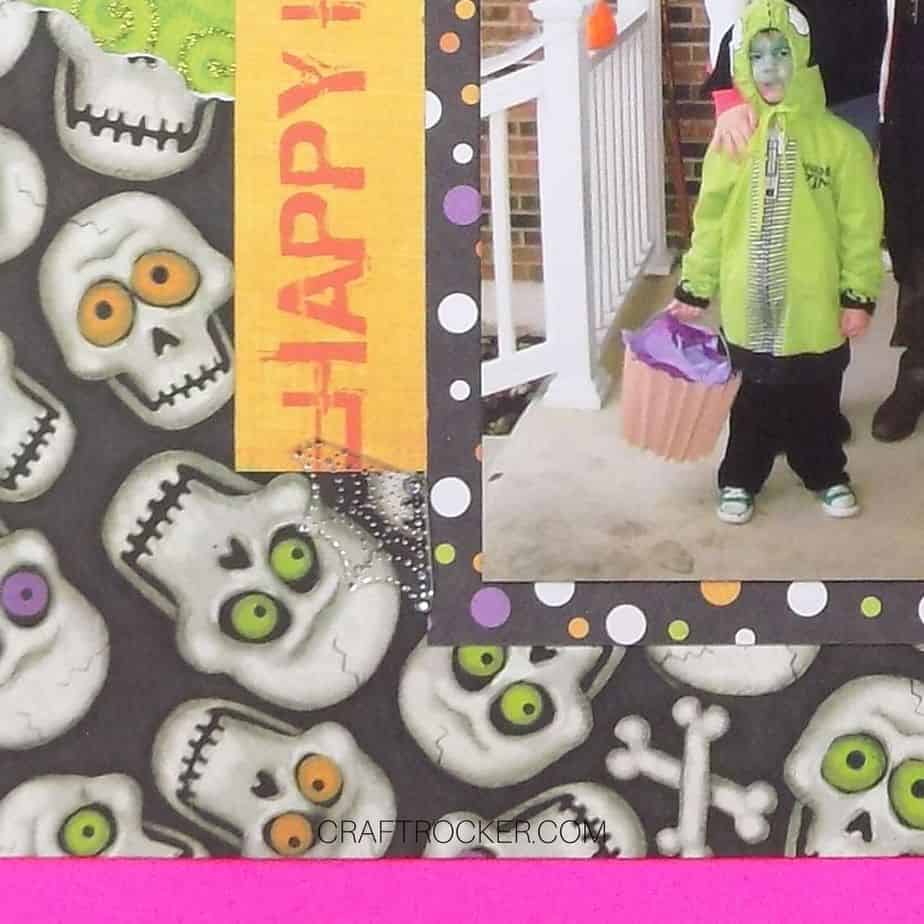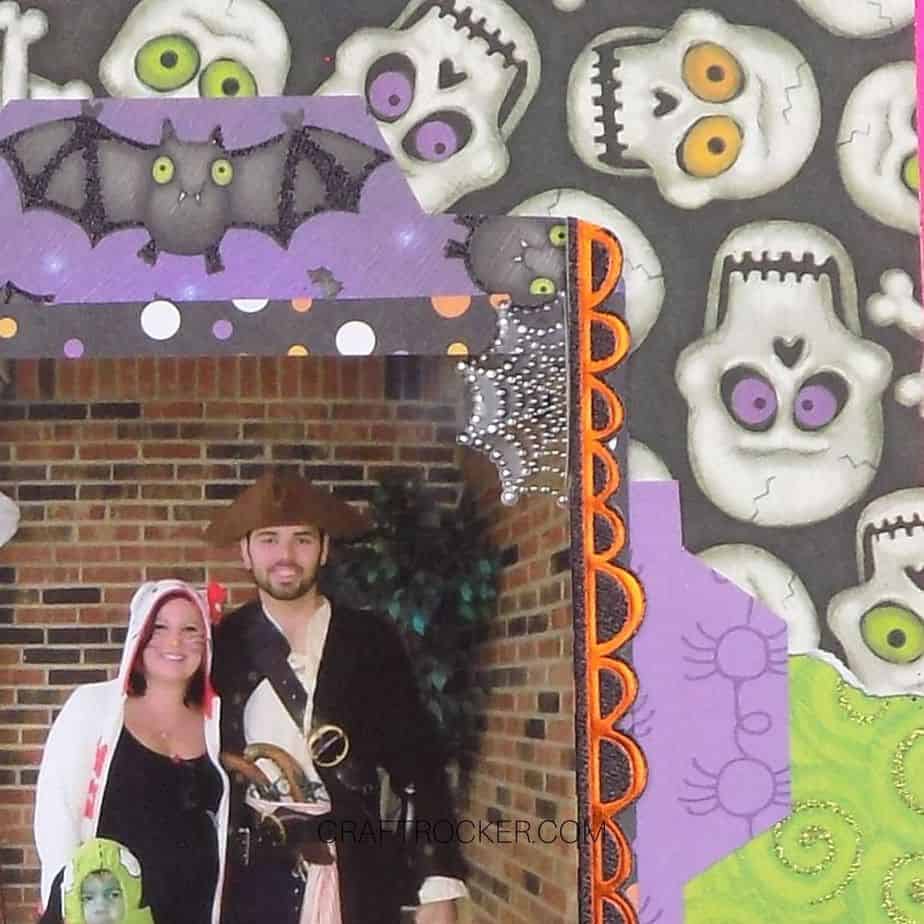 Step 12
Next, attach your spiderweb stickers to the page. Use the photos above for reference on placement but ultimately put them where you like them best. I also want to note that I cut some of mine to make it look as though that were actually created in the corners and on the edges of the elements.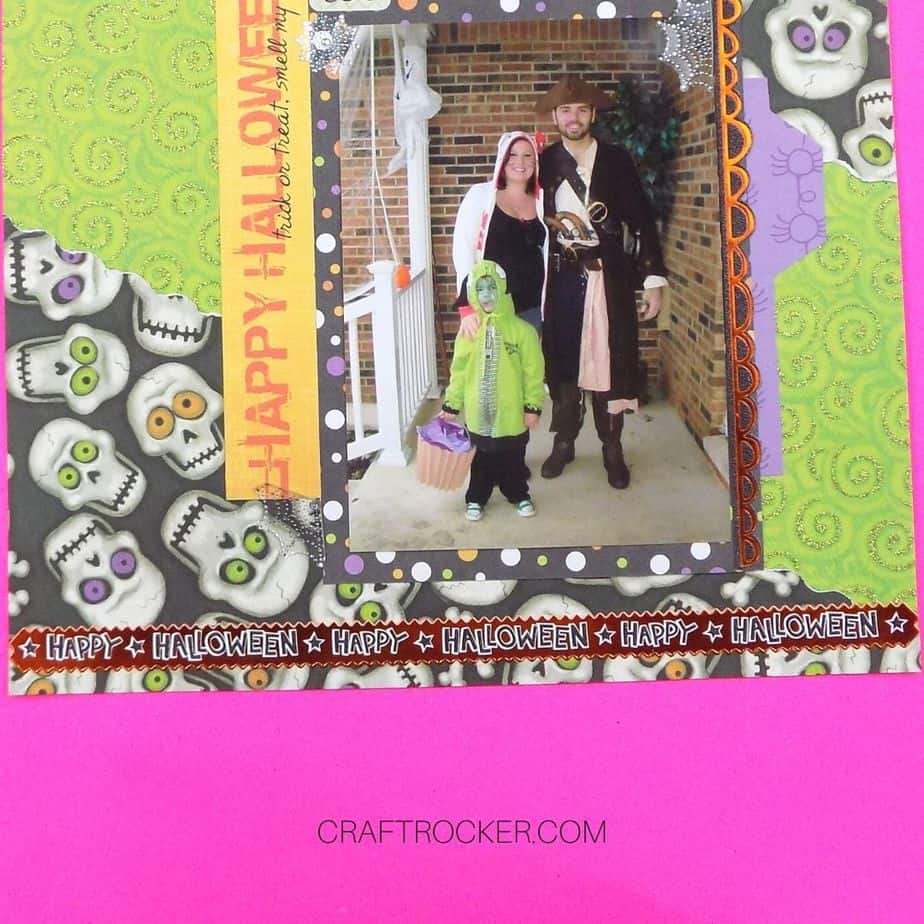 Step 13
Lastly, attach a foiled Happy Halloween banner to the bottom of your scrapbook page, leaving 1/4 of an inch of the page below it.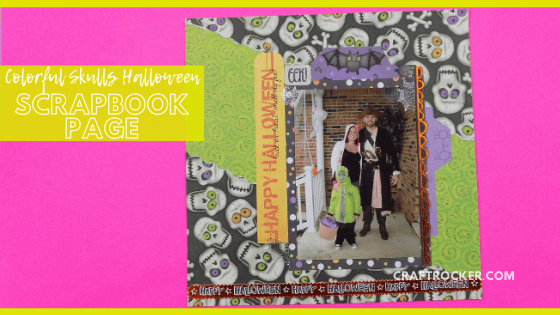 This colorful skulls Halloween scrapbook page is another awesome layout idea for your family Halloween photos.
So grab a hot mug of spiced cider, throw your favorite Halloween movie on the TV, and get your scrapbooking on this weekend!
Don't Forget to Pin It!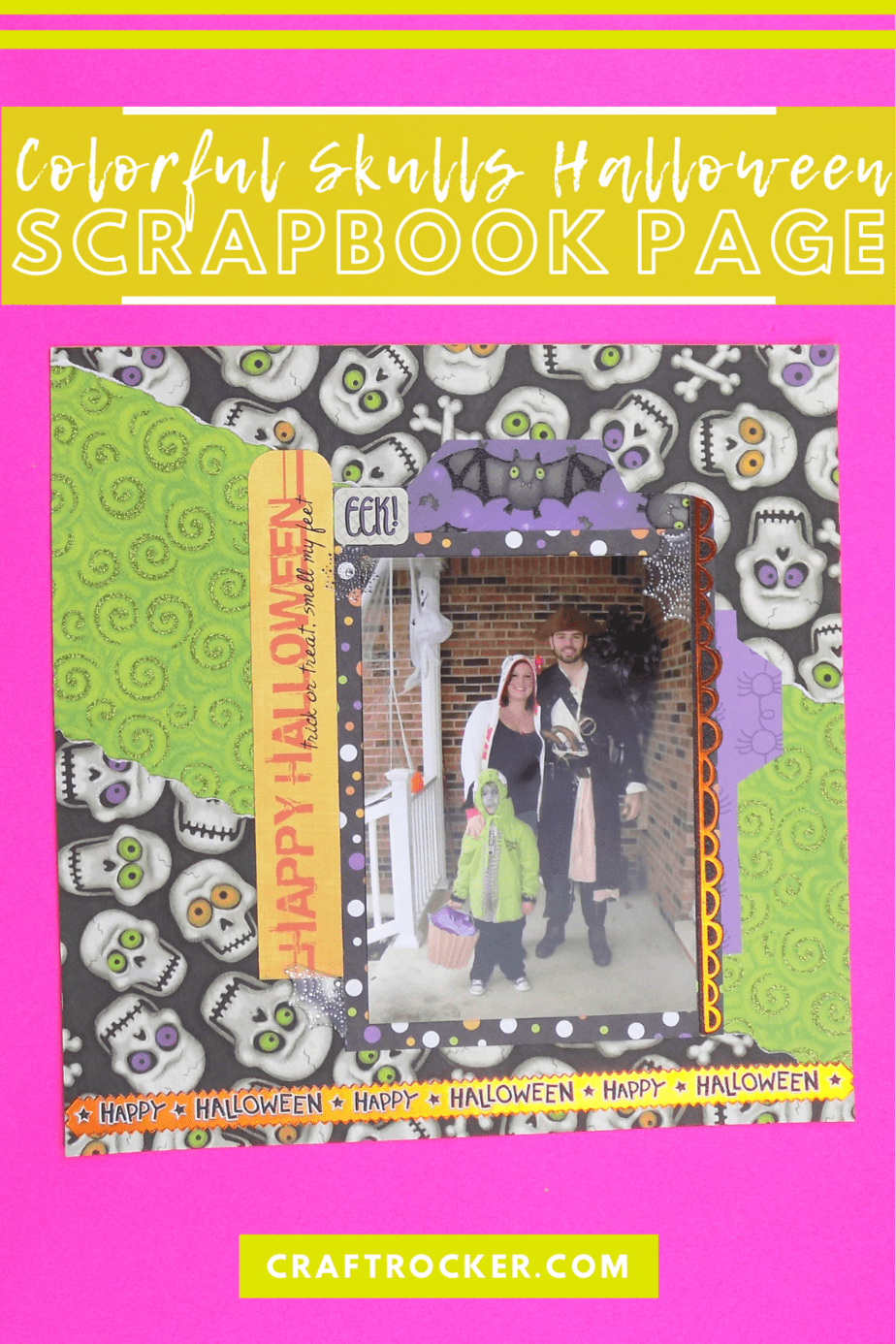 Need more inspiration? Check out these fun Candy Halloween Scrapbook Pages!