Learn how to make a scarf the easy way with this no sew DIY tutorial! Absolutely no skill or experience is required for this snuggly accessory.
Affiliate links may be used in this post. Ordering a product through these links may result in a commission at no extra cost to you. Read the full disclosure here.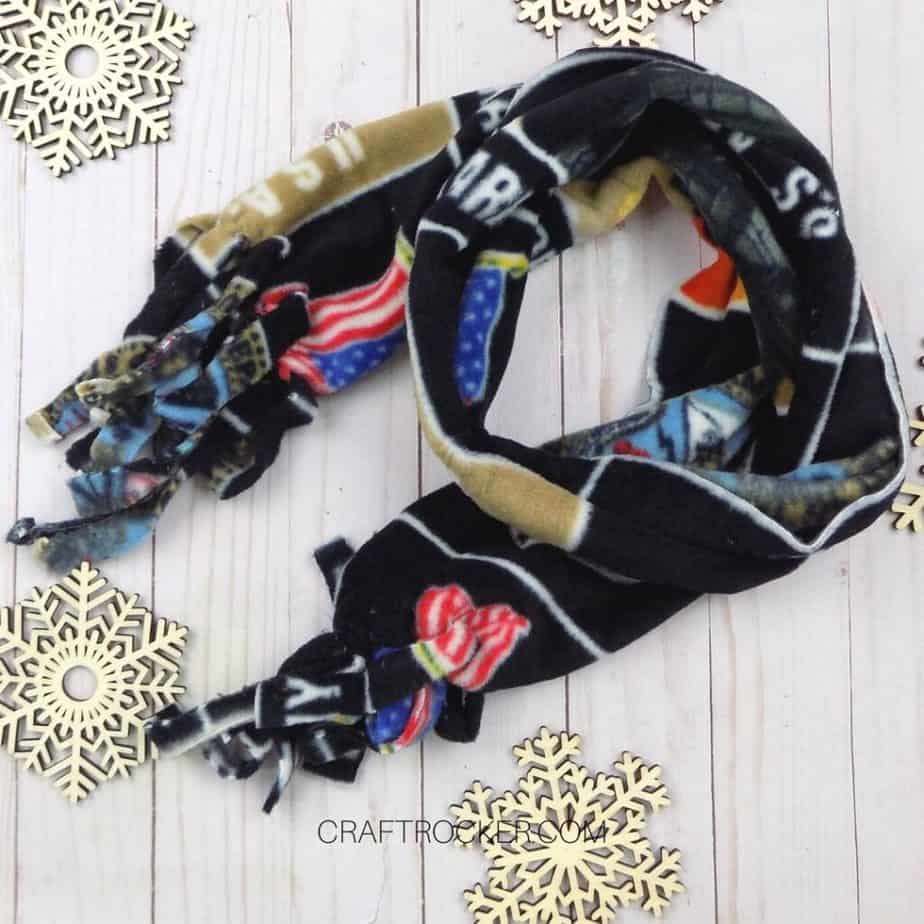 Jump to What You Want



We finally got hit with snow last week and that's when the kids decided to let me know that they didn't have any scarves or gloves that fit. Fun times.
I always joke about how if they'd stop growing this wouldn't happen.
This time, though, the thought struck me as I crafted these that time really does seem to be running out. I only have 6 years until my oldest graduates.
When you look at it like that, it's hard not to grab onto every moment you can (like tying pretty scarves around their necks before they head outside).
Luckily, the fabric is great for soaking up tears and they're totally washable. Another plus when you're a mom to 3 busy kiddos.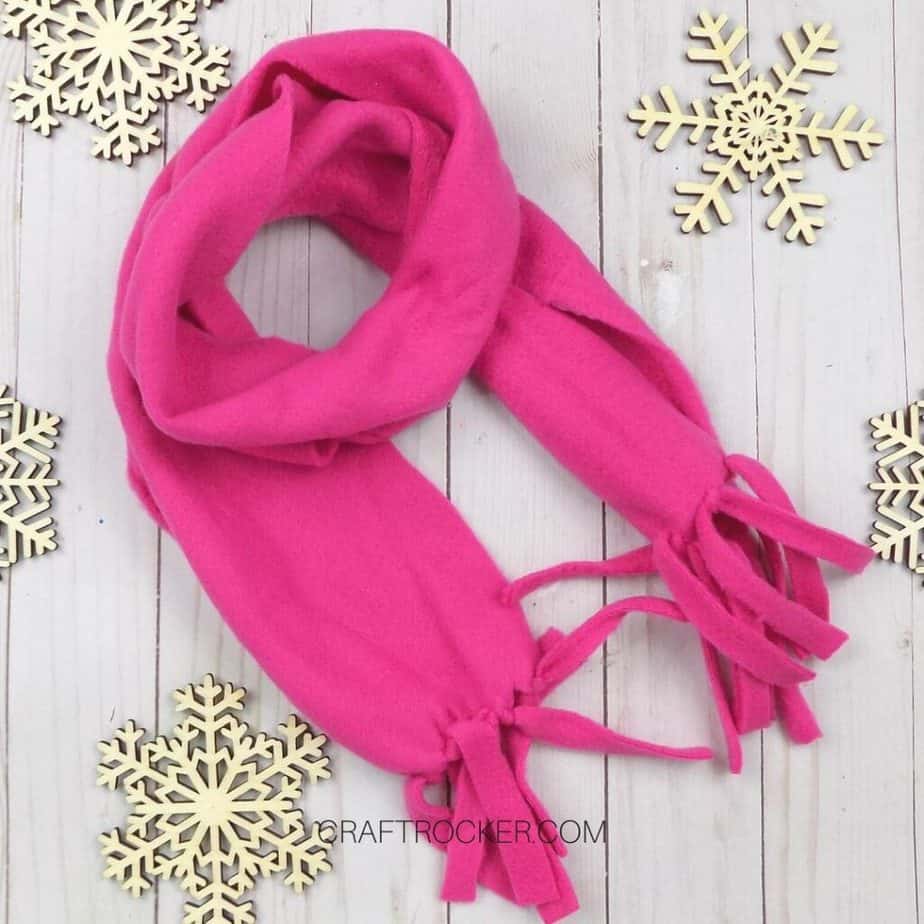 Materials for Fabric Scarf
Pencil and Paper to Jot Measurements On

Fleece Fabric of Choice (You need half a yard at most and it will likely make multiple scarves)

Scissors or Rotary Cutter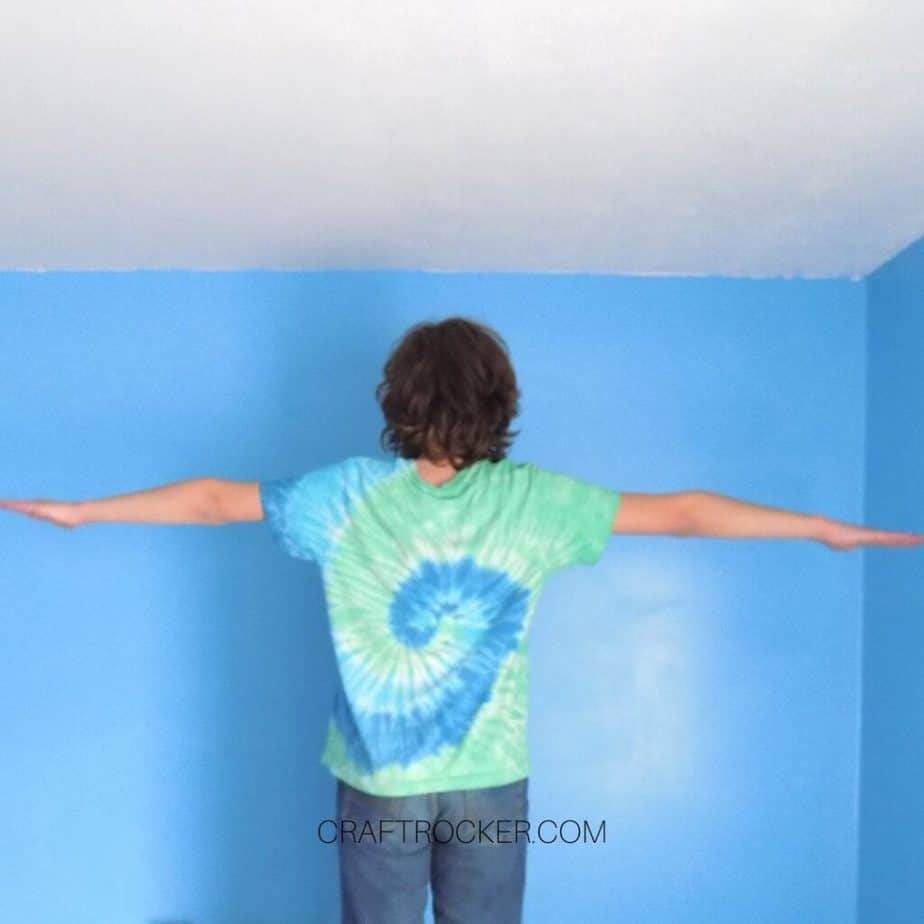 Step 1
First, use a flexible tape measure to measure how long to make your scarf. If you're making it for yourself, you will need someone to help you.
The person being measured should stick his or her arms straight out to the sides, shoulder-high, with the hands also flat.
Then measure across the arms from the tip of the middle finger on the left hand to the tip of the middle finger on the right hand.
Step 2
Then add 8 inches to the number you got. This will be the fringe on either end of your scarf.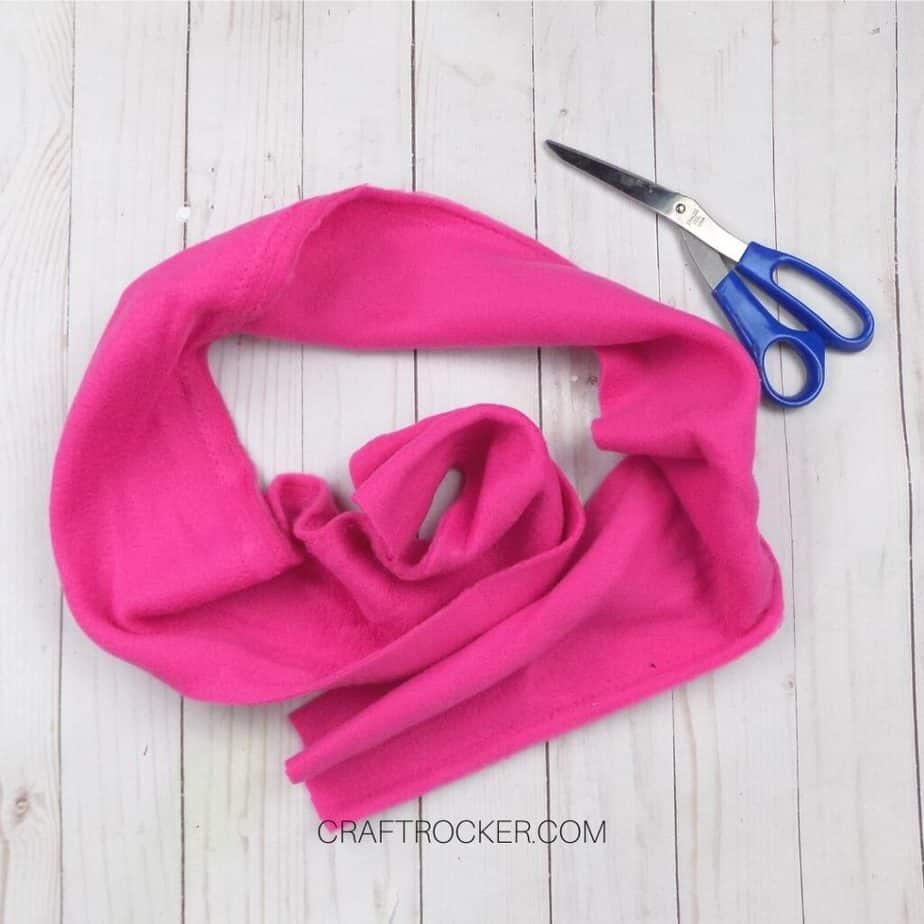 Step 3
Now, cut a piece of fabric that is the length that you measured and at least 3 inches wide. I recommend wider for an adult scarf (4-6 inches).
Note:
The Army fabric I used for my husband's scarf had a clear grid pattern that I wanted to keep. For that reason, it is more like 10 inches wide.
It still looks awesome and he loves it so don't be afraid to go with the natural pattern of your fabric.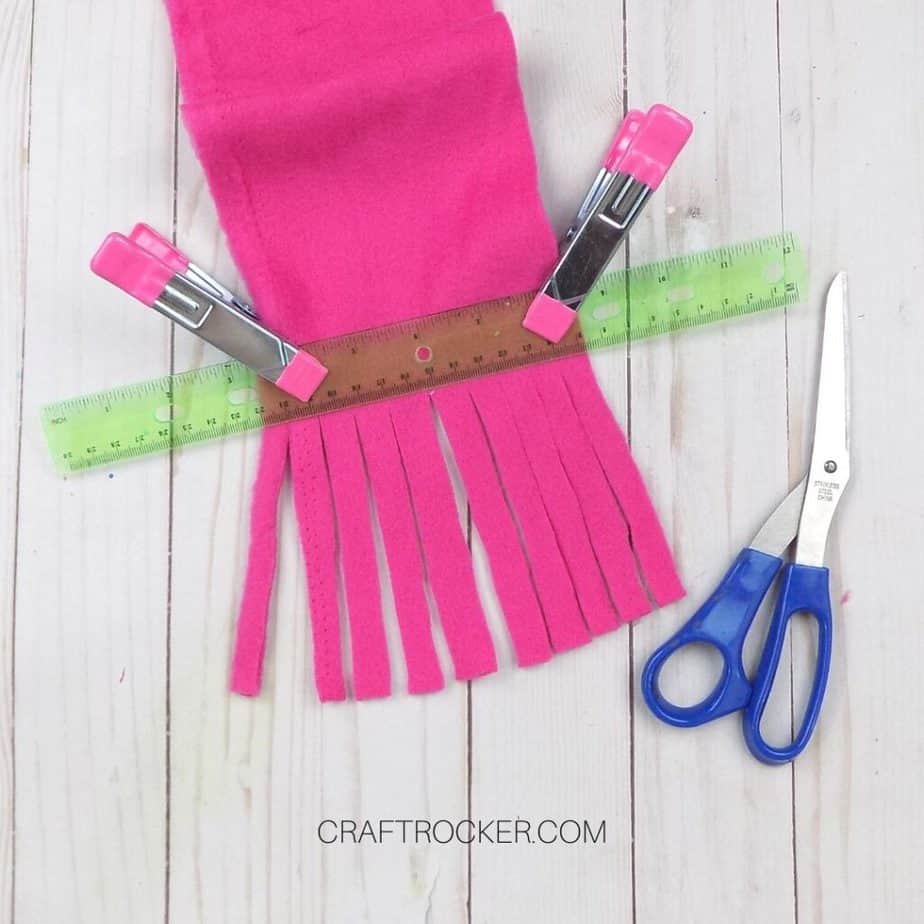 Step 4
Next, measure up 4 inches on either end of your length of fabric and cut those 4 inches into fringes along the short sides. Keep your fringes to 1/2 inch or less wide each for the next step.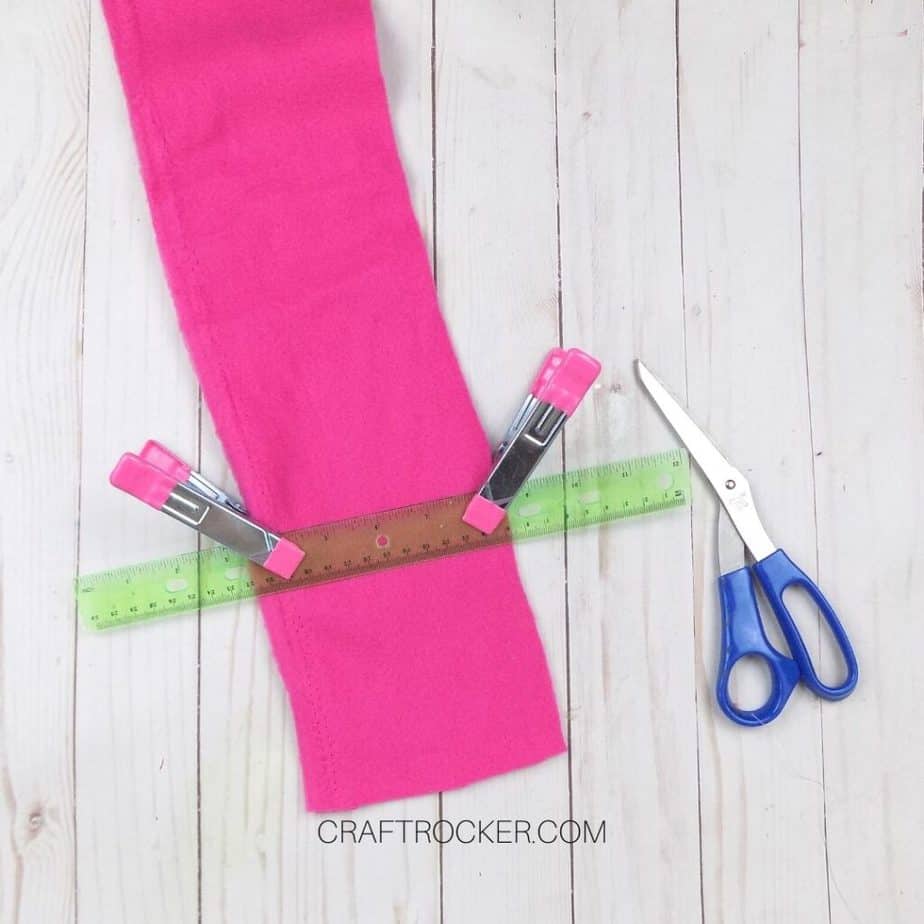 Tip:
Clip a straight ruler across the fabric at your measurements as a cutting guide.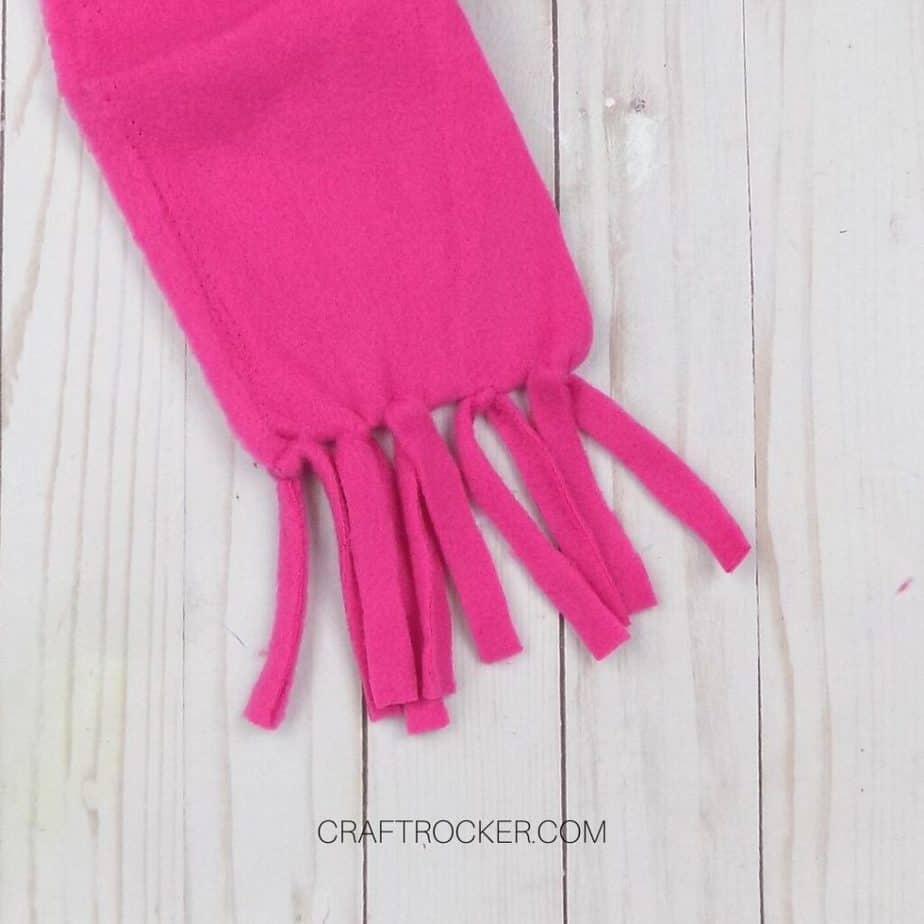 Step 5
After your fringes are cut, begin knotting adjacent fringe pieces together with a double knot. Continue until all of your fringe pieces have been knotted with one other piece of fringe.
Frequently Asked Questions
What fabric is best for scarves?
There's no right answer for this but for winter scarves like these, you want a nice warm fleece fabric. However, there are a lot of different types of scarves that you don't want as heavy.
Blanket scarves are typically made with flannel and decorative/spring scarves are made with chiffon or a light cotton.
How much fabric is needed for a scarf?
Again, this depends on a few things. First it depends on how tall you are because you'll need a longer scarf. It also depends on the type of scarf you make.
A blanket scarf requires more fabric than these fleece scarves do.
Lastly, it depends on your personal preference. I like my scarves to hang down to at least my knees after I have wrapped it around my neck. That uses a lot more fabric.
What are scarf sizes?
A typical adult scarf size is about 60-65 inches. Unfortunately, when you take into account all of the variables I mention above, it changes quickly.
I recommend always measuring the person (or someone similar in size) when possible to get the right length.
If you're making the scarves to sell, err on the side of longer rather than shorter.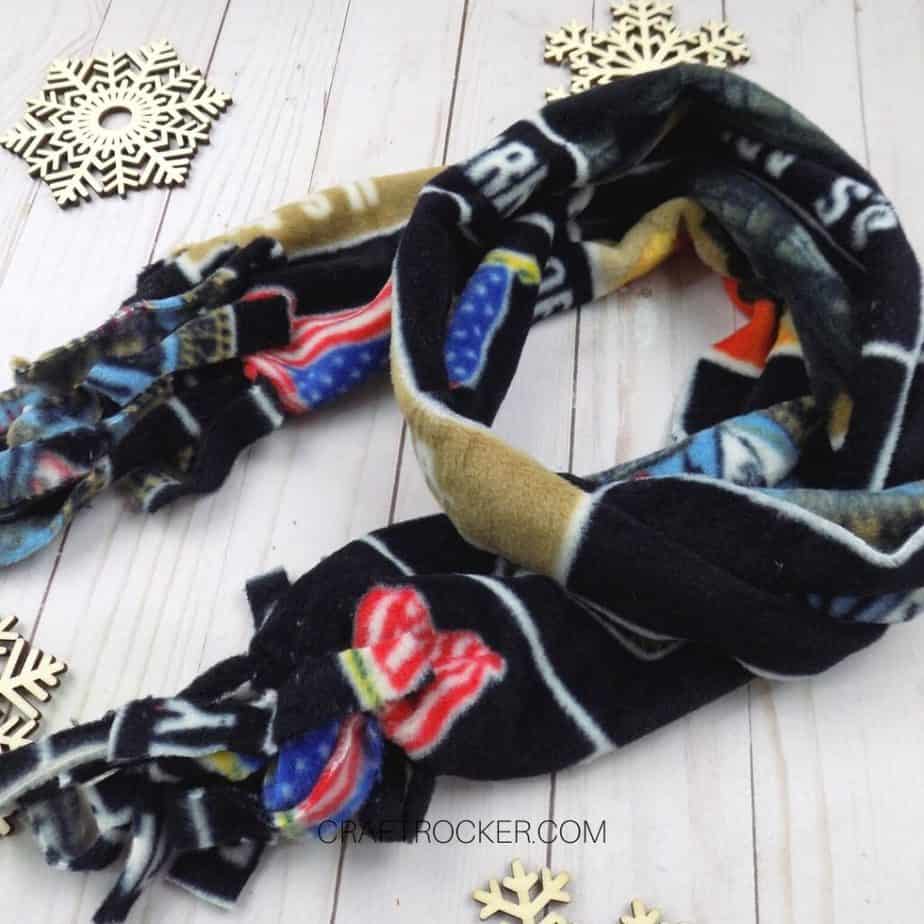 How to Care for Your Scarf
These no-sew scarves are machine washable on cold. I do recommend drying them on low or hanging them to dry so that they don't shrink on you.
The same goes for when they come in wet from the snow outside. Don't throw them in a high-temperature dry cycle.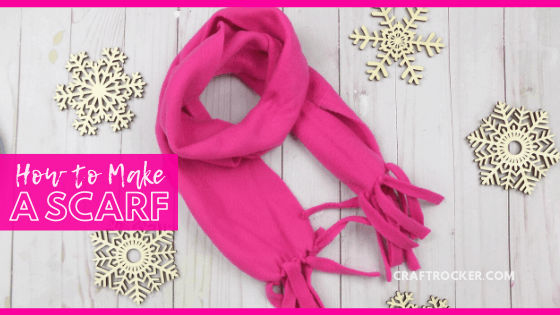 A few simple tools and fabric is all you need to make a scarf out of fabric easily. These are a great way to give your kiddos a unique scarf they love and won't confuse with other kids' scarves at school.
It's also a great last-minute, useful handmade gift for friends and family! Want more handmade gift ideas? Check out 100+ DIY Christmas Gifts for Everyone on Your List!
Don't Forget to Pin It!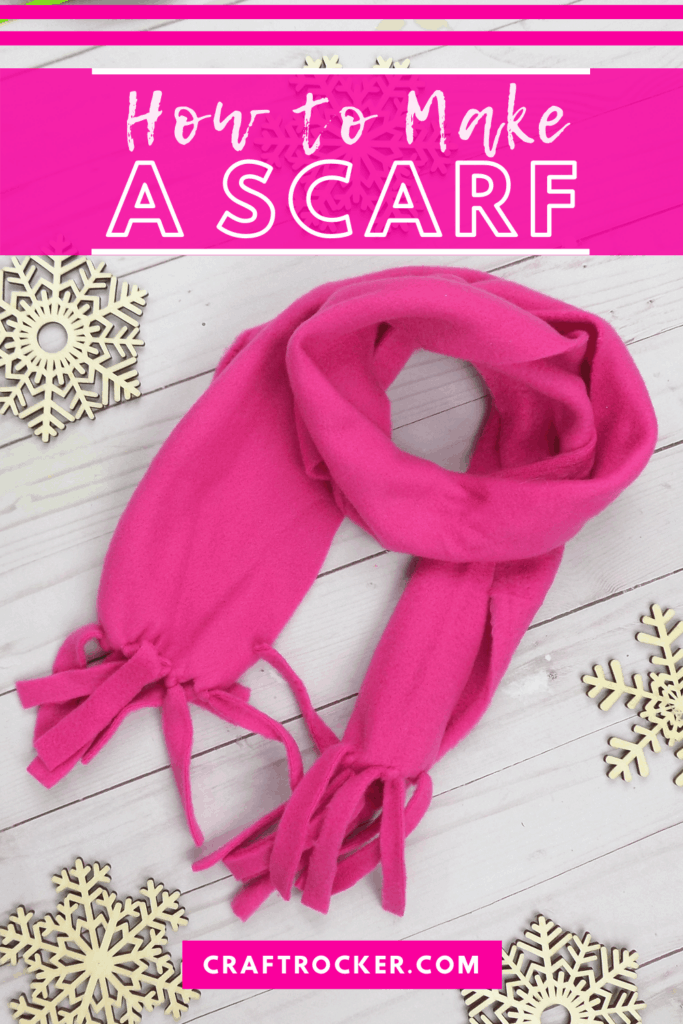 Are you ready to learn how to sew a pillow? This step-by-step tutorial is a great project for newbies...
Find out how to make a French memo board with this easy upcycled frame tutorial!
Wondering how to make yarn pom poms of your very own? Maybe you've even bought those pom pom maker contraptions...