Looking for some outdoors scrapbook page ideas? Here are 13 that are perfect for scrapping those hikes and camping trips with the fam!
Affiliate links may be used in this post. Ordering a product through these links may result in a commission at no extra cost to you. Read the full disclosure here.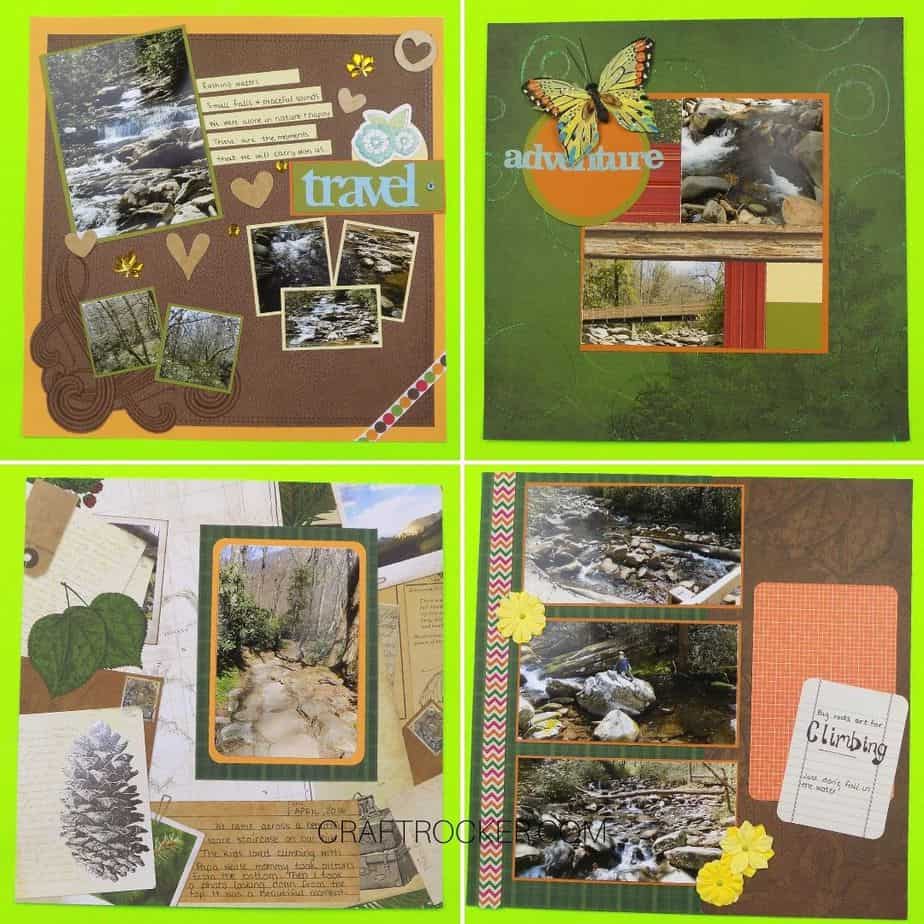 Has anyone else been longing for nature more during these quarantine times? I'm not usual big on the outdoors (unless it's hiking) but being stuck at home has me missing things that I didn't think I ever would.
In spite of that, the rest of my family loves camping and fishing and all of that outdoorsy crap. That's why I have a ton of outdoors photos.
Now, these particular ones are living happily in an album now thanks to a dedicated scrapbook weekend. If you're looking to finally scrap those family hiking trips then these page ideas will inspire you!
Outdoors Scrapbook Page Examples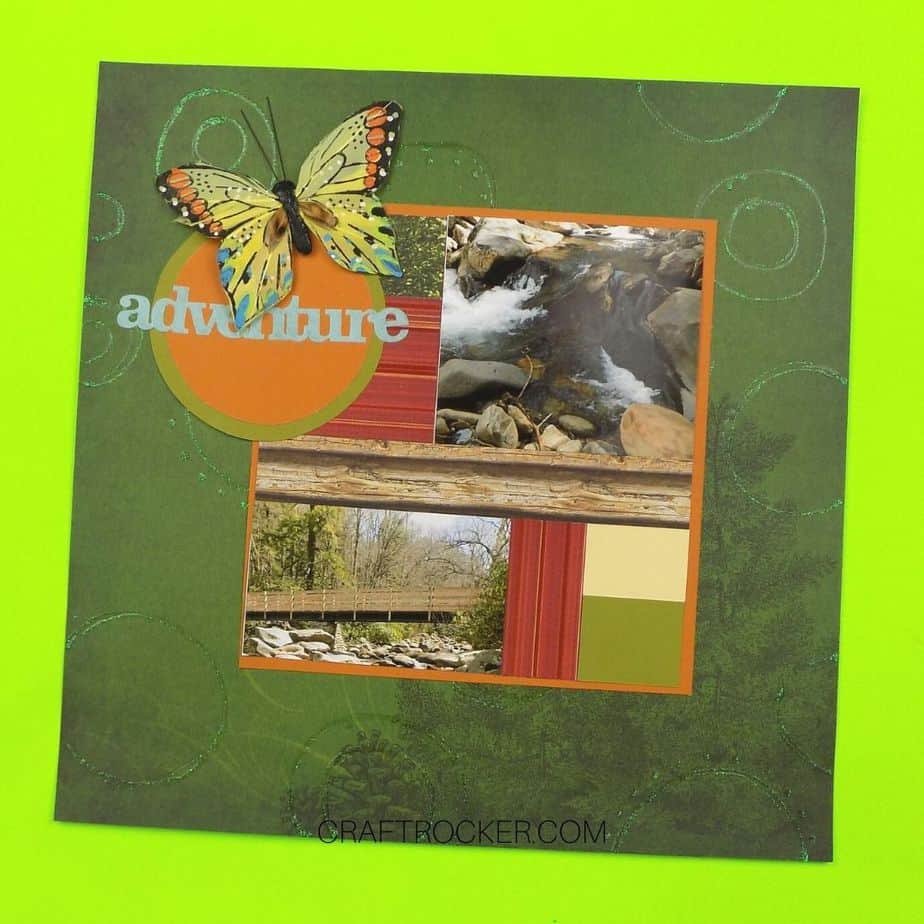 Butterfly Adventure Page
The faint, glittery design on the background paper is done with Stickles. The different patterns in the center square that aren't pictures are multiple different pieces of paper. All of them are matted on another solid sheet of paper.
The adventure title is a sticker that I had and the butterfly actually came off of a floral arrangement.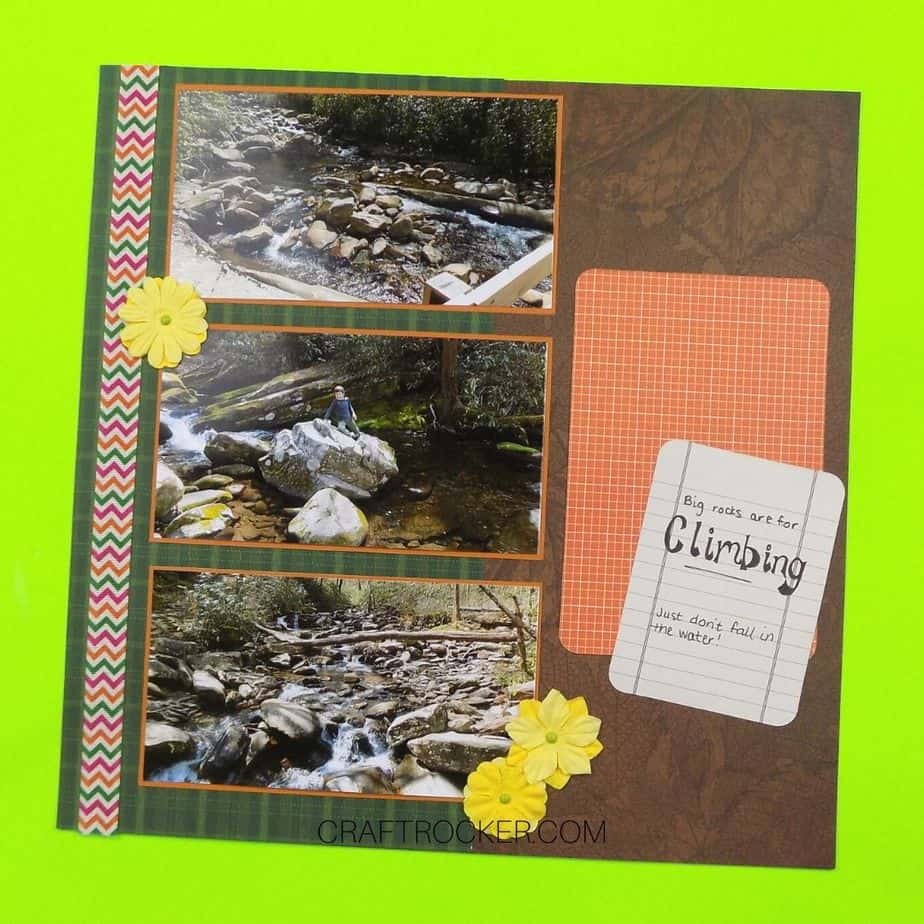 Climbing Scrapbook Page
This page is embellished with chevron ribbon on the left and the flowers are pieced together with a brad in the center.
The journaling and larger rectangle are from a cardstock kit I was given but you could easily make your own with a paper cutter and a corner rounder.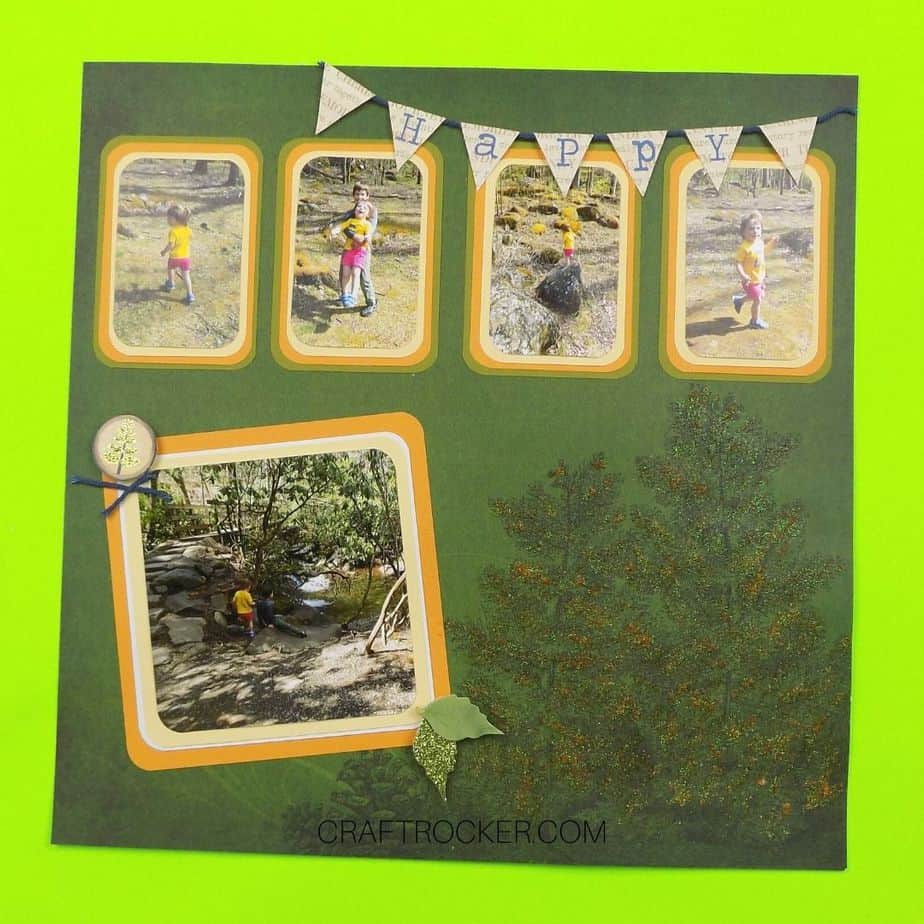 Happy Banner Outdoor Page
The top photos are triple matted for extra dimension on this page. The tree is also embellished with glitter paste. It provides texture and sparkle that you don't feel the need to cover with your photos.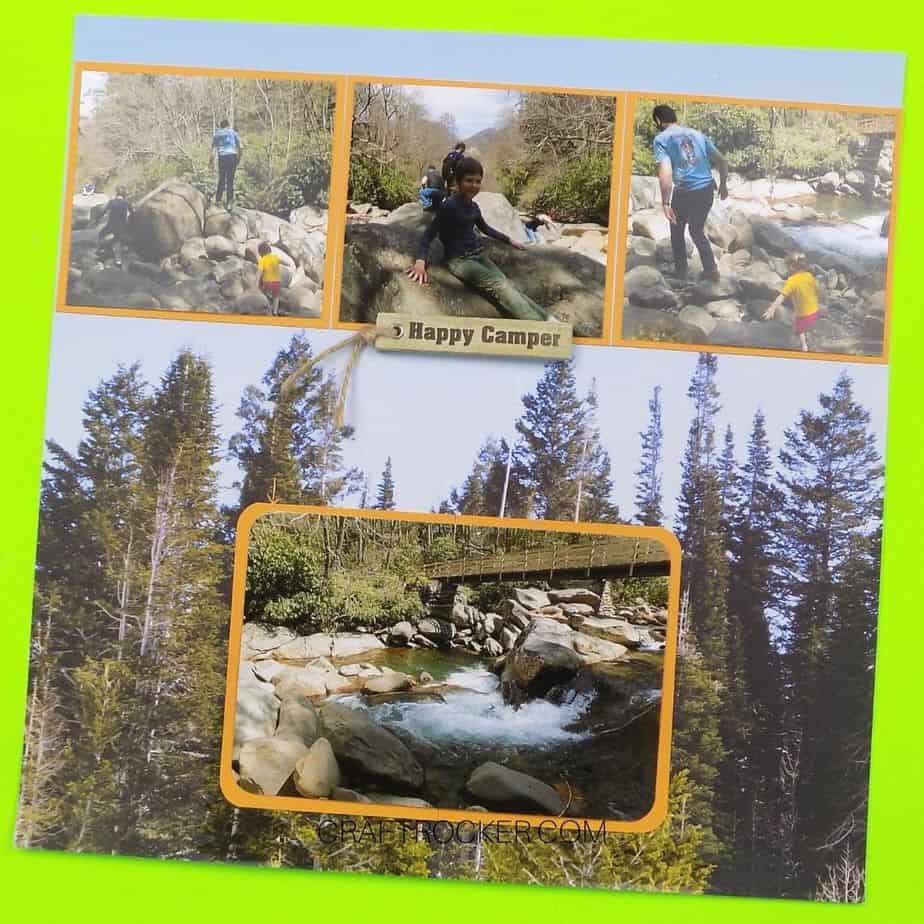 Happy Camper Page
This background paper has natural trees on it that I didn't want to cover up too much. That's why I did a line of matted photos above and only put one matted photo centered over the trees.
The simple title tied with natural rope brings the page together.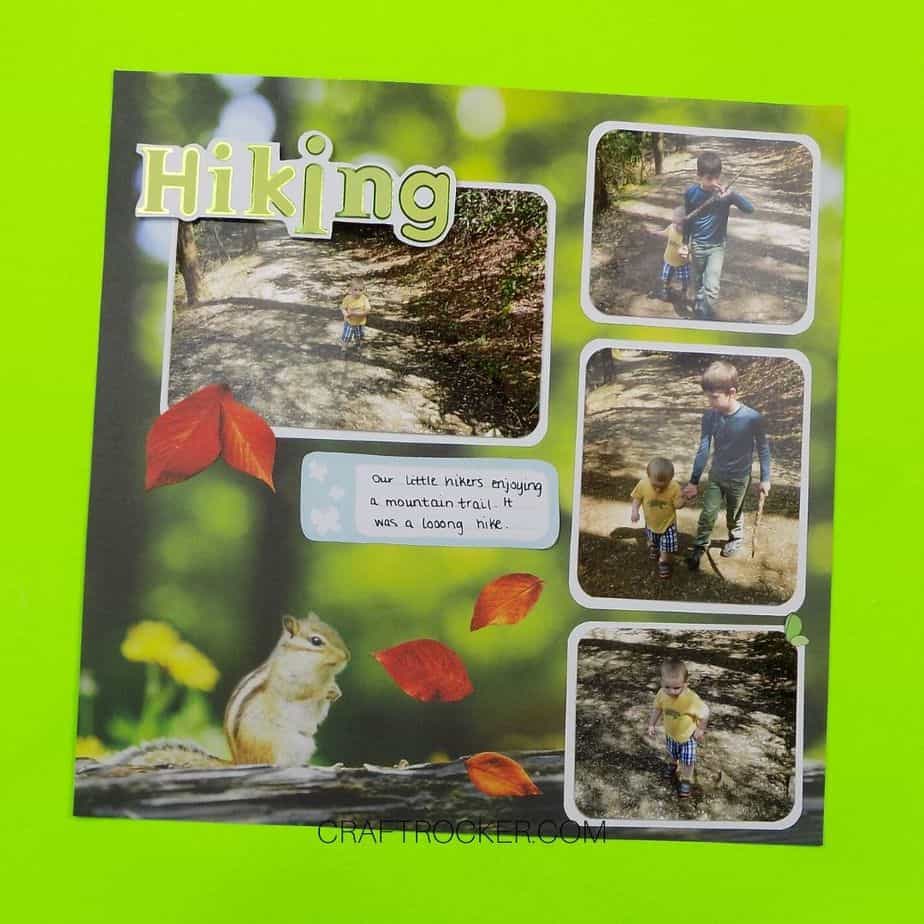 Hiking Chipmunk Page
This page shows you how to match photos of different sizes together for a cohesive look.
There are also a few other details I want to point out on this page. The title is individual letter stickers that I stuck to white cardstock then cut out by hand.
The leaves are also hand cut from a sheet of paper that was covered in them.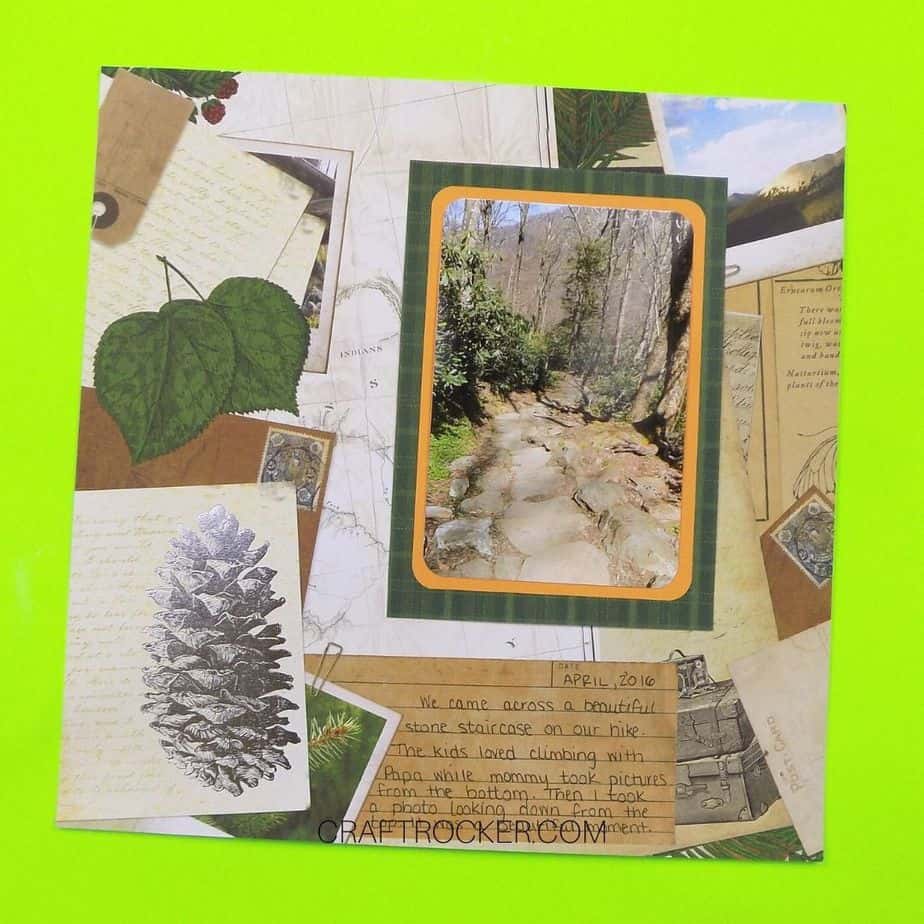 Layered Mementos Outdoor Page
When you have a paper that has a lot of details on it, you don't want to cover it completely. This page features 1 matted photo and some journaling.
The only element that I added to the page is the matted photo. The journaling section was already on the paper design and the layered design looked beautiful on it's own.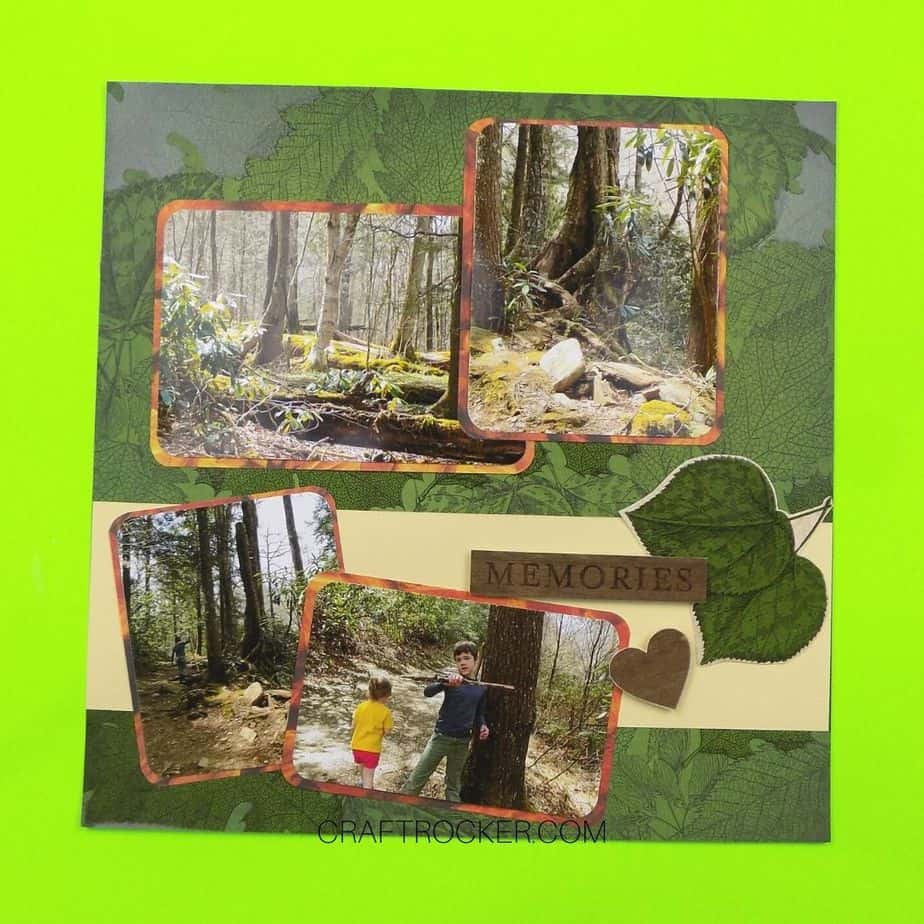 Leaf Memories Page
Don't feel the need to put your photos on symmetrically. In fact, canting your photos as I did with the bottom 2 on this page add visual interest that makes it interesting to look at.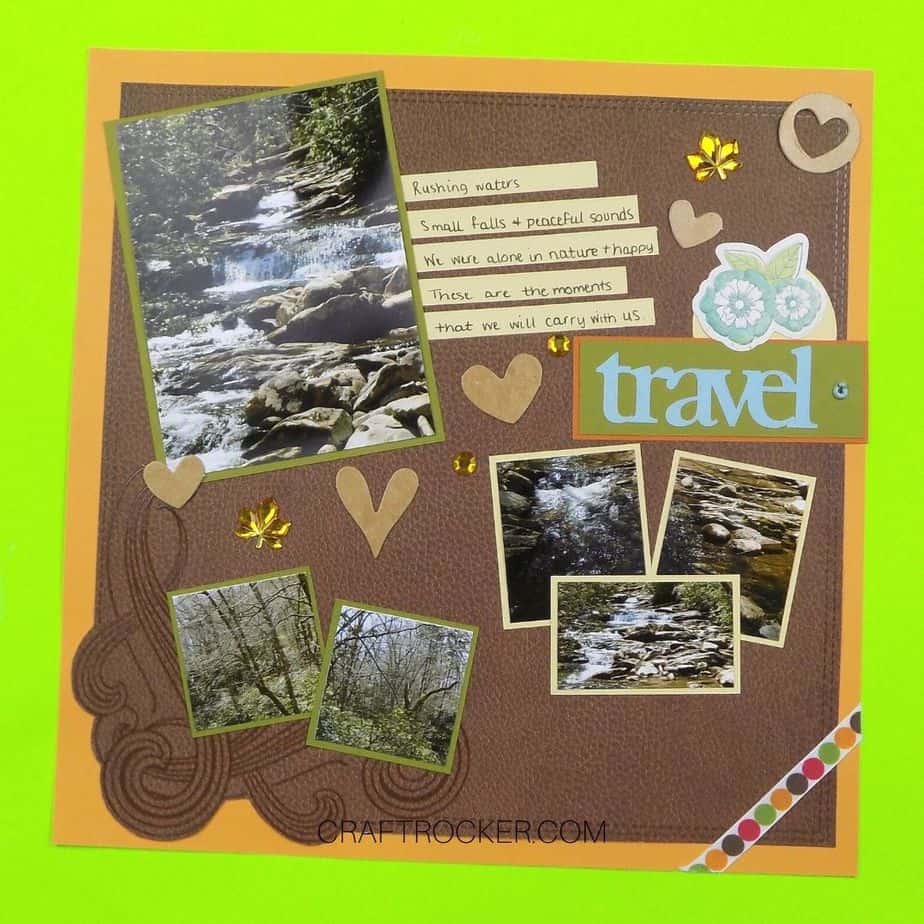 Leather Travel Page
The top, leather-like sheet of paper started as a 12×12 inch piece. I cut it out along the embossed design and matted it to an orange piece of paper to create my base.
Create the journal area by cutting and mounting different sized strips of paper. Make sure that you attach them before adhering your photo.
Attach and trim a single piece of ribbon on the bottom right of the page.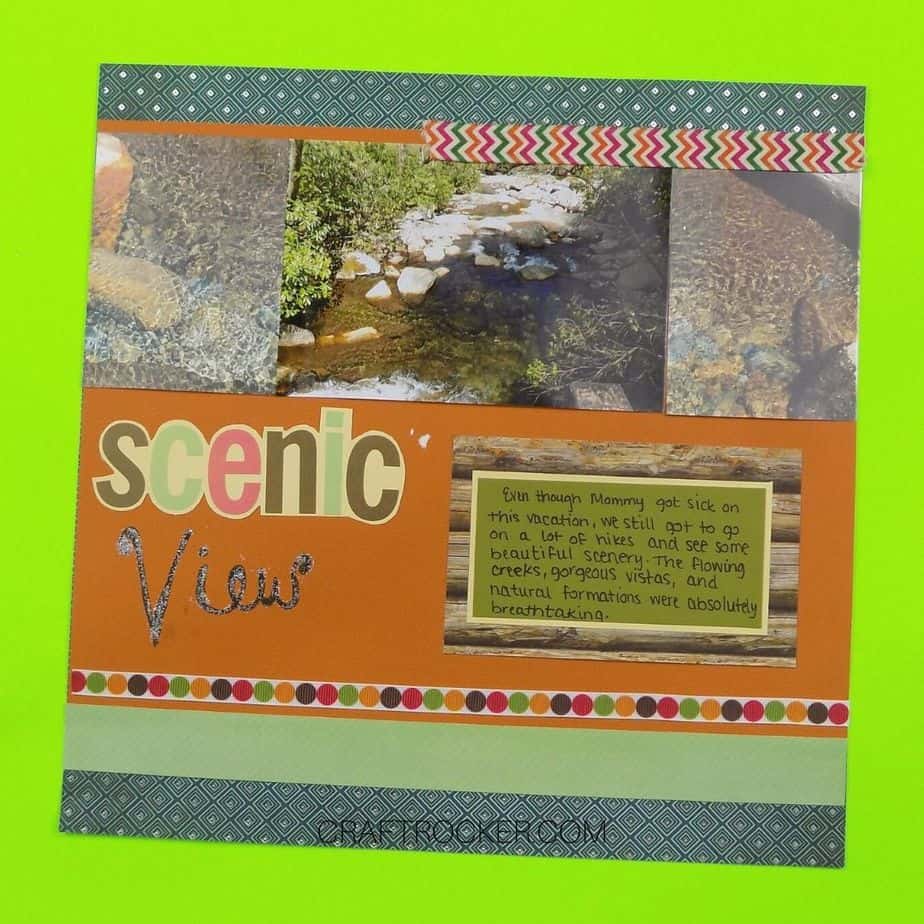 Scenic View Page
Again, this page uses different size and design ribbon as embellishments. Make this entire page by layering pieces of paper and photos except the title.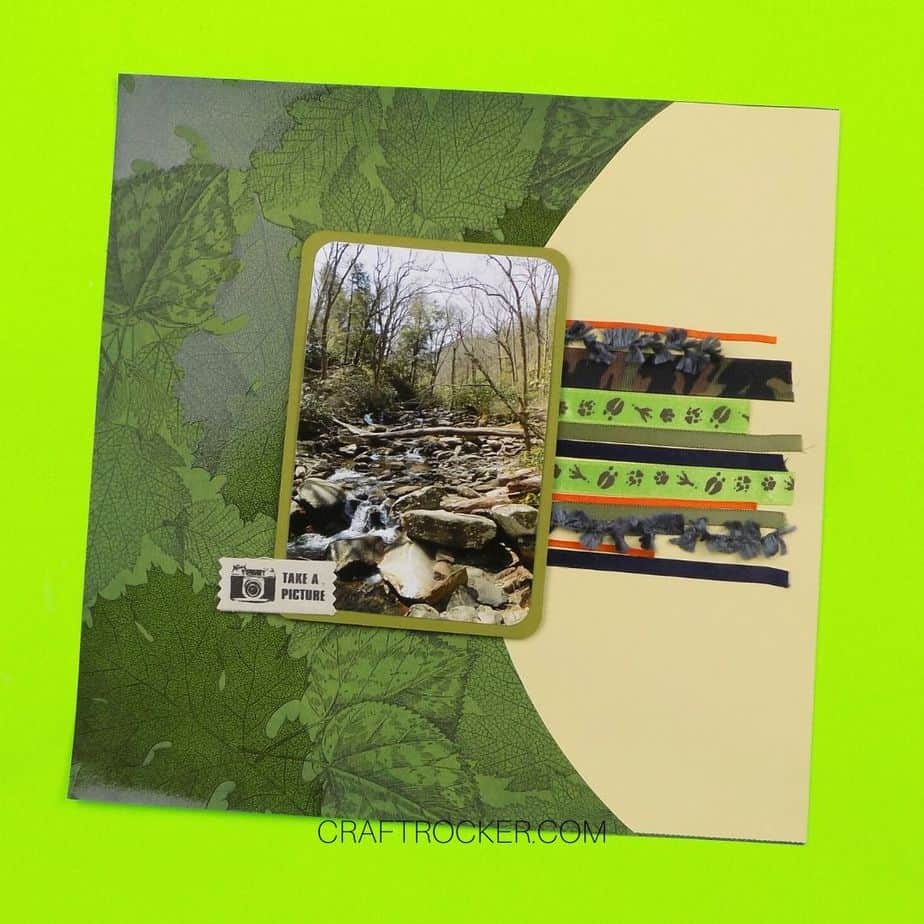 Take a Picture Page
Use a compass to measure and cut a circle for matting on the right side of this page. Then layer different styles of ribbon before attaching a matted photo.
Finish the page off with your title and done.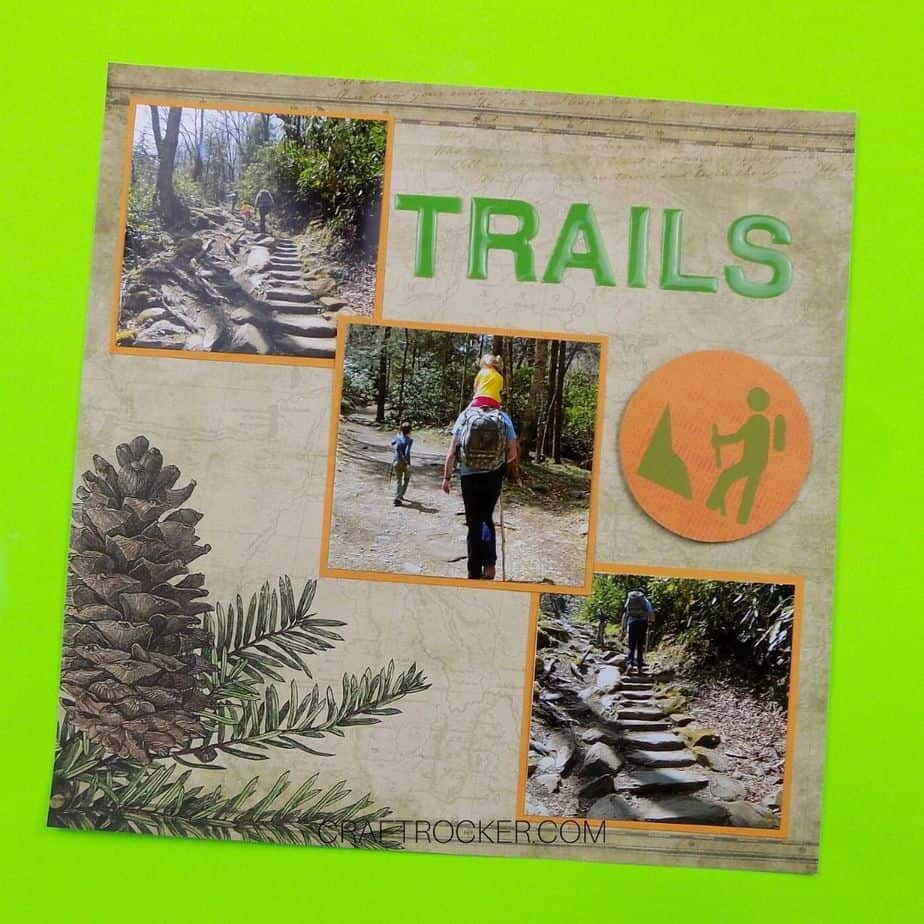 Trails Outdoor Page
The design in the bottom left corner of this page was originally black and white. I colored it in with colored pencils before doing anything to the page.
The hiking man embellishment is a layered die cut. I made it with my Cricut so it is super easy to make. The matted photos are slightly overlapped and the title is, again, stickers.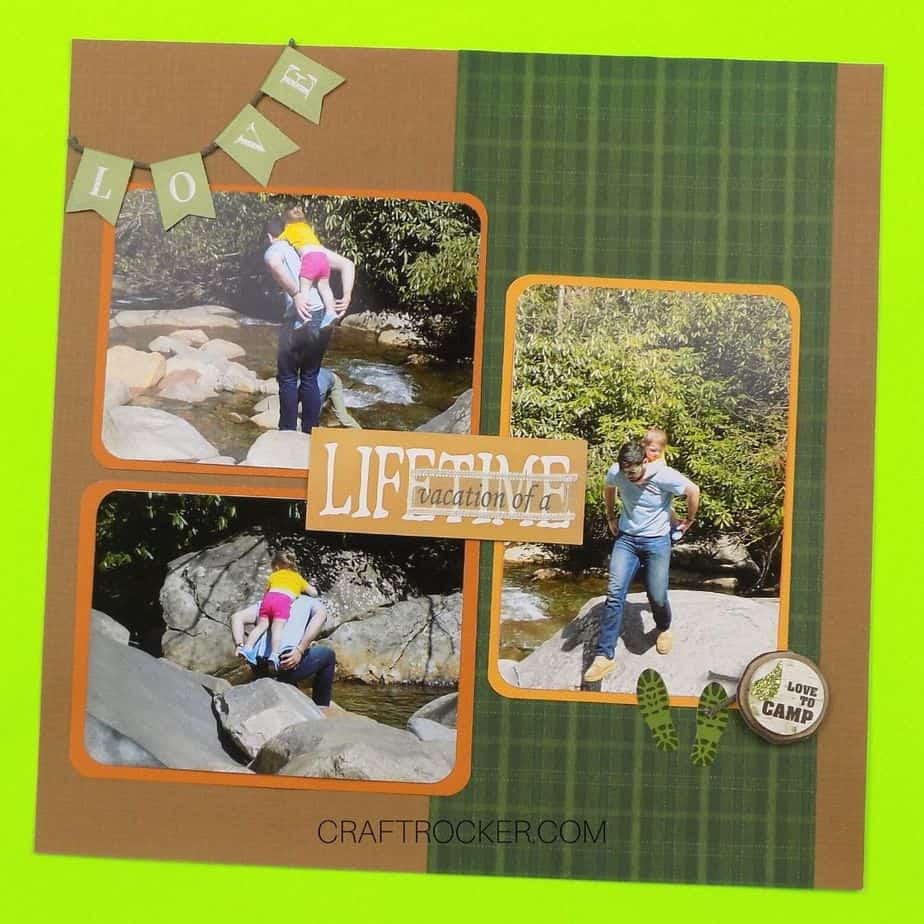 Vacation of a Lifetime Page
This page starts by adding a large piece of patterned paper to right edge of the paper. Use a plain paper instead of patterned for the top piece if the background paper is heavily patterned.
Group the photos together and place the title in the center of them. Then you can bring it all together with some smaller embellishments around the edges.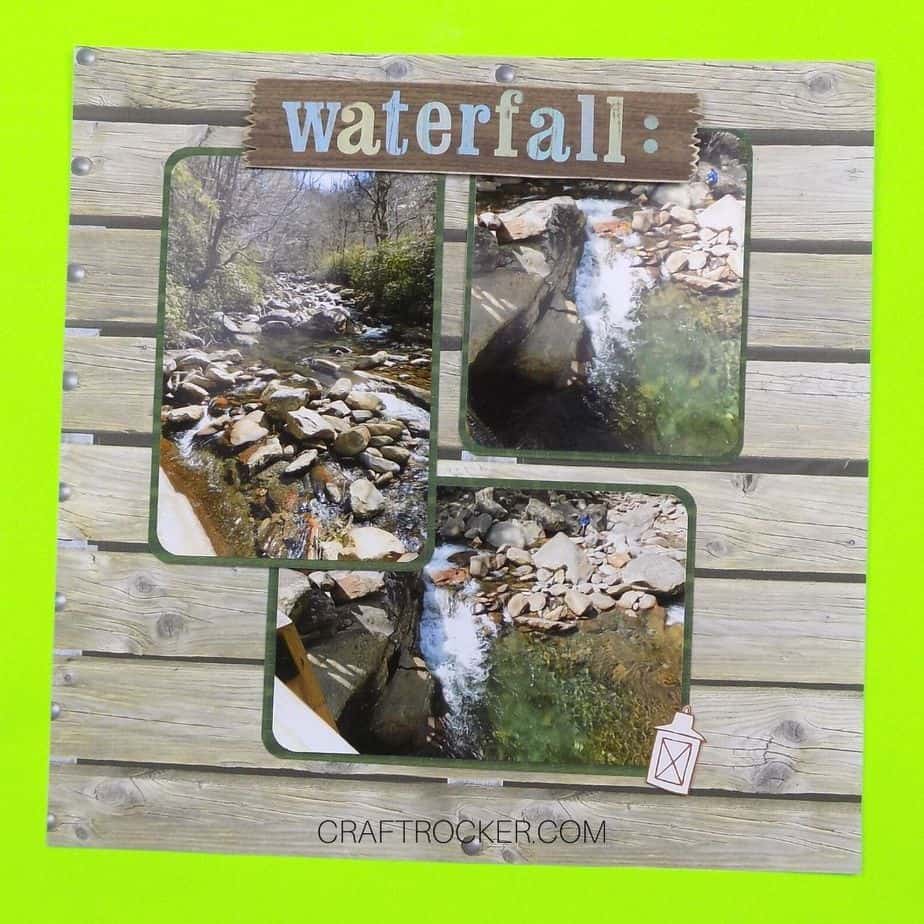 Waterfall Outdoor Page
The matted photos are also grouped on this page. The title placed at the top of the photos changes the look. The wood piece for the title was cut from a paper pad. Then the title is stickers on top of the cut paper.
One sticker embellishment was enough with the bold background I chose.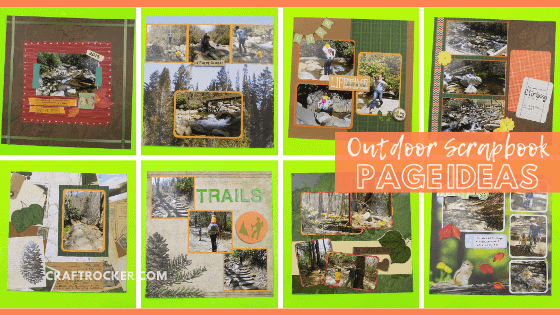 Which one of these outdoors scrapbook page ideas is your favorite? I'd love to see your inspired creations in the comments so be sure to share that awesomeness with me!
Don't Forget to Pin It!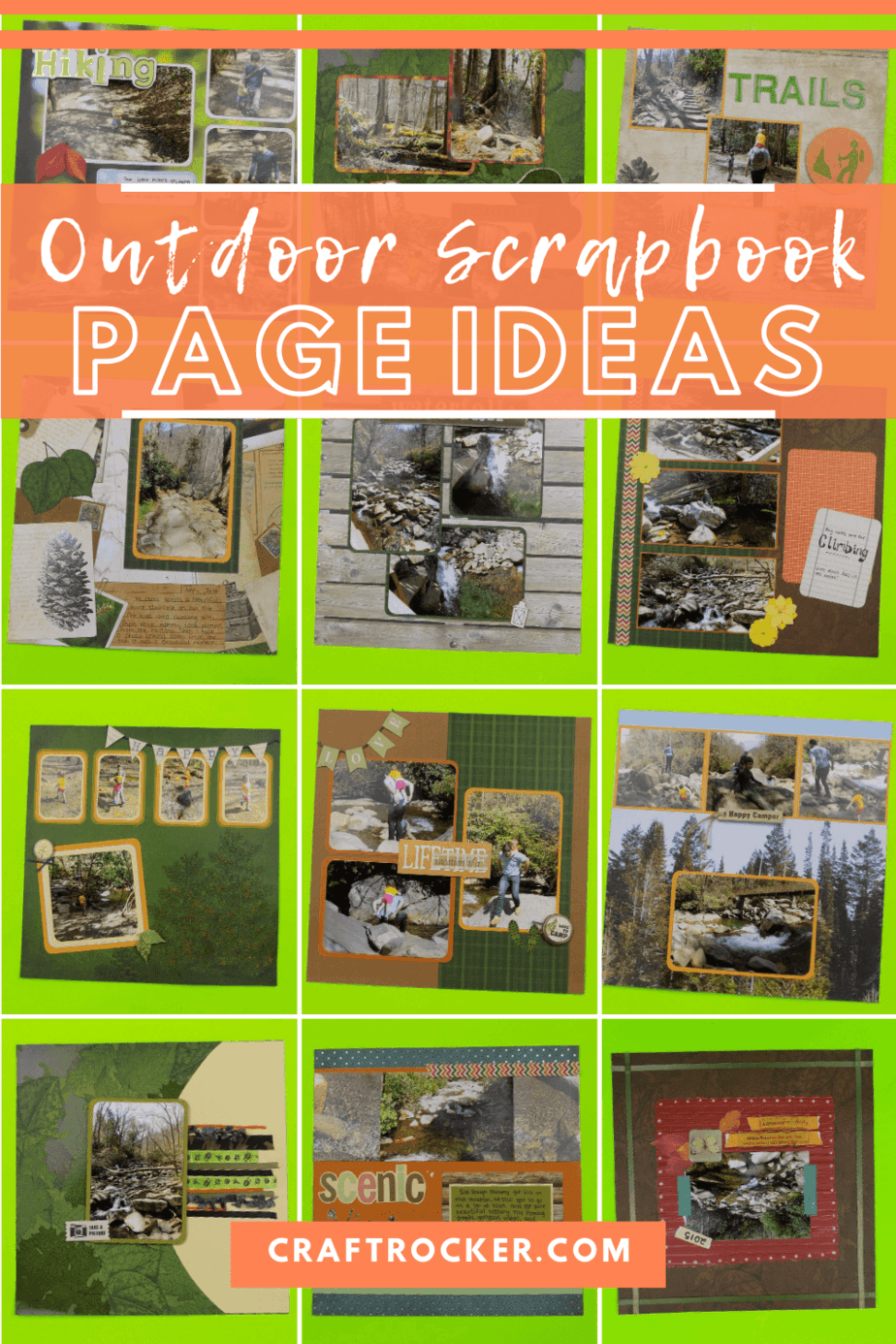 More Awesomeness to Love: