These easy and inexpensive winter crafts for kids are perfect to pull out over winter break when the kids come inside to warm up.
Affiliate links may be used in this post. Ordering a product through these links may result in a commission at no extra cost to you. Read the full disclosure here.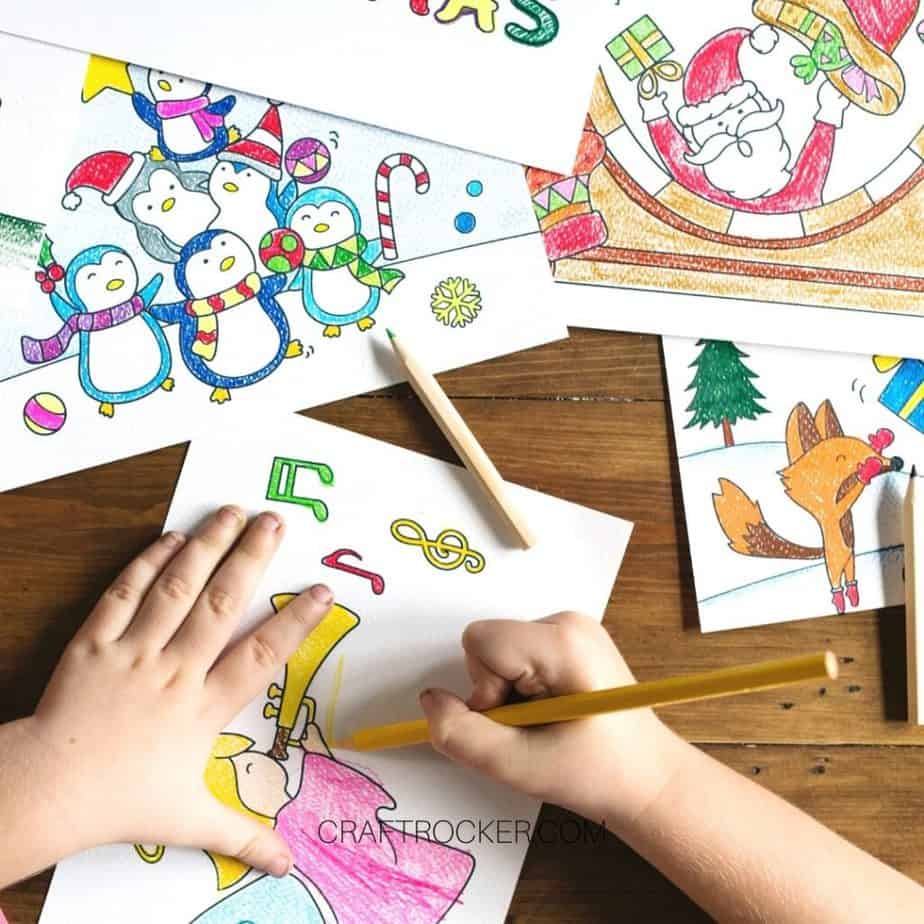 Jump to What You Want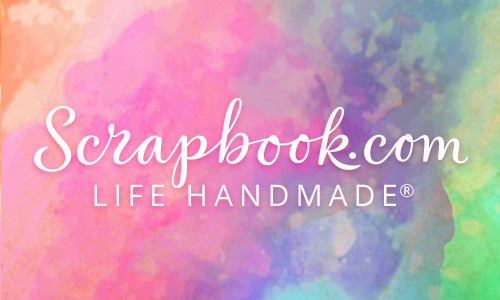 I am very blessed that my kiddos love to play outside (well, the little ones at least). In fact, I have to make them come in sometimes because their little noses get so red and the still won't want to come in after hours of play.
Luckily, a small craft is a fantastic incentive and way to entertain them while they warm up. Hot chocolate always helps too.
These low-prep winter crafts for kids are the perfect activity to whip out on a moment's notice for some warm crafty fun.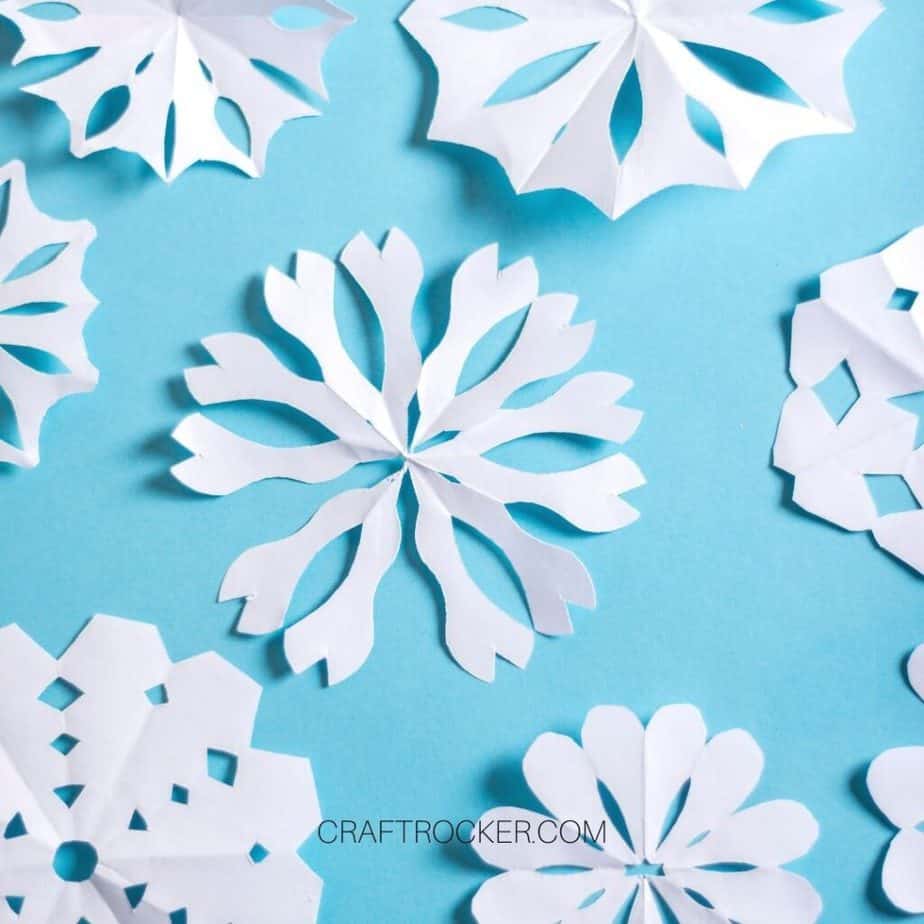 Paper Snowflake
Paper snowflakes are an easy and fun craft that turns out different every time.
Step 1
To start, take a piece of white construction paper (or any white paper) and fold it over many times so that you have a triangular shape.
Step 2
Then, take scissors and make little cuts all along the sides. Don't be afraid to cut the top too for a fun end result.
Step 3
Lastly unfold the cut creations and it looks like a unique snowflake.
Kids can leave it as it is or they can color it or add embellishments such as glitter.
To hang your snowflakes, punch a hole in the top and add a string. You can also make a bunch of mini-snowflakes, attach each to a string and then hang all of them from a hanger for a winter snowflake mobile.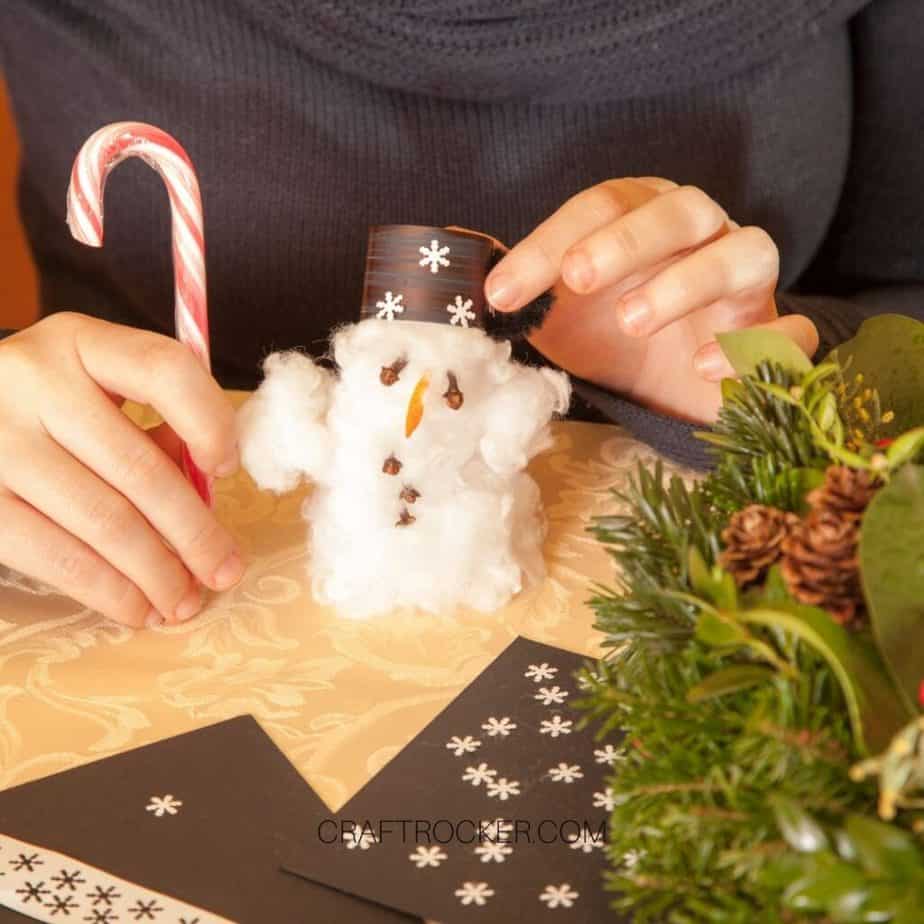 Snowman Picture
Another easy winter craft is making a 3D snowman picture.
Step 1
First, they will need a piece of construction paper. You might want to get light blue to resemble the sky.
Step 2
Next, give them a variety of items such as glue, cotton balls, twigs, and scrap pieces of cloth.
Step 3
Then, let them glue down the cotton balls into the shape of a snowman. They can also add other items such as the real twigs for the arms and pieces of cloth for the mittens and for the scarf.
Don't forget to hang their creations with a push pin or tape when they're finished.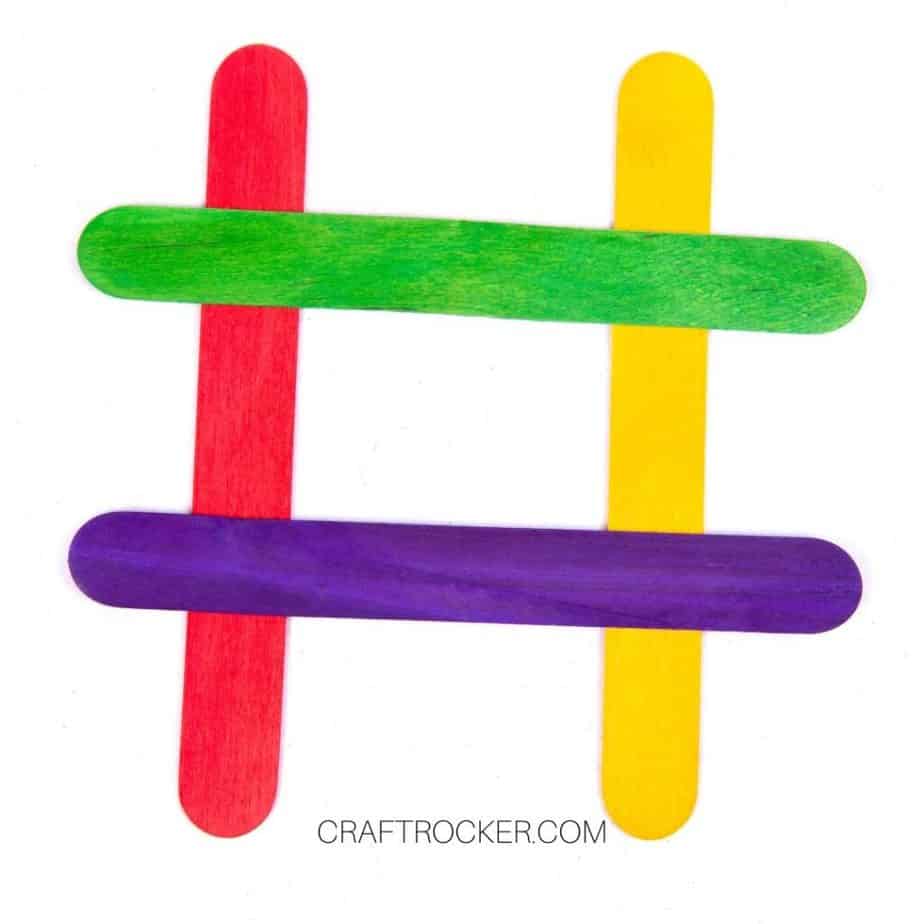 Winter Picture Frame
If you have a popsicle stick stash then your kiddos can easily make this winter craft too!
Step 1
First have your kids make a picture frame with popsicle sticks. Add a little glue to the ends and press them together to make a small rectangular frame.
Be sure to let the frame dry before decorating it.
Step 2
Then let them take markers or paints to design a winter theme on it. They could draw snowflakes, snowmen or whatever other winter themed item they want.
Step 3 (Optional)
Next, embellish the frame with glitter, sequins, or stickers. If using glue to attach the embellishments, let it dry before moving on.
Step 4
Lastly, add a photo of them enjoying the winter season by either taping it or gluing it from behind so that the photo shows through the decorated side.
You can also make a variation on these Popsicle Sticks Photo Frame Magnets! Simply decorate them with winter-themed colors and stickers.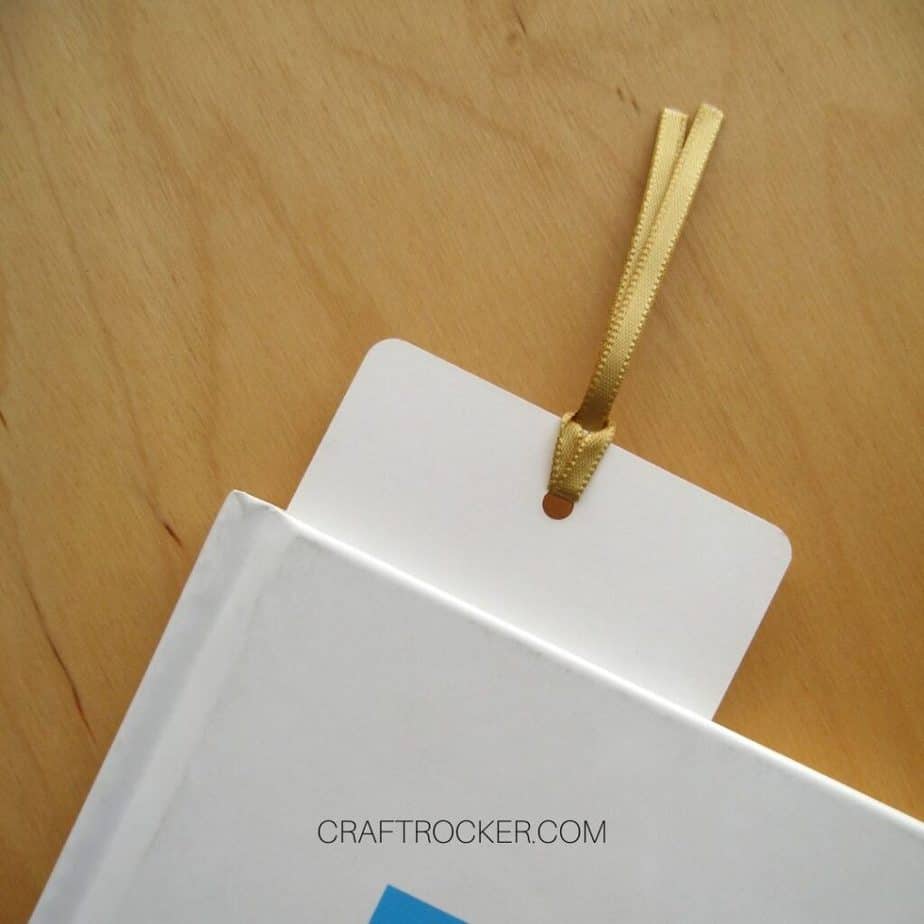 Winter Bookmark
We have a rule that the kiddos have to read before they play on electronics. It's 30 minutes on school days but it's an hour on non-school days like winter break.
This fun craft lets them create a fun bookmark to save their place in all of those stories.
Step 1
Give the kids some thick paper or cardstock for this craft. Then have them cut the paper into 2 inch wide strips (they can estimate).
Step 2
Next, have the kiddos decorate it with winter stickers or paint it with a winter theme. If you choose paint, maybe go for a watercolor paper instead of regular cardstock since it is better suited to the paint.
Step 3
After they're done decorating and their bookmarks are dry, punch a hole at the top of the bookmark and add a tassel or some yarn.
Note:
You can also laminate them to make them more durable however this means having a laminating machine and the sleeves.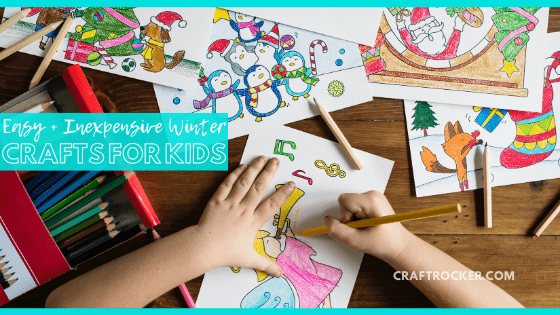 These easy and inexpensive winter crafts for kids are perfect for a tight budget. These are all great, low-prep crafts to enjoy over winter break with your kiddos!
Don't Forget to Pin It!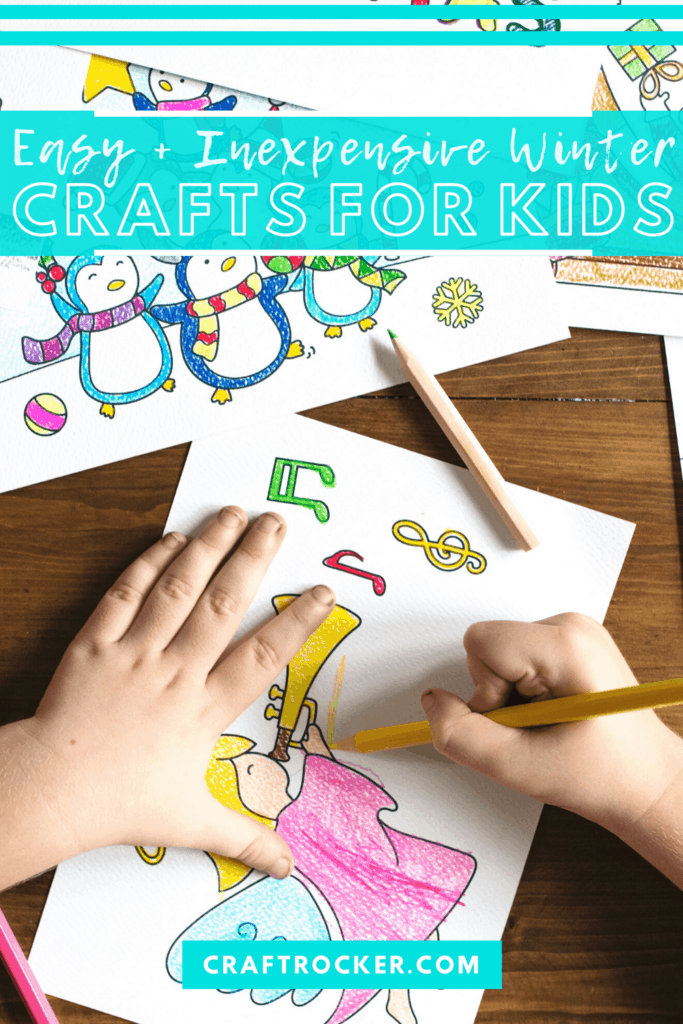 More Kids Crafts!
Christmas Photo Craft Kids Can Make
Winter Paper Plate Wreath – Glitter on a Dime