This printable Christmas Pictionary game is a super fun holiday activity for the whole family to enjoy. Plus, I'm sharing 2 additional ways to play that turn it into an all night riot fest!
Affiliate links may be used in this post. Ordering a product through these links may result in a commission at no extra cost to you. Read the full disclosure here.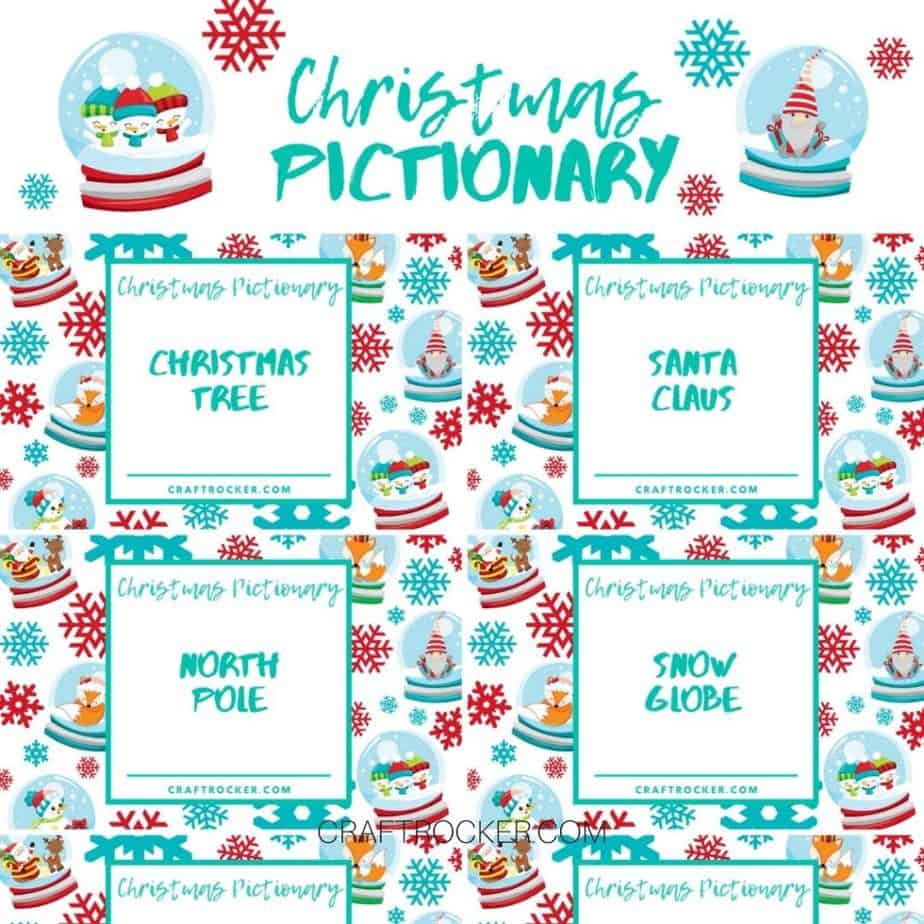 Jump to What You Want


Festive Christmas Season Blog Hop
Welcome back to year 6 of our Festive Christmas Event where we team up with a bunch of talented blogging friends to bring you a plethora of creative ways to celebrate your holiday season.
We will be baking some cookie recipes for you, sharing some party games, making some handmade gifts like this Snow Globe Shadow Box, doing some ornament crafting, and sharing our Christmas movies family fun. There will be breakfast recipes and, as always, our decorated Christmas Trees which is always a fun tour of homes.
New this year are Gift Guides. We are right there with you shopping from home due to Covid-19 and we understand how hard that can be. That is why we have been busy little Elves doing tons of research to create fabulous Gift Guides to help you with your holiday shopping.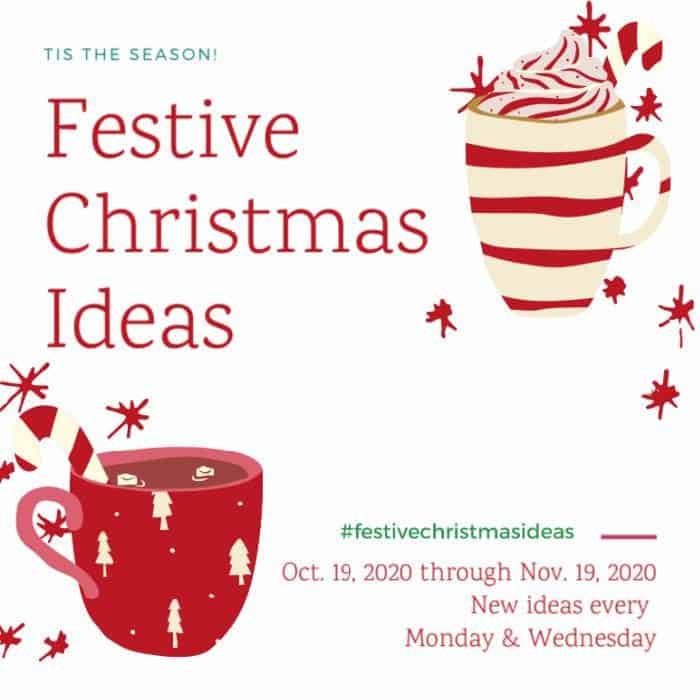 Check out 50+ Best Gifts for Crafters and 100+ DIY Christmas Gifts for Everyone on Your List!
You will find new ideas every Monday and Wednesday between Oct. 19th through Nov. 18th. Scroll all the way down to find all the ideas linked at the end.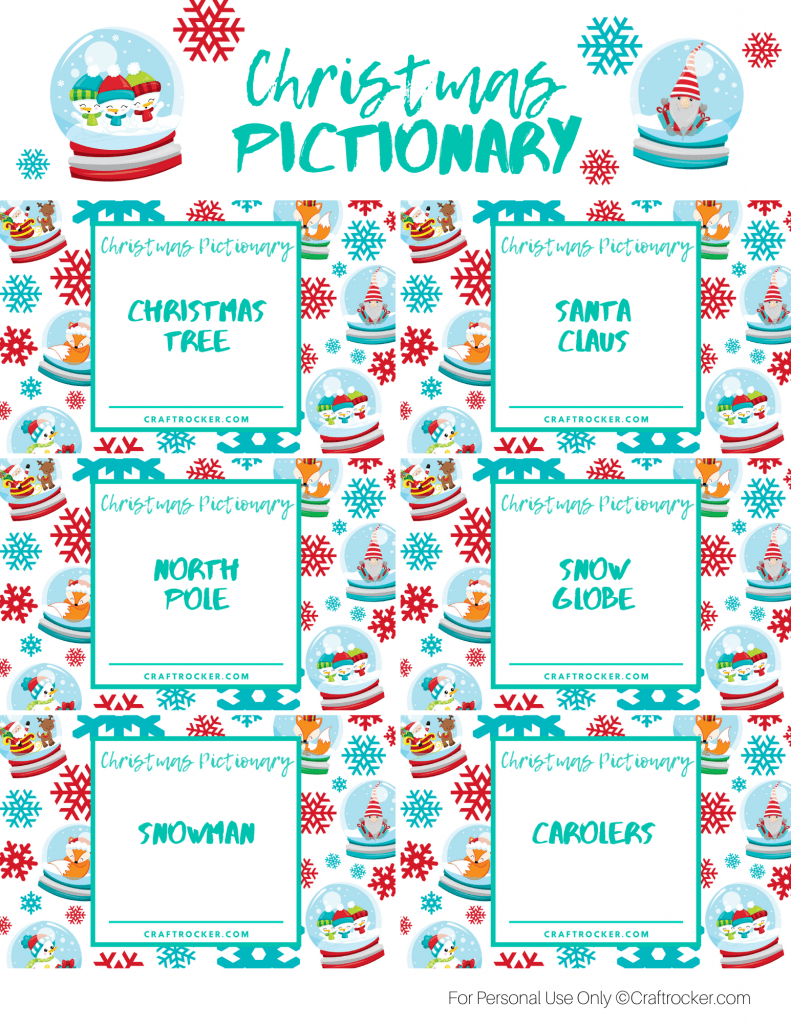 How to Download Printable Christmas Pictionary
Click here or on the picture above to download your game. Once it comes up, click on the 3 dots in the top right corner of your screen and click on "Download".
After you download your Christmas Pictionary, print it out then cut your cards apart. I recommend printing it on cardstock so that you have studier cards for all of the fun.
Ways to Play Christmas Pictionary
Traditional
Of course, you can always play the classic Pictionary way with this game. To do so, split into teams and take turns drawing cards and sketching out the word or phrase on them to get your teammates to guess. The team with the most points after all of the cards have been drawn wins.
On Your Head
This version of Christmas Pictionary is hilariously fun. Instead of dividing into teams, choose 1 person to be the judge at the beginning of the round. The judge draws a cards and reads it aloud to everyone.
The players then have 1 minute to try to draw what's on the card. The catch is that they are doing it on a paper plate on top of their heads.
After one minute, everyone reveals their drawings and the judge picks their favorite by giving them the card. The person to the left of the judge then becomes the judge and a new round starts.
The player with the most cards at the end of the game is the winner.
Telestrations-Style
If you have never played the game Telestrations, you are missing out. It is such a fun game that will have you laughing so hard that you cry. You will need to buy the game to pay this version because you need the dry erase flip boards for it.
To play, swap out the die and game cards for the printable Christmas Pictionary cards. If you're unfamiliar with the game, this is how it works:
Everyone draws a card and writes the word or phrase on the first page of their flip book along with their name. They then sketch out the word or phrase on the second page.
Books are then passed to the left and you look at the sketch page only then write your guess on page 3 of the flip book.
Play continues in this manner until your book gets back to you. Then everyone reveals the pages one at a time.
Make It Your Own
Included in the printable is a blank sheet so you can make your own fun Christmas Pictionary cards. This is a great way to add in holiday items or traditions that are unique to your family.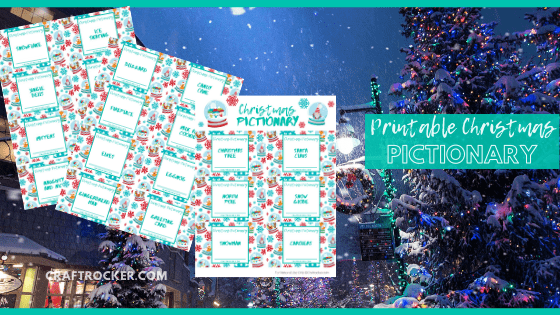 No matter which way you choose to play this Christmas Pictionary game, your family will have a blast playing this holiday season. I highly recommend trying out each play style at least one time. You will be rolling in laughter and creating awesome memories together.
Don't Forget to Pin It!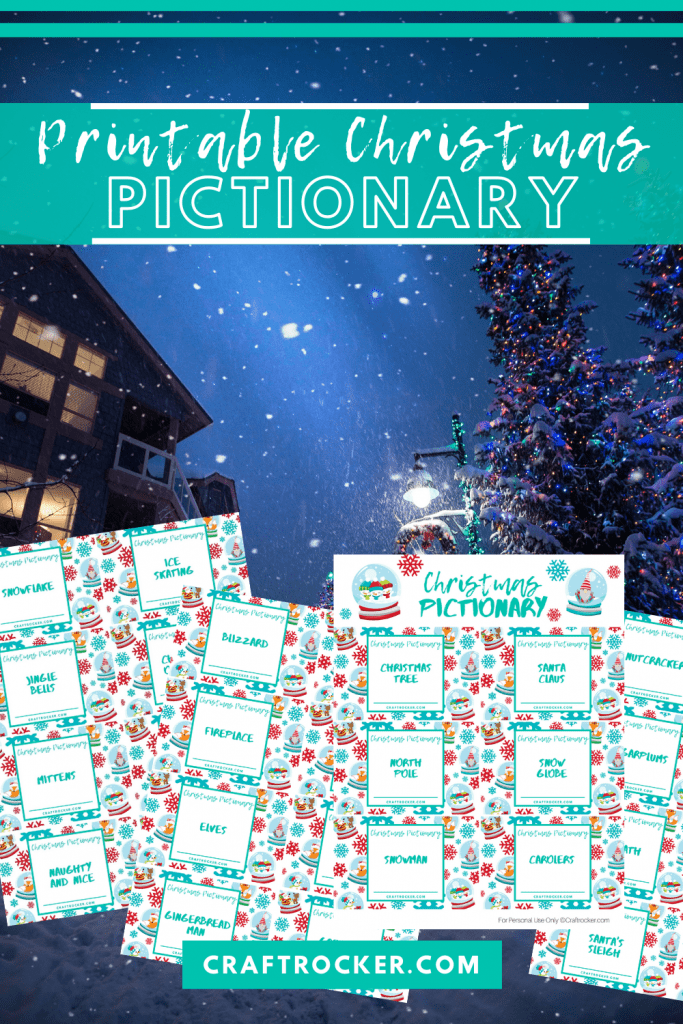 Christmas Games Blog Hop